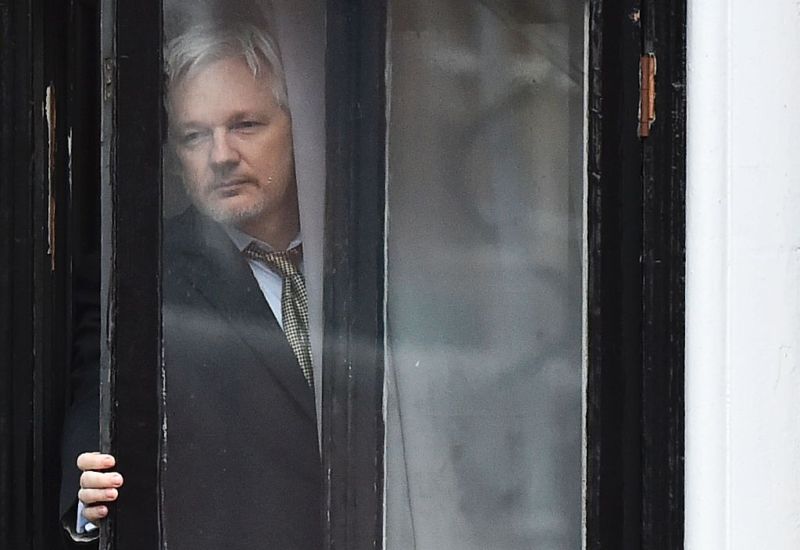 Sassy Liberty AMERICA'S FREEDOM FIGHTERS –
WikiLeaks said Thursday that its founder Julian Assange will agree to be extradited to the United States if Obama would agree to grant clemency in the case of Bradley Manning. WikiLeaks made the announcement on Twitter while still remaining adamant that the Department of Justice case against Assange was unconstitutional.
ADVERTISEMENT - STORY CONTINUES BELOW
On Tuesday, Obama—in one of his final acts as president—commuted the sentence of Manning. The US army private was originally sentenced to serve a 35-year term for leaking more than 700,000 classified military documents to WikiLeaks, but he will now be released in May 2017. Now that Obama has announced that he will commute the majority of Manning's sentence, the question is being asked – Will Assange make good on his promise to allow himself to be extradited to the U.S.?
take our poll - story continues below
Whom do you consider to be the most corrupt Democrat Politician?
Completing this poll grants you access to America's Freedom Fighters updates free of charge. You may opt out at anytime. You also agree to this site's Privacy Policy and Terms of Use.
Assange's lawyer stated with regards to the WikiLeaks founder,  Assange is "standing by" his promise to—as he characterises it—"agree to US extradition" in light of president Obama's decision to free whistleblower Bradley Manning.
ADVERTISEMENT - STORY CONTINUES BELOW
However, there is still the small issue that Assange who is wanted for questioning in Sweden over an allegation of rape. He is still wanted for questioning in Sweden over an allegation of rape, and he may likely to be arrested by London police after skipping bail over this sexual assault case.
Assange lawyer @themtchair on Assange-Manning extradition 'deal': "Everything that he has said he's standing by."

ADVERTISEMENT - STORY CONTINUES BELOW

— WikiLeaks (@wikileaks) January 18, 2017
Assange has repeatedly denied any wrongdoing and initially sought political asylum nearly five years ago after he was wanted for questioning over rape, coercion, and two counts of sexual molestation accusations brought against him by two women in Sweden. The allegations surfaced after Assange visited the country in August 2010 to give a lecture, just after the Manning debacle broke wide open.
Swedish officials confirmed in 2015 that they would no longer be seeking answers from Assange over allegations of sexual molestation and coercion, due to a law of limitation that requires the cops to charge a suspect within a certain timeframe. But the more serious allegation of rape remains in place until 2020.
There is also the small issue that there is currently no U.S. extradition ruling against Assange.   In order for Assange to be extradited to the U.S., it would have to be signed off by authorities in Sweden and the UK, but no such request has been made at this time.  Assange has been holed up at the Ecuadorian embassy in London since June 2012. He skipped bail after a European Arrest Warrant was issued in late 2010 by Scotland Yard on behalf of Swedish officials who sought the extradition of the 45-year-old Australian.
So now the question remains – will the U.S. seek an extradition order against Assange?  Or was this just the final curtain call in the dog and pony show known as the Obama presidency? It seems even CNN, yes that CNN, is calling the president out on his shameless pandering.
https://youtu.be/DR6HXBp0nQg
"I think the question this president — the White House — will have to answer here, and I think it's an important one. How much was the personal story of Chelsea Manning involved in this? Without that, it's hard to imagine, I think, this president would have done that."
Right, because just a few years ago, the Obama Administration was decrying Manning for his crimes. But in the world of identity politics, if you want to change your crime, change your sex, figuratively speaking and claim to be transgender. When even CNN, with their penchant for far left political pandering and fake news, has a panel openly discussing how Obama would never have commuted the sentence if sweet Chelsea was still burley Bradley you know you have a transparency problem.
On Wednesday, Assange's lawyer Barry Pollock said –
Whistleblowers like Chelsea Manning serve the public interest. She should never have been prosecuted and sentenced to decades in prison. She should be released immediately. Likewise, publishers of truthful information serve the public interest, promote democracy, and should not be prosecuted.

The war on whistleblowers should end now and should not be continued in the new administration [under Donald Trump]. For many months, I have asked the DoJ to clarify Assange's status. I hope it will soon. The department of justice should not pursue any charges against Mr Assange based on his publication of truthful information and should close its criminal investigation of him immediately.
WikiLeaks also seems to believe Assange will receive far better treatment under a Trump led DOJ, stating – "Assange is confident of winning any fair trial in the US. Obama's DoJ prevented public interest defence & fair jury."
Assange is confident of winning any fair trial in the US. Obama's DoJ prevented public interest defense & fair jury. https://t.co/Mb6gXlz7QS

— WikiLeaks (@wikileaks) January 17, 2017
h/t – the Daily Caller
God Bless.
Here's How To Be Sure To Continue Seeing Our Content On Facebook
TOGETHER WE WILL MAKE AMERICA GREAT AGAIN!
Dean James III% AMERICA'S FREEDOM FIGHTERS
 Please share this on all Social Media!
Facebook Has Banned Us!
The leftists at Facebook decided they didn't like our message, so they removed our page and are censoring us. Help us fight back and subscribe to our newsletter so that you can stay up-to-date with everything Facebook doesn't want you to see!
Disqus Comments