Sassy Liberty AMERICA'S FREEDOM FIGHTERS –
In a move absolutely guaranteed to win friends and influence people amongst the National Football League, former San Francisco 49ers quarterback Colin Kaepernick has filed a grievance against the owners for collusion under the latest collective bargaining agreement. He is accusing NFL executives have conspired against him in an effort to prevent him from being signed as a free-agent with another team.
The grievance alleges the league's owners "colluded to deprive Mr. Kaepernick of employment rights in retaliation for Mr. Kaepernick's leadership and advocacy for equality and social justice."
ADVERTISEMENT - STORY CONTINUES BELOW
Rather than going the traditional route and filing the grievance through the NFL Players Association, Kaepernick hired high powered defense attorney Mark Geragos of Geragos & Geragos out of Los Angeles and a white man interestingly enough. It seems that when Kaepernick attacks for his version of "social justice" it is about the defense of the black community and oppression but when he wants his way crying racism he chooses a white man.
take our poll - story continues below
Whom do you consider to be the most corrupt Democrat Politician?
Completing this poll grants you access to AFF updates free of charge. You may opt out at anytime. You also agree to this site's Privacy Policy and Terms of Use.
ADVERTISEMENT - STORY CONTINUES BELOW
Geragos states of the filed grievance –
"If the NFL (as well as all professional sports leagues) is to remain a meritocracy, then principled and peaceful political protest — which the owners themselves made greater theater imitating weeks ago — should not be punished and athletes should not be denied employment based on partisan political provocation by the executive branch of our government. Such a precedent threatens all patriotic Americans and harkens back to our darkest days as a nation."

ADVERTISEMENT - STORY CONTINUES BELOW
The Enforcement Proceeding filing was sent to the NFL, the NFL Players Association, and all 32 teams in a highly unusual move, ensuring the proceeding stays high profile. In the documents, Kaepernick, by and through his attorney, accuses the NFL and its owners "colluded to deprive" him of "employment rights in retaliation for" his "leadership and advocacy for equality and social justice and his bringing awareness to peculiar institutions still undermining racial equality in the United States."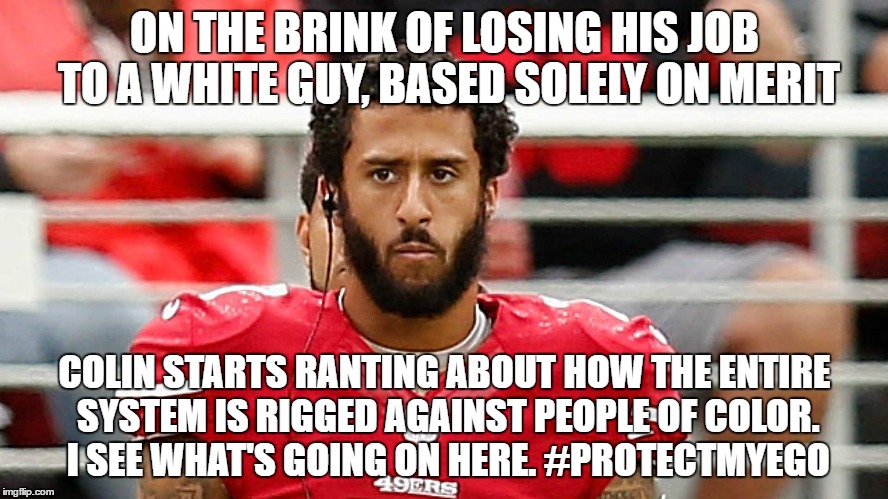 According to Mike Florio of Pro Football Talk, he believes Kaepernick wants to trigger termination of the current Collective Bargaining Agreement.
Florio states –
"Per a source with knowledge of the situation, Kaepernick wants to trigger termination of the current Collective Bargaining Agreement.

'Article 69, Section 2 of the CBA allows for the agreement to be terminated prematurely in the event of proof of collusion. Under Article 17, Section 16(c) of the CBA, termination can arise from only one incident of collusion involving only one player if there is clear and convincing evidence of a violation.'

The ramifications would be enormous, and historical. Kaepernick could give all players a tremendous piece of leverage, moving up the expiration of the contract by more than three years and forcing the owners back to the bargaining table.
Executives and the NFLPA are set to meet for the Fall League Meeting on Oct. 17 and Oct. 18 in New York City with plans to discuss rules governing player protests during the anthem. There is no question that wrongs have been committed or that racism exists from all colors.  However, choosing to spit on an entire portion of the population while attempting to "raise awareness" regardless of your intent and denials counter do nothing for your cause.  They simply entice people to tune out on your message and no longer hear you. Put your money where your mouth is.  Invest in your communities and be the change you wish to see – not just a mouthpiece crying racism because you raised a ruckus and people make a business decision to avoid dealing with your drama.
(h/t Freedom Daily)
FOLLOW us on Facebook at Nation In Distress!
Dean James III% AMERICA'S FREEDOM FIGHTERS
Copyright 2017 Americas Freedom Fighters/ AFF Media. All rights reserved. This material may not be published, broadcast, rewritten or redistributed without expressed permission.
Please share this on Facebook and Twitter!
Facebook Has Banned Us!
The leftists at Facebook decided they didn't like our message, so they removed our page and are censoring us. Help us fight back and subscribe to our newsletter so that you can stay up-to-date with everything Facebook doesn't want you to see!
Disqus Comments