Sassy Liberty AMERICA'S FREEDOM FIGHTERS –
A Virginia man has filed a federal lawsuit against the city of Charlottesville, the Charlottesville police chief in both his official and his individual capacities, and the Virginia State Police Superintendent W. Steven Flaherty in his individual capacity.
The basis of the lawsuit is the police response to the rally held in Charlottesville called Unite the Right that descended into violence between racist and extremist fringe groups.
ADVERTISEMENT - STORY CONTINUES BELOW
Robert Sanchez Turner alleges in his lawsuit that police officers were ordered to stand down and that they failed to act even as they witnessed attacks occur right in front of them. Turner was sprayed with pepper spray in his eyes and beaten with canes, as well as had what he believed to be urine dropped on him during the debacle in Charlottesville on August 12.
take our poll - story continues below
Completing this poll grants you access to AFF updates free of charge. You may opt out at anytime. You also agree to this site's Privacy Policy and Terms of Use.
All took place within sight of police standing less than 10 feet away, yet nothing whatsoever was done to stop the assault or even attempt to arrest his attackers.
ADVERTISEMENT - STORY CONTINUES BELOW
The complaint filed in the Western District of Virginia – Charlottesville Division by Nexus Caridades Attorneys states –
"By commanding their subordinates to stand down while hundreds of white supremacists and their sympathizers assaulted and seriously injured counterprotesters, these defendants were essentially accessories to, and facilitators of, unconstitutional hate crime." 

ADVERTISEMENT - STORY CONTINUES BELOW
Critics of the lawsuit believe it will not stand in court citing that many lawsuits have been filed over the years seeking to hold police accountable for the call to "serve and protect" are often dismissed under a legal precedent known as the public duty doctrine.  Warren v. District of Columbia is such a case where police were exonerated based on the public duty doctrine which stated police have no legal obligation to help people in trouble, merely a general duty to the public at large.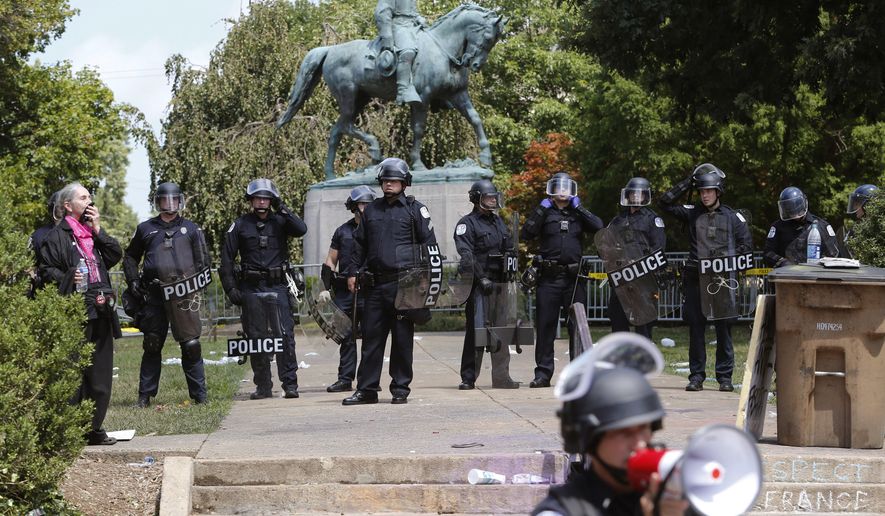 However, the lawsuit itself, in this case, does not seek for any exception from the public duty doctrine.  Instead, the suit alleges supervisory liability and deliberate or depraved indifference on the part of Thomas and Flaherty. The suit also alleges Turner's 14th amendment rights were violated by the two police leaders by creating a scenario under which officers failed or refused to intervene in a dangerous situation created by and perpetuated by the state.
Directly from the complaint –
"Specifically, Chief Thomas ordered Charlottesville City Police to refrain from intervening in any violent confrontations between white supremacists and counterprotesters unless given a direct command to do so. The 'stand down' order was so absolute that officers were ordered to restrain from intervening even upon observing hate crimes in the form of brutal physical attacks with weapons by KKK members and sympathizers against unarmed civilians."
Of course, Thomas denies any such stand down order existed and defends the actions of his department with claims that they were "spread thin" after a disagreement erupted about how differing factions disregarded instructions on how to enter the city park. Fights subsequently broke out prompting police to deem the event "unlawful assembly" and disbanded.
The lawsuit seeks unspecified money damages and also cites video and witness testimony supporting the claims that there was indeed a stand down order, despite the continued denials from the city and police departments.  Charlottesville police department continues to face heavy criticism for their handling of the event.  Videos in question emerged after the events that show officers simply standing by and watching while fights broke out between the likes of Antifa, Black Lives Matter, KKK, and other militant fringe groups on both sides.
FOLLOW us on Facebook at Nation In Distress!
Copyright 2017 Americas Freedom Fighters/ AFF Media. All rights reserved. This material may not be published, broadcast, rewritten or redistributed without expressed permission.
Please share this on Facebook and Twitter!
Facebook Has Banned Us!
The leftists at Facebook decided they didn't like our message, so they removed our page and are censoring us. Help us fight back and subscribe to our newsletter so that you can stay up-to-date with everything Facebook doesn't want you to see!
Disqus Comments