Sassy Liberty AMERICA'S FREEDOM FIGHTERS –
Conservatives are striking back against censorship. PragerU, the conservative digital media organization from Dennis Prager, has now filed suit against YouTube and its parent Google over censorship of their videos.
PragerU is short for Prager University and the group produces short, concise, graphics-based videos for millennials.  The videos are broadly based on Judeo-Christian values and conservatism, but features videos from the likes of feminist academic Christina Hoff Summers, human rights activist Ayaan Hirsi Ali, and Taleeb Starkes, author of Black Lies Matter." PragerU also published a video earlier in the year of liberal commentator and former member of The Young Turks, Dave Rubin, explaining why he left the political leftist ideology.
ADVERTISEMENT - STORY CONTINUES BELOW
YouTube has repeatedly been called out for censorship and inconsistent standards.  While they censor Conservatives, flagging, restricting, and demonetizing their videos, rappers that choose to lynch children in the music videos?
take our poll - story continues below
Whom do you consider to be the most corrupt Democrat Politician?
Completing this poll grants you access to America's Freedom Fighters updates free of charge. You may opt out at anytime. You also agree to this site's Privacy Policy and Terms of Use.
Well, it seems that according to YouTube and Google standards that is perfectly acceptable. PragerU has found their political videos labeled"restricted" as adult content making the content unavailable in schools and libraries as a result.
ADVERTISEMENT - STORY CONTINUES BELOW
YouTube even went to so far to remove the video of "a Muslim man describing how he was raised to be anti-Semitic."  The video was branded as "hate speech" and subsequently removed from the platform.
ADVERTISEMENT - STORY CONTINUES BELOW
Both YouTube and Google have repeatedly been criticized for their intolerance of conservative, Christian, and right-wing ideologies and have been
widely criticized for their censorship
, however, YouTube blames so-called "community flagging."
The Wall Street Journal has even weighed in on the fray stating –
"Conservative radio host Dennis Prager started PragerU in part to provide younger Americans with viewpoints that they might not find in the liberal educational establishment. PragerU's more than 100 videos—each a short lecture delivered by a guest—avoid foul language, violent images or indecency. YouTube has nonetheless restricted 18 of them, on topics from policing to university diversity to the Korean War."
As a result of the videos being placed into "restricted mode" many universities and schools, as well as children whose parents have put parental control filters in place, are prevented from seeing the videos.  All potential ad revenue is also removed.
In short, even media outlets not necessarily known for their conservative ideologies are calling out YouTube and Google saying "NONSENSE!"
So now PragerU is fighting back….
Filing suit against YouTube and Google as its parent company on Monday in federal court in San Francisco, the complaint alleges the tech giant is illegally censoring its content as a part of a wider effort to silence conservative voices, making the argument that –
YouTube's more than 30 million visitors a day make the site so elemental to free speech in the digital age that it should be treated as a public forum. The suit argues the site must use the "laws governing free speech," not its own discretion, to make decisions about what to censor.
The nonprofit, known as PragerU, alleges that by limiting access to some of its videos without clear criteria YouTube is infringing on PragerU's First Amendment rights.
The lawsuit will play a pivotal role in the debate over the increasing influence of tech companies and their increasing influence on public opinion, as well as how they should, or even IF they should police the content available on their sites.
PragerU attempted to contact YouTube via email and those email exchanges show YouTube declined to offer any specific explanation as to why the videos were restricted, simply citing they "aren't appropriate for younger audiences."
The lawsuit points to and lists videos of similar subject matter and content from other NON-Conservative outlets such as Al Jazeera and The Daily Show which were not similarly restricted, arguing that PragerU was targeted due to its political ideologies.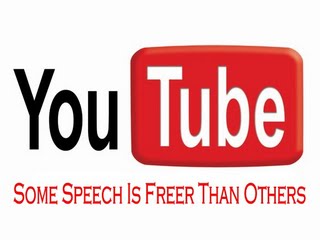 The complaint states –
"Google/YouTube uses their restricted mode filtering not to protect younger or sensitive viewers from 'inappropriate' video content, but as a political gag mechanism to silence PragerU." 
The Wall Street Journal states of the lawsuit –
The suit escalates a battle between YouTube and content creators over how much control the tech giant should exercise over what is posted on the site.

YouTube faced a firestorm earlier this year when news reports revealed the site was running ads on extremist and racist videos, causing a series of big brands to pull spending from the site.

The backlash prompted YouTube to better police content on its sites, pull more ads from "hateful, offensive and derogatory" videos and give advertisers more control over where their ads appear. Those changes include technology to automatically screen videos as well as more human reviewers to pull ads from objectionable videos.

 Some advertisers still remained off the site even months after the changes.
FOLLOW us on Facebook at Nation In Distress!
Dean James III% AMERICA'S FREEDOM FIGHTERS
Copyright 2017 Americas Freedom Fighters/ AFF Media. All rights reserved. This material may not be published, broadcast, rewritten or redistributed without expressed permission.
Please share this on Facebook and Twitter!
Facebook Has Banned Us!
The leftists at Facebook decided they didn't like our message, so they removed our page and are censoring us. Help us fight back and subscribe to our newsletter so that you can stay up-to-date with everything Facebook doesn't want you to see!
Disqus Comments