Sassy Liberty AMERICA'S FREEDOM FIGHTERS –
In the latest installment of the "Hunt For a Russian Conspiracy"…. the saga continues!  The Left simply will not let this story die, despite there being absolutely NO evidence to support any claims of collusion between U.S. President Donald Trump and Russian President Vladimir Putin.
With the recent tomahawk missile strike on Syria, a known Russian ally, as well as Putin's refusal to meet with Trump's Secretary of State Rex Tillerson that would have put a rest to the Russian conspiracy theories.
ADVERTISEMENT - STORY CONTINUES BELOW
take our poll - story continues below
Whom do you consider to be the most corrupt Democrat Politician?
Completing this poll grants you access to AFF updates free of charge. You may opt out at anytime. You also agree to this site's Privacy Policy and Terms of Use.
But as we all know, thinking?  Well, that just isn't a strong suit of the left.
ADVERTISEMENT - STORY CONTINUES BELOW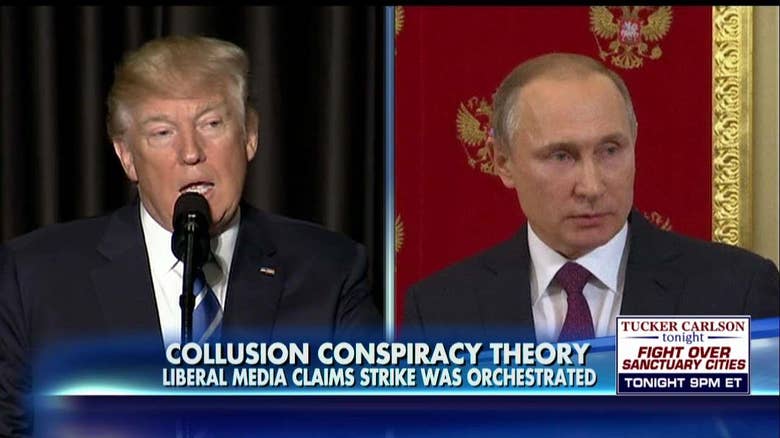 There is now a WHOLE, new conspiracy theory being floated by the left in their efforts to force this idea of Russian interference.
MSNBC's Lawrence O'Donnell claimed that Thursday's U.S. missile strike on a Syrian air base was meant to distract from President Trump's so-called Russian ties.
ADVERTISEMENT - STORY CONTINUES BELOW
"Wouldn't it be nice if it was possible to suspect Putin ok'd Assad's gas attack so Trump could fire missiles & change the subject in USA?"
O'Donnell states, "Missiles always change the subject," with wild and salacious claims that Trump and Putin coordinated from the start in some sort of massive scale "wag the dog" scenario, adding that there is no proof that such a conspiracy theory as he proposed is "impossible."
Former MSNBC host Keith Olbermann labeled the missile strikes a "stunt" by the Trump administration and criticized the media for "falling for it."
Rep. Seth Moulton (D-Mass.), presented the conspiracy theory in an interview with Tucker Carlson on Fox News making a statement that he thinks Congress should still investigate whether Trump is working in some level of coordination with the Russians.
https://www.youtube.com/watch?v=W6-7k-JSIew
David Brody of CBN News stated on "Fox & Friends" today it's "interesting" to see the mainstream media completely ignore the fact that the Trump administration is "talking very tough" on Russia. He criticized the media for looking for "nuggets" to continue a predetermined narrative, stating "Where is [that] narrative? It's not there because the narrative doesn't fit."
Facebook Has Banned Us!
The leftists at Facebook decided they didn't like our message, so they removed our page and are censoring us. Help us fight back and subscribe to our newsletter so that you can stay up-to-date with everything Facebook doesn't want you to see!
Disqus Comments