Public outcry will accomplish a great deal.  Speak the truth, even if your voice shakes.
Sassy Liberty AMERICA'S FREEDOM FIGHTERS –
ADVERTISEMENT - STORY CONTINUES BELOW
The United States flag was raised again on Hampshire College campus approximately three weeks after the ultra-progressive liberal arts school banned it on their campus.
take our poll - story continues below
Whom do you consider to be the most corrupt Democrat Politician?
Completing this poll grants you access to AFF updates free of charge. You may opt out at anytime. You also agree to this site's Privacy Policy and Terms of Use.
The flag's removal has been a hotbed of contention at the school since Donald Trump's election victory. Students lowered the flag to half-staff, the traditional symbol of national mourning, the day after the election, claiming "hate had won."
ADVERTISEMENT - STORY CONTINUES BELOW
The flag was then set on fire on the evening of November 10 and then on Veterans Day – the following morning in a sign of utter disrespect, it was flown from the flagpole at the center of campus.
ADVERTISEMENT - STORY CONTINUES BELOW
After this incident, president of the College, Jonathan Lash chose to remove the flag from campus altogether claiming he hoped to "enable discussion" about the anger and fear many people felt following the election. The original plan according to Lash was the flag would not return until the spring semester at the earliest.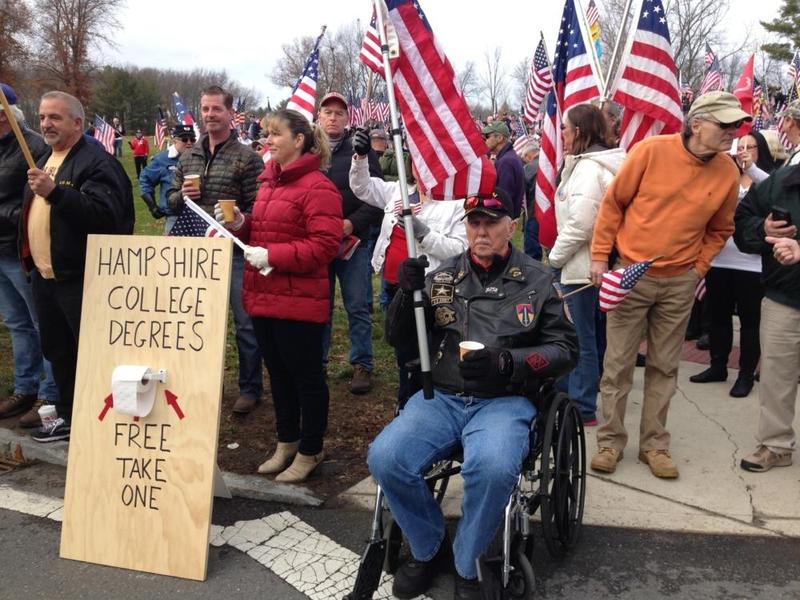 Enter every day Americans and veterans.  America was PISSED and we let Hampshire College know in no uncertain terms. Three weeks of protesting and clogging the phone lines clearly had an impact.
On Sunday, hundreds of protesters, including many military veterans, called for the flag to be reinstated during a rally on campus.
The US flag returns to Hampshire College after its removal led to complaints, protests https://t.co/waeGL8oFCs pic.twitter.com/MA1JJZQMcx

— The Boston Globe (@BostonGlobe) December 2, 2016
According to the Boston Globe –
Lash said he views the dispute over the flag as a learning experience.

"This is what free speech looks like," Lash said in a statement. "We believe in it, we will continue this work on campus, and we will look for ways to engage with our neighbors in the wider community."

State Representative John Velis — a Democrat and an Afghanistan veteran from Westfield who had called the flag's removal a "disgrace" — thanked Lash and Hampshire students Friday for "restoring our sacred symbol to its hallowed place.'' He requested a chance to be part of Hampshire's continuing dialogue on the meaning of the flag.

"The recent rise in hate crimes and bigotry is certainly distressing, and we must remain vigilant in ensuring that our American principles of equality and justice are upheld,'' Velis said in a statement. "I encourage you to continue your discourse in a productive manner."
Many viewed the removal of the American flag from the school campus as another slap in the face to veterans and American ideals from another liberal university.  They were done and simply were not going to stand for it anymore.  Congrats America! Your voice was heard loud and clear.  The problem is this is indicative of a larger issue – the liberal infiltration of our institutions of higher learning and it's brainwashing of our future generations.  Step one is complete America but you have more work to do!
God Bless.
I VOTED FOR DONALD TRUMP AND TOGETHER WE WILL MAKE AMERICA GREAT AGAIN!
Dean James III% AMERICA'S FREEDOM FIGHTERS
 Please share this on all Social Media!
Facebook Has Banned Us!
The leftists at Facebook decided they didn't like our message, so they removed our page and are censoring us. Help us fight back and subscribe to our newsletter so that you can stay up-to-date with everything Facebook doesn't want you to see!
Disqus Comments