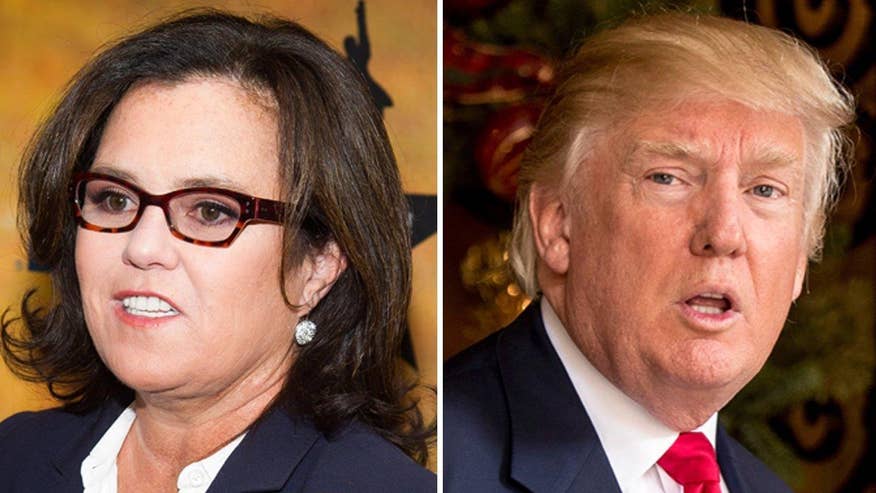 Sassy Liberty AMERICA'S FREEDOM FIGHTERS –
The 54-year-old wannabe comedian used her platform via Twitter to attack president-elect Donald Trump yet again after he posted a New Year's message addressing his "many enemies."  This is not the first time or the tenth or even the hundredth time that Rosie has launched an attack against Trump.
ADVERTISEMENT - STORY CONTINUES BELOW
She has previously called him"the worst representation of what the United States is or could be." In her most recent Twitter attack, Rosie tweets,  America has "less than three weeks to stop him" before his inauguration. She also questioned his stability as she included a link to a CNN story about him ejecting a Trump biographer who had been critical of him from one of his golf courses.
This particular attack from Rosie followed earlier holiday weekend jabs against President-elect Trump in which she called him "mentally ill," the "cheapest billionaire ever," a "fake and fraud" and the "world's worst human." It seems Rosie might be a wee bit obsessed?
President-elect Trump and Rosie have had an ongoing, very public feud for well over a decade, dating back to 2006. It all stemmed from Rosie's public criticisms of  Trump and his refusal to fire disgraced beauty queen Tara Conner. Apparently, Rosie didn't agree with Trump's decisions on how to run his business.  The feud took center stage during the GOP primary debate when Trump responded to moderator Megyn Kelly's question about Trump using derogatory language to insult women. Trump's response – "Only Rosie O'Donnell."
ADVERTISEMENT - STORY CONTINUES BELOW
take our poll - story continues below
Completing this poll grants you access to AFF updates free of charge. You may opt out at anytime. You also agree to this site's Privacy Policy and Terms of Use.
ADVERTISEMENT - STORY CONTINUES BELOW
Rosie even vowed to leave the United States if Trump were elected president, yet here she still is! Trump responded to her temper tantrum by saying, "We'll get rid of Rosie. Oh, I love it…Now I have to get elected because I'm going to do a great service to our country. Now it's much more important. In fact, I'll immediately get off this call and start campaigning right now."
Others responded to Rosie and her continuing tantrum about President-elect Trump's epic presidential win in hilarious fashion, with one Twitter user even asking Rosie just HOW she planned to stop Trump from taking office on January 20th?  Eat him?
https://twitter.com/MaximusPPC/status/815771144808759296
Rosie's obsession continues with this tweet – "TRUMP IS A CRIMINAL," she wrote in another tweet, this time linking to an article analyzing Trump's claims about saving American jobs. Virtually every tweet in recent history is about President-elect Trump.  I think perhaps Rosie might be a stalker?
TRUMP IS A CRIMINAL – https://t.co/dkhfSr4Ubc

— ROSIE (@Rosie) January 1, 2017
Virtually every tweet in recent history is about President-elect Trump.  I think perhaps Rosie might be a stalker? Maybe President-elect Trump might do well with a restraining order as the woman seems more than slightly obsessed.
h/t – Huffington Post 
TOGETHER WE WILL MAKE AMERICA GREAT AGAIN!
Dean James III% AMERICA'S FREEDOM FIGHTERS
 Please share this on all Social Media!
Facebook Has Banned Us!
The leftists at Facebook decided they didn't like our message, so they removed our page and are censoring us. Help us fight back and subscribe to our newsletter so that you can stay up-to-date with everything Facebook doesn't want you to see!
Disqus Comments