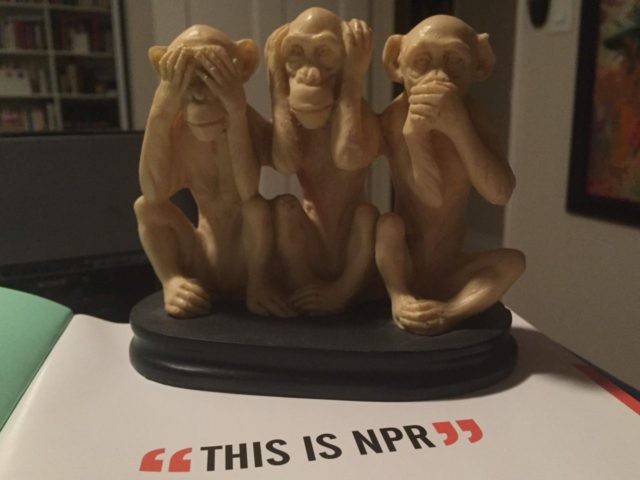 Sassy Liberty AMERICA'S FREEDOM FIGHTER – 
National Public Radio, or NPR, you know the radio station that is funded with your tax dollars?  Yes, THAT radio station that YOU pay for has now decided that they will no longer allow interviews with people that have Conservative views.
ADVERTISEMENT - STORY CONTINUES BELOW
take our poll - story continues below
Whom do you consider to be the most corrupt Democrat Politician?
Completing this poll grants you access to AFF updates free of charge. You may opt out at anytime. You also agree to this site's Privacy Policy and Terms of Use.
After an interview on Nov. 16 with Breitbart News' Joel B. Pollak, public editor Elizabeth Jensen has recommended that the taxpayer-funded radio news service bar future live interviews of conservatives who may have controversial views.  How's that for equal representation and being heard?
ADVERTISEMENT - STORY CONTINUES BELOW
Pollak, Breitbart's Senior Editor-at-Large and In-house Counsel, defended Executive Chairman Stephen K. Bannon from the false and defamatory claims of antisemitism and "white nationalism." Pollak was also quick to point out NPR's "racist programming," including a story that referred to the 2016 election results as "nostalgia for a whiter America."
Apparently, NPR listeners were outraged that Breitbart News had even been given a platform to speak and defend the news site, much less Bannon himself.  The liberals scream – "Never mind that free speech!  That's not welcome here!  Forget freedom, liberty, and those other pesky founding principles!  You have a right to believe what I tell you and hear what I want you too!  You are entitled to my opinion!"
ADVERTISEMENT - STORY CONTINUES BELOW
In her response, "Listeners: Two Recent Interviews Are 'Normalizing Hate Speech'," Jensen concluded that the live format had allowed Pollak to get the better of host Steve Inskeep.
Damn those pesky facts!  They just get in the way of what I want you to hear!! Because when they own the information they can bend it any old way they want to.  Perhaps the left should move to North Korea and let the rest of us have our country back?
According to Breitbart –
Jensen went on to argue that "contextualizing" had worked for a similar interview with former Ku Klux Klan leader David Duke, as well as for an interview Nov. 17 with white nationalist Richard Spencer. (Pollak responded to the latter interview in an article Nov. 18 rejecting NPR's attempt to link Bannon and Breitbart with white nationalism.)

Notably, Jensen's recommendation mirrors the language of a critique by the left-wing pressure group Media Matters, which complained that "the interview failed to contextualize the true extent of Breitbart's extremism under Bannon's leadership."

Jensen applauded the use of the term "white nationalist" to describe Bannon, although she noted Bannon had disputed that term. She linked to an internal NPR memorandum suggesting the term "white nationalist" be used in stories on the "alt-right."
In this internal memorandum directly from NPR this is how they describe the so-called Alt-right views and people who identify as such —

The views of the alt-right are widely seen as anti-Semitic and white supremacist. It is mostly an online movement that uses websites, chat boards, social media and memes to spread its message. (Remember the Star of David image that Trump received criticism for retweeting? That reportedly first appeared on an alt-right message board.)

Most of its members are young white men who see themselves first and foremost as champions of their own demographic. However, apart from their allegiance to their "tribe," as they call it, their greatest points of unity lie in what they are against: multiculturalism, immigration, feminism and, above all, political correctness.
Funny, but last I checked I'm about as far from a white male as you can get.  I know many Conservatives and many of the adjectives used above wouldn't apply to anyone with Conservative values.  We aren't against multiculturalism.  We're against people breaking our laws and exploiting our resources so they can leech off of us.  But legal immigrants?  HAPPILY!  I myself come from such a family.
Feminism?  We absolutely reject feminism.  Not because we don't believe women are strong, capable, worthy individuals, but because we are NOT victims! We are simply different from men and both sexes have their strengths and weaknesses. Political correctness? You're damn right I'm against political correctness.  This world needs a whole lot more plain speaking and whole lot less silence because you don't like my point of view.
h/t – Breitbart 
God Bless.
I VOTED FOR DONALD TRUMP AND TOGETHER WE WILL MAKE AMERICA GREAT AGAIN!
Dean James III% AMERICA'S FREEDOM FIGHTERS
 Please share this on all Social Media!
Facebook Has Banned Us!
The leftists at Facebook decided they didn't like our message, so they removed our page and are censoring us. Help us fight back and subscribe to our newsletter so that you can stay up-to-date with everything Facebook doesn't want you to see!
Disqus Comments