Sassy Liberty AMERICA'S FREEDOM FIGHTERS –
After more than eight years of listening to Barack Obama perpetually campaign, selling America a bill of goods about "hope and change" NPR is now making audacious accusations against President Trump. NPR is accusing President Trump of waging  a "permanent campaign."
ADVERTISEMENT - STORY CONTINUES BELOW
take our poll - story continues below
Whom do you consider to be the most corrupt Democrat Politician?
Completing this poll grants you access to America's Freedom Fighters updates free of charge. You may opt out at anytime. You also agree to this site's Privacy Policy and Terms of Use.
NPR's Ron Elving writes in an article from February 17 article –
Americans have complained for years about presidential campaigns that start too early and last too long.

Now, they are confronted with one that refuses to end — even after reaching the White House.
This tirade against Trump is the latest in media attacks in response to President Trump's February 15 press conference where he soundly put the mainstream media jackals in their respective places, giving no quarter.
ADVERTISEMENT - STORY CONTINUES BELOW
Elving responded by complaining Trump used "I" or "me" or "the royal we" too often during his presentation.
In fact, Trump used the words "I" or "me" or "we" in reference to himself (the royal we) more than 500 times.
Elving then suggested that President Trump is using his press conferences as a sort of  "permanent campaign" in efforts to keep his policy ideas at the forefront of discussions. Or Elving suggested –
ADVERTISEMENT - STORY CONTINUES BELOW
"Or perhaps the campaign continues because it continues. The president does not yet seem comfortable in his new office with all the crosswinds and complications of divided powers and shared responsibilities."
Well, perhaps if the Mainstream leftist Media would cease with their incessant hit pieces, witch hunts, and public diatribes, or the political obstructionism that is taking place by the democratic party led by Obama himself, President Trump may have the opportunity to grow accustomed to his position, as every other president has prior to him. 
I guess Elving missed the last eight years of the Obama regime.  Perhaps even nine years, if one considers that Obama launched his campaign for president and said campaign did not end until he left office.  One may even argue that Obama is STILL campaigning, albeit at this point for Democratic obstructionism, as evidenced by the robocall for fundraising I received at my office just last week calling for contributions to obstruct and counter all Trump administration policies. This was actually one of the MOST common criticisms of the Obama presidency.
In December of 2012, The Observer noted that Obama's campaign apparatus, Organizing for America was still soliciting contributions months after Obama won his second term. OFA is still operational today, soliciting campaign funds all with the goal of undermining President Trump. Obama himself continues to heckle President Trump via Twitter, not extending even the smallest and most common of courtesies. Even publications such as the New York Post are making note of it, stating —
When former President Barack Obama said he was "heartened" by anti-Trump protests, he was sending a message of approval to his troops. Troops? Yes, Obama has an army of agitators — numbering more than 30,000 — who will fight his Republican successor at every turn of his historic presidency. And Obama will command them from a bunker less than two miles from the White House.
The Washington Times  made a similar observation in August of 2009 regarding Obama and his use of "divisive," and "permanent campaign tactics." And interestingly enough, these claims have not been made by JUST Conservatives or right leaning media news sources, either.  The New York Times made similar claims in 2013 making note of Obama's "campaign without end" and how the Obama fundraising machine was continuing in an "unprecedented" manner.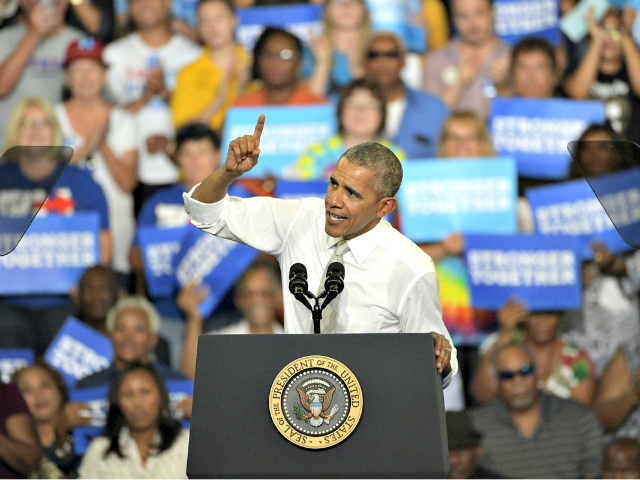 Dana Milbank of the Washington Post made a similar observation in May of 2013, with commentary on how Obama had "embraced the permanent campaign" as evidenced by his campaign-style rallies all over the country pushing his radical agenda, stating –
"To a greater extent than his predecessors, Obama has used the trappings of his office to promote his reelection prospects even while handling taxpayer-funded business."
Of course, some liberal, leftist publications were quick to praise this continuous campaigning and the continued agitation of the American people, touting his "change" mantra in selling his ideas to the public. MSNBC offered effusive praise to Obama for "putting the permanent campaign to good use."  The Atlantic sang Obama's praises in his use of the "permanent campaign" and how he was using it to change the political landscape of Washington.
Elving seems to be on the late ship out and clearly, his hearing aid was out of working order for the last 8 years plus to offer criticism of President Trump for using the words  "I" and "me" too much, in light of the previous president and his merry band of sycophants famous for his narcissistic references to himself in every appearance. The Media Research Center noting – 
Obama loves to hear himself talk — about himself. In just 41 speeches so this year, not including this week's big speech at the United Nations, Obama has talked about himself nearly 1,200 times — 1,198 to be exact. (That breaks down to 1,121 "I's" and just 77 "mes.")
The Washington Examiner making note of just how far Obama's narcissism extended with his enthrallment of the sound of his own voice, sharing the story of how Obama gave the Queen of England the gift of an iPod filled with all of Obama's speeches. Oh but by all means!  Let's keeping making those comparisons Mr. Erving!  Your leftist bias is hanging out….you might want to tuck that back in.
God Bless.
Here's How To Be Sure To Continue Seeing Our Content On Facebook
TOGETHER WE WILL MAKE AMERICA GREAT AGAIN!
Dean James III% AMERICA'S FREEDOM FIGHTERS
Please like and share on Facebook and Twitter!
Facebook Has Banned Us!
The leftists at Facebook decided they didn't like our message, so they removed our page and are censoring us. Help us fight back and subscribe to our newsletter so that you can stay up-to-date with everything Facebook doesn't want you to see!
Disqus Comments