Liberals And Haters Lose Their Minds After Hard-Core Trump Critic Suggests President Trump Should Win 'Nobel Peace Prize' For Historic North Korea Moves
– Democrats Had A Very, Very Bad Week!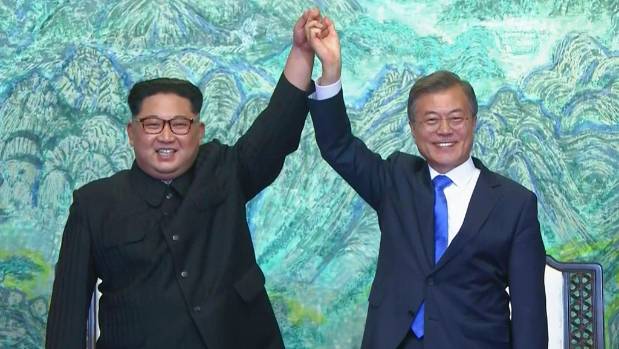 By Susan Duclos – All News PipeLine
For the purpose of this article I am going to throw a number of groups into the Trump-Hater "basket," including "conservatives," that gladly take up a liberal position rather than ever admit to anything good coming out of the Trump administration, such as the likes of Bill Kristol, who publicly stated he would rather see Michelle Obama win the 2020 election than Donald Trump.
ADVERTISEMENT - STORY CONTINUES BELOW
Others thrown into the basket for the purpose of this article are the #Resistance liberals, who quite literally cannot admit to anything  complimentary, or credit the president with anything good that happens as a result of his policies, and of course, the basket really fills up when you add the majority of the liberal mainstream media.
take our poll - story continues below
Whom do you consider to be the most corrupt Democrat Politician?
Completing this poll grants you access to AFF updates free of charge. You may opt out at anytime. You also agree to this site's Privacy Policy and Terms of Use.
THEY ARE ALL HAVING A VERY BAD WEEK
We'll start with the big news of the day, where North Korea and South Korea announced the end of the "war," promising peace, the first time in nearly 70 years. Undoubtedly a historic moment to which the international community has been wanting and working towards for decades.
People are talking the Nobel Peace prize for both the NK and SK leaders along with president Trump, with Trump-haters, unable to see the historical significance of the meeting and agreement itself, instead only criticizing that it doesn't go far enough, which it doesn't, but their inability to even acknowledge that history has been made, regardless of what comes next, stems from their Trump Derangement Syndrome (TDR).
ADVERTISEMENT - STORY CONTINUES BELOW
That is highlighted quite clearly when even a hard-core Trump critic, Ian Bremmer, president and founder of Eurasia Group, the leading global political risk research and consulting firm, dared to acknowledge the part President Trump played in this historical moment, just to have social media users criticize him for daring to acknowledge the part Trump played.
Bremmer offered a four-part series of social media statements in relation to the NK/SK summit results, stating "North, South Korean leaders commit to "No more war" on peninsula in joint statement. Best news you're going to hear all year."
He continued on to say "I've been critical of Trump foreign policy missteps in past year: TPP, Paris, too many unnecessary missteps with allies to count. But today's historic North/South Korea breakthrough does not happen without priority & pressure from US President. Trump deserves full credit."
"Trump, Xi, Moon and Kim together get my vote for the Nobel Peace Prize," Bremmer declared.
ADVERTISEMENT - STORY CONTINUES BELOW
It doesn't matter that Bremmer is a frequent Trump critic, nor that his statement itself shows he is a globalists supporter that has criticized Trump relentlessly over pulling out of TPP and the Paris Accord, to read some of the reactions to his audacity to give president Trump any credit at all, his comments in that thread range from questioning why, to insisting Trump had nothing to do with it, to insisting that we would see "Trump warehouses start popping up in North Korea where he can pay half of what he pays in underdeveloped countries and still pay them more than they've ever seen."
The level of outrage over Bremmer providing his expert opinion, attempting to give credit where it is due, even with his warning that there is "still a lot of work to do before there's sustainable Peace," truly offers a glimpse of how TDS continues unabated for Trump-haters.
Kudos to Bremmer, not just for being able to offer an objective assessment, despite his dislike for President Trump's policies, but for offer a final zinging response to those Haters, by saying in a subsequent tweet "Trump, Xi, Moon and Kim deserve a Nobel if a Peace Deal is concluded. And everyone is like: Trump, are you kidding me?! You'd think people would object more to awarding the prize to a totalitarian dictator / leader of the world's largest concentration camp."
Indeed.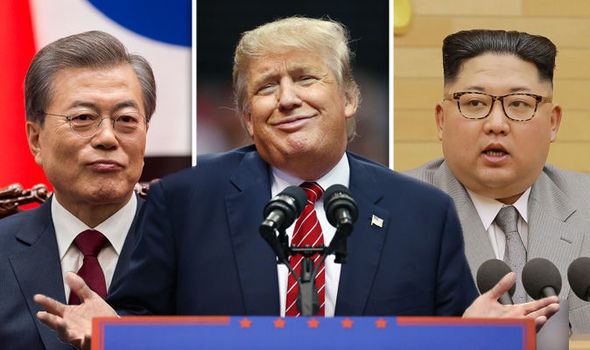 Other crediting President Trump for bringing North Korea to the table, is South Korea's President Moon Jae-in, and South Korea's foreign minister Kang Kyung-wha.
Giving Trump-haters even more reason to scream out helplessly in anger, bitterness and sorrow, so many people are pushing the term "Nobel Peace Prize," for President Trump that is trending as a top term on Twitter , where they are congregating to attack anyone even suggesting that should a solid peace agreement flourish, and should NK denuclearize, President Trump should be nominated.
Aside from the Nort Korea/Suth Korea news of the day, it also appears the political supposedly conservative website RedState, locked out their writing staff to "purge" a number of them in a mass firing, with the "official narrative" by those fired and the original founder, who now runs the website Resurgent, one of the original #NeverTrumper's, being that those fired are "Trump critics," or NeverTrumpers.
The problem is that what it is the narrative making the rounds, there is no internal data to prove the assertion. It appears RedState had two levels of payment for writers, and many that were on the higher level were "purged," yet the names of those fired are ones that wrote heavily critical articles regarding President Trump, to the point where long-time readers like myself, never goes to the site anymore as those particular critics do not just criticize, but in many cases actually push Democratic talking points.
While I am not privy to the internal debates, and neither are those claiming they were fired for their political viewpoint, what we are privy to is the publicly available information as to traffic levels over the past year.
Here is a graph of traffic levels, along with the website the Federalist for comparison.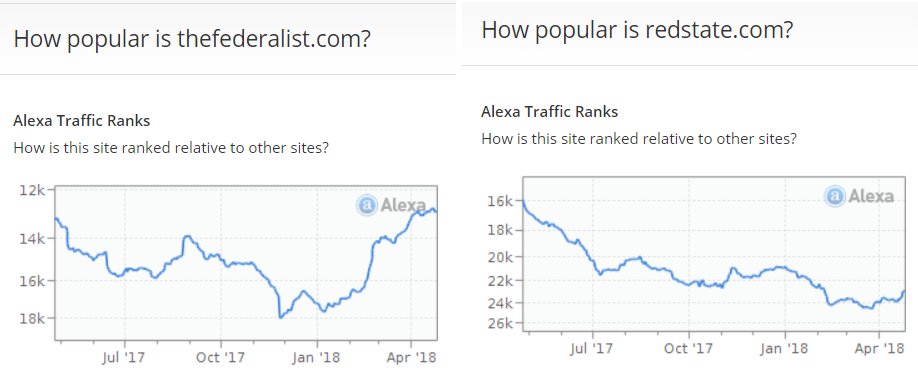 The number of paid writers the site had on staff absolutely cannot be self-sustained looking at the way traffic spiraled, so until someone provides internal numbers as to whether those particular writers either had lower levels of traffic, or if those writers were driving traffic away, a determination as to whether they were fired for their viewpoint or strictly for business reasons, cannot be made.
That is not stopping the writers from claiming the were fired because they were "Trump critics," and maybe they were, but the company that owns the site, Salem Media, sent out an internal memo stating "We had to make some tough changes to RedState today," Townhall GM, Jonathan Garthwaite, wrote in the memo. "While these changes are painful, they were necessary once we reached the conclusion that we could no longer support the entire roster of writers and editors."
Redstate became known during the 2016 election cycle as a place where writers critical of President Trump could congregate, while still having plenty of pro-Trump writers as well. Whether that is why the levels of traffic started tanking is something only Salem Media's internal numbers and data can tell us, but that has not been made available to the public, nor has their reasoning for which writers were let go and which were kept.
As of this writing, the RedState been unfrozen and new content is once again being published.
ANP has reached out to Salem Media Group and will update this if they reply.
Either way, whatever the reason, Trump-haters are taking the purge badly as shown by the Editor-in-Chief of RedState (maybe former?) who sent a message on social media that many believe is a reference to his firing, which states " There is a right way to do something and a f**ked up way. I don't make you choose the f**ked up way, I just make you pay for it if you choose it. You can call me back or you can watch this unfold right here, guy."
As of this writing he still has "Editor-in-Chief@RedState" in his bio.
All this on top of the complete liberal Trump hating meltdown over musician Kanye West's recent pro-Trump statements, and his push for African Americans to break out of their "mental prisons" and think for themselves. We have covered that extensively here and herefor the background there, no need to go over it again, other than to say, Trump-haters are still having a complete temper tantrum because he won't stop.
BOTTOM LINE
It is getting harder and harder for Trump-haters to justify the whole #Resist everything mindset as his accomplishments start to pile up, but the anger and vitriol they are spewing against anyone that dares point out any accomplishments shows how deeply rooted Trump Derangement Syndrome truly is.
As to the North Korea/South Korea peace summit and the resulting announcement, no matter what happens going forward, this has been a historic event and even some of President Trump's most ardent critics, such as Bremmer from Eurasia Group, and other experts, are being attacked for daring to highlight the part President Trump has played.
It speaks volumes that a very good day for America and the world, is such a very bad day for Trump-haters.
Be sure to check out our great friends at All News PipeLine!
A special thanks to my good friend Susan Duclos!
God Bless
TOGETHER WE WILL MAKE AMERICA GREAT AGAIN!
Dean James III% AMERICA'S FREEDOM FIGHTERS
Please like and share on Facebook and Twitter!
Facebook Has Banned Us!
The leftists at Facebook decided they didn't like our message, so they removed our page and are censoring us. Help us fight back and subscribe to our newsletter so that you can stay up-to-date with everything Facebook doesn't want you to see!
Disqus Comments