Sassy Liberty AMERICA'S FREEDOM FIGHTERS –
The left has literally lost its collective mind….gone nuts….completely out of touch with reality!  In their clear ignorance of Islam and the hijab, as well as what the hijab stands for, they have declared the hijab a symbol of feminism and the so-called "resistance."  An article of clothing used to subjugate women in Muslim countries is viewed as somehow "liberating?"  Exactly what planet are these people from?
ADVERTISEMENT - STORY CONTINUES BELOW
take our poll - story continues below
Completing this poll grants you access to AFF updates free of charge. You may opt out at anytime. You also agree to this site's Privacy Policy and Terms of Use.
Yet, liberal feminists in America want YOU to believe that being forced to cover up your head and your face on the threat of death, is empowering and makes you a stronger woman.
It's absurd.
The word hijab refers to both the head covering traditionally worn by some Muslim women and modest Islamic styles of dress in general.
The garment has different legal and cultural status in various countries. Muslim women are legally required to wear hijab in public in Saudi Arabia and the Indonesian Aceh province, and all women are required to do so in Iran.
According to USA Today –
ADVERTISEMENT - STORY CONTINUES BELOW
"I do believe hijab support feminism," Sameeha Ahmad is quoted as saying, adding that "the way you look at it from a religious perspective, it empowers you by strengthening your relationship with God. It's a step you are taking to further yourself within your own religion."

The author also quotes the view of Dalia Mogahed, a director of research at the Institute for Social Policy and Understanding, which seeks to empower American Muslims. Mogahed claims that the "the 'hijab oppresses women' narrative is not only racist, it is also sexist."

Mogahed adds that the "hijab is a choice by the vast majority of women who wear it, especially in the U.S. where there is great societal pressure to not wear it, rather than the reverse."
If Islam is not responsible for the oppression of women, why is it that every single predominantly Muslim countries has atrocious women's rights track record, and not even just women's rights but human rights as a whole?
Every time we talk of women's rights in countries like Pakistan, Somalia, Saudi Arabia, people defend Islam saying "But it's not the religion, it's the people who interpret the religion in the wrong way" "They are extremists, they don't represent the common people" ad nauseam.
ADVERTISEMENT - STORY CONTINUES BELOW
In a funny twist of irony, USA Today ALSO did this article noting the 10 Worst countries for Women –  every SINGLE nation mentioned IS PREDOMINANTLY MUSLIM.  They ALL force women and girls to wear some variation of the hijab. Coincidence?  I think not.
1. Yemen
Yemen continuously makes the worst country in the world to live as a woman.  5 women were stoned to death for NOT wearing the hijab.  A female rapper from Yemen chose not to wear the hijab and she routinely receives death threats.
2. Pakistan
The Pakistani Taliban demands that women wear the hijab or be disfigured. While technically Pakistan has no laws banning or enforcing the hijab, women still wear them or risk being attacked.
3. Afghanistan
Under the Taliban, the burqa was obligatory. While this is officially no longer the case, some women continue to wear it out of security concerns. The burqa covers everything, even the eyes.
4. Iran
In Iran, women are required to wear loose-fitting clothing and hijab in public.
5. Iraq
In southern communities of Iraq especially in Najaf and Karbala, hijab is compulsory. Women in public places usually wear abaya which is a long black cloth that covers the whole body except the face and the hands.

6. Saudi Arabia
Saudi women are required to cover their faces in public wearing a niqab. This is a step past the hijab. The Saudi niqab usually leaves a long open slot for the eyes. Although a person looking at a woman wearing a niqab with an eye-veil would not be able to see her eyes, she is able to see out through the thin fabric.
7. Mali
In Mali, even women who do not practice Islam and are visitors to their country are REQUIRED to wear the hijab. When Al'Queda took over the country in 2012 women saw their freedoms disappear overnight. Women were forced to remain indoors and wear full body and face-covering veils. Infractions of the law often meant severe punishment, ranging from being jailed in cramped holding cells and being whipped. According to Human Rights Watch, reports of forced marriage and rape also rose.
8. Somalia
Again, while not required to be worn, many women opt to wear the hijab in Somalia for safety reasons for risk of being attacked for NOT wearing it.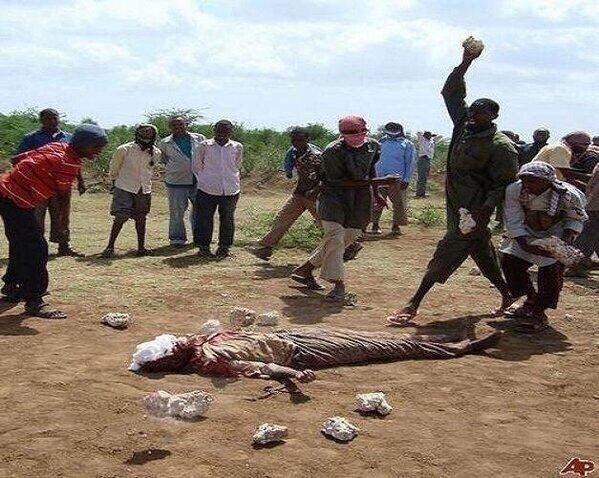 9. Sudan
In accordance with the nation's Constitution, Sudanese women are required to wear the hijab while in public at all times. Non-wearing of the hijab, which is considered to be immoral, is implicitly forbidden by Sudanese law, stating –
"Whoever does in a public place an indecent act or an act contrary to public morals or wears an obscene outfit or contrary to public morals or causing an annoyance to public feelings shall be punished with flogging which may not exceed forty lashes or with fine or with both.
10. Gaza Strip
Hamas campaigned for the wearing of the hijab alongside other measures, including insisting that women stay at home, they should be segregated from men, and for the promotion of polygamy. During the course of this campaign women who chose not to wear the hijab were verbally and physically harassed, with the result that the hijab was being worn "just to avoid problems on the streets.
One of my close friends is Palestinian.  She was raised in a Muslim family and chose to convert to Christianity at the age of 20.  As a result, she is under death threat from her family.  I will not mention her by name for that reason – but her words on topic of the hijab, niqab, burka and all other forms of the veil are this –
"I would rather no woman or girl be forced under the veil. I would rather that no woman had to effectively disappear, from a young age, to be made invisible because that is the norm in her family. I would rather that no one had to go through the discomfort and social awkwardness of dealing with a woman whose face you cannot see and the oppressions that surely follow. As the mother of 4 girls?  I will die before I force my daughters to live with no voice and faceless."  
God Bless.
Here's How To Be Sure To Continue Seeing Our Content On Facebook

TOGETHER WE WILL MAKE AMERICA GREAT AGAIN!

Dean James III% AMERICA'S FREEDOM FIGHTERS

Please like and share on Facebook and Twitter!
Facebook Has Banned Us!
The leftists at Facebook decided they didn't like our message, so they removed our page and are censoring us. Help us fight back and subscribe to our newsletter so that you can stay up-to-date with everything Facebook doesn't want you to see!
Disqus Comments