Sassy Liberty AMERICA'S FREEDOM FIGHTERS – 
Pro-Sharia Pro-Palestinian Muslim activist Linda Sarsour is fundraising for a victim of an Anti-Muslim hate crime that may never have happened. The current fundraiser total raised stands at more than $80,000.
The crime in question was alleged to have taken place against a Somali woman that claims she was attacked by a white man in what she terms as a hate crime. But the two men accused of the so-called hate crime say there is a lot more to the story….
ADVERTISEMENT - STORY CONTINUES BELOW
40-year-old single mom Rahma Warsame is a resident of Columbus, Ohio where she says she was attacked on Saturday night by a white man while defending a friend.
Sarssour posted a picture of her friend with a note about her condition stating Warsame has four missing teeth, a swollen face, swollen nose, and busted lip.
A woman was brutally assaulted, fractures in her face and teeth knocked out. Man who beats her says "self defense." Are you serious? pic.twitter.com/Uhhlxuxsuc

— Linda Sarsour (@lsarsour) June 5, 2017

ADVERTISEMENT - STORY CONTINUES BELOW
Sarsour whips her followers into a frenzy with her fundraising pitch stating that Warsame will miss work due to her injuries and is in need of money to provide for her 12-year-old son.
Since the initial post the fundraising goal has been increased multiple times and now currently stands at $100,000. As a result of Sarsour's publicity, the Columbus chapter of the Council on American-Islamic Relations (CAIR) has also gotten involved in the case.
The irony of CAIR calling on police to pursue a hate crime investigation with their known ties to terrorism is not lost. The group went so far as to compare this case to the recent murder of two men in Portland who were defending Muslim women on a train.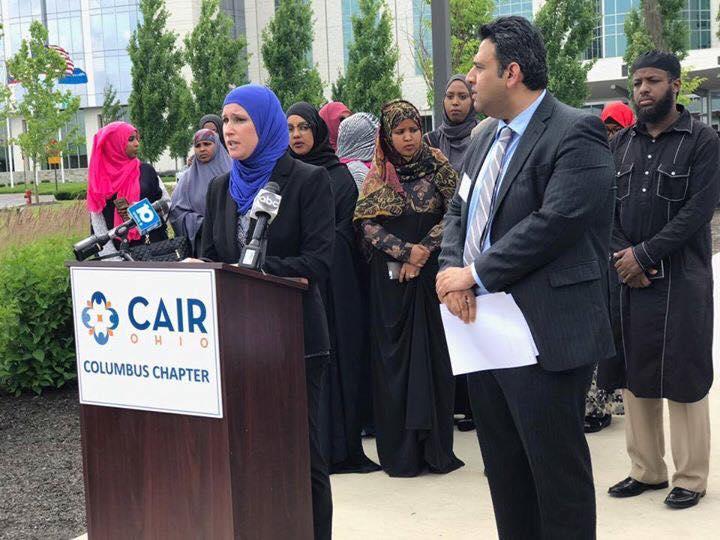 According to CAIR, Warsame claimed that the white man told her "you all will be shipped back to Africa." A press conference was held by the group on Sunday to express their anger that the man involved in the incident has not been arrested.
The woman, who reportedly intervened to protect another Muslim woman from harassment by the alleged attacker – a white male – was beaten unconscious, resulting in facial fractures and the loss of several teeth. According to the victim, the alleged attacker reportedly screamed "you all will be shipped back to Africa" prior to beating. CAIR-Columbus attorneys are representing her in the case.
Sarsour expressed similar sentiments on her Twitter feed –
Fractures to the face and teeth knocked out of your mouth are minor injuries and weren't that serious for Columbus Police. Just another day.

— Linda Sarsour (@lsarsour) June 5, 2017
However, Samantha Morales states Sarsour and CAIR are not being at all accurate in their portrayal of what happened, including allegations of racial epithets screamed and hurled at Warsame. 31-year-old Morales is of Mexican heritage and states SHE was attacked by a mob of men and women, INCLUDING Warsame, following a neighborhood argument involving a woman and her son.
Morales states –
"What happened is not what she is claiming. The woman that is in the hospital, I feel sorry for her, but she is one of the women who was kicking and hitting me after I got tased."
Morales is an insurance claims agent in Columbus and says her boyfriend, Ricky Boyce, is the man Sarsour and CAIR are accusing of being the "white man" who hurled racial insults and attacked Warsame. Both Morales and Boyce deny any racial epithets were exchanged in the incident on Saturday that began when Morales intervened after she observed a woman of African heritage who lives in her apartment complex screaming at her son and hitting him with a shoe.
Boyce states –
"I didn't even have time to talk to any of them because they were over there jumping [Morales] at the time."
Sarsour and CAIR have completely ignored major components of the story including Morales herself being transported to the emergency room by ambulance due to injuries she sustained in the altercation on Saturday.
Morales states –
"They're not even mentioning that I was the victim. They came at me. The woman that's in the hospital is part of the group that was aggressing me."
Emergency room discharge papers show that Morales underwent a CT scan and X-rays on her hand and ankle at a Columbus hospital. Morales states she sustained a concussion as a result of the events that transpired.
Morales states that the incident occurred after she yelled at a woman from her porch.  The woman was screaming at her child and beating him with a shoe in the common area behind her apartment. Morales states that the woman then threatened to break the windows on her car and apartment while carrying a stick.  Then walked near Morales' car and accused Morales and Boyce of having taken her child. Neither Morales nor Boyce knew the women or her child prior to the incident, nor did they take the child or lay hands on the child in any way.
Morales stated –
"I went outside. I wasn't trying to get involved. I just thought the presence of an adult would have stopped her."
Morales then called 911 and explained to the dispatcher the threats that had transpired and the events leading up to the incident. The standoff that led to the violent confrontation ensued shortly thereafter.
Morales tells of being assaulted by four or five different men before someone used a taser on her, then a group of women joined in the assault.  Boyce sprung into action once the taser was used to defend Morales from the attack.  Boyce explains of the altercation that he is certain he hit someone but has no idea if it was Warsame and he vehemently denies any purposeful targeting of the same. The police report confirms the account given by Morales and Boyce. Boyce was temporarily detained, however, once police took a statement from him and realized the details of the situation he was released.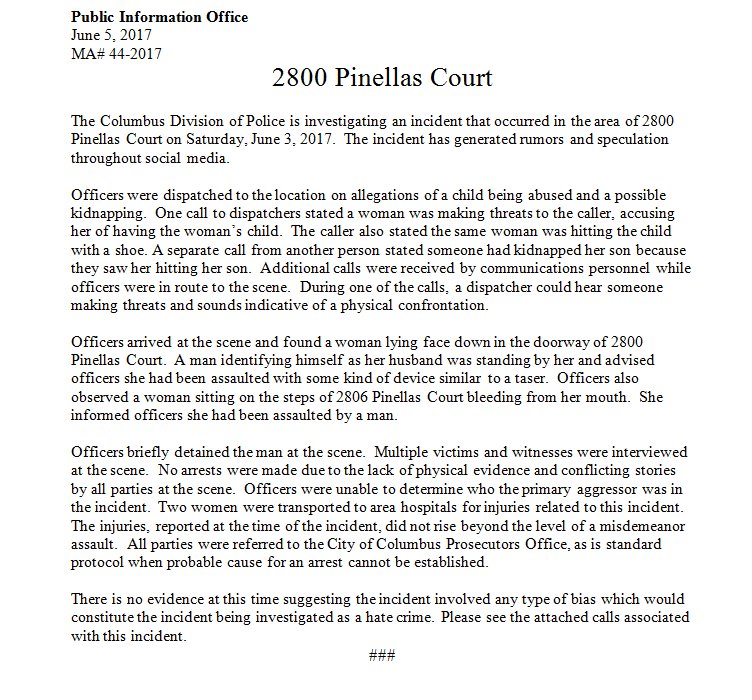 According to the police report, Muna Warsame was in possession of a Taser at the scene of the altercation. The report also notes "due to conflicting statements," the "primary aggressor was not able to be identified." Also noted in the police report is Morales again calling 911 on Sunday morning after the same group of men and women threatened her yet again outside of her apartment.
Yet CAIR and Sarsour insist that Columbus police have not thoroughly investigated the matter. Executive director of CAIR-Columbus and an attorney for Warsame said in a statement –
ADVERTISEMENT - STORY CONTINUES BELOW
"The fact that the perpetrator was not taken into custody and was not charged raises serious concerns and sends a very dangerous message."
Source- AFF 
FOLLOW us on Facebook at Nation In Distress!
Copyright 2017 Americas Freedom Fighters/ AFF Media. All rights reserved. This material may not be published, broadcast, rewritten or redistributed without expressed permission.
Facebook Has Banned Us!
The leftists at Facebook decided they didn't like our message, so they removed our page and are censoring us. Help us fight back and subscribe to our newsletter so that you can stay up-to-date with everything Facebook doesn't want you to see!
Disqus Comments