Sassy Liberty AMERICA'S FREEDOM FIGHTERS –
Democrats are now in a full blown hissy fit over President Donald Trump's decision to nominate Judge Neil Gorsuch to the U.S. Supreme Court making WILD claims that Trump "stole" the seat from Obama.
The Democratic National Committee said in a fundraising email —
Judge Neil Gorsuch, Donald Trump's newly-revealed Supreme Court nominee, has a legal history that shows a deep sympathy for corporate interests and an apparent disdain for workers.

Donald wants to put Judge Gorsuch in the Supreme Court seat the GOP stole from President Obama. Add your name to tell the Senate to reject his nomination.

As an attorney, Judge Gorsuch routinely represented big businesses in class action lawsuits. As a judge on the Tenth Circuit, he wrote a concurring opinion in Hobby Lobby v. Sebelius — the case that allowed employers to deny basic health care coverage to women by ruling the Affordable Care Act's contraceptive mandate was unconstitutional.

He upheld a decision that denied long-term insurance benefits to a worker who sustained a work-related injury that required spinal surgery. He even dissented from a ruling in favor of a truck driver whose employer illegally fired him for abandoning a trailer with locked brakes — so he wouldn't freeze to death.

And as a member of the ultra-conservative "Federalist Society," Gorsuch believes in severely restricting the power that federal agencies like the EPA have to regulate businesses.

It's not hard to see why Trump loves him so much — but from where we're sitting, Joel, Judge Gorsuch has no business on the Supreme Court bench.
The looney liberal left will just NOT stop with the crybaby, sore loser antics! Is it any wonder that most average Americans are simply sick and tired of it?
Conservatives are cheering because Gorsuch's judicial record is very much in line with the revered literal Constitutionalist, Antoin Scalia.
He will take Scalia's spot on the U.S. Supreme Court due to Scalia's untimely passing last year. Republicans refused to move Obama's nominee, Judge Merrick Garland through the Senate, basing their decision upon a principle articulated by none other than Joe Biden himself.
He stated several years prior that a Supreme Court Justice should not be confirmed in the last year of a lame duck administration.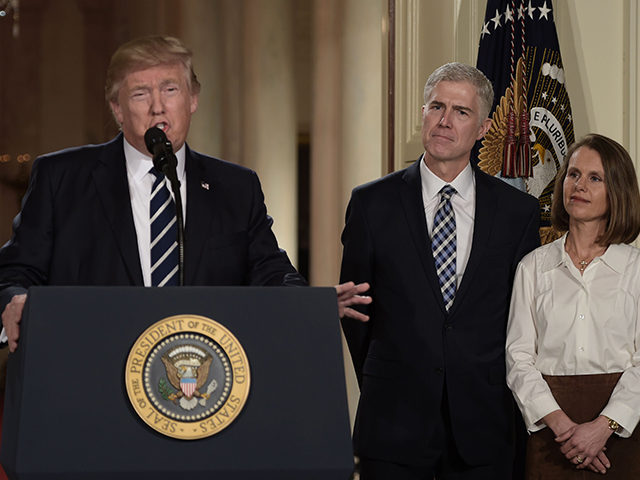 Gorsuch is known for his exceptionally clear legal opinions written in very plain language. He is considered pro-life and an active proponent of religious freedom.  He refused to allow Obamacare to bully companies into providing abortifacients, contraceptives, and abortions to their employees against their religious beliefs in both Hobby Lobby Stores v. Sebelius and Little Sisters of the Poor Home for the Aged v. Burwell.
Gorsuch has shown himself to be an ardent defender of religious liberties and that clearly makes him an enemy of the Democratic party. Gorsuch has proven over and over again in his decisions that he has a sense that government can permit public displays of a religious nature and accommodate deeply held religious beliefs WITHOUT violating the religion clause of the Constitution, adopting a very pro-religion stance on the establishment clause.
Gorsuch has also taken a very narrow view of criminal law so as to avoid criminalizing potentially innocent conduct and with the consistent democratic administration's expansion of government in recent years this becomes important. Gorsuch adopts a practice of reading criminal laws narrowly in ways that disfavors the prosecution – especially when the Second Amendment or another constitutional protection is involved. When the criminalization of the average and ordinary citizen is on the rise with the expansion of government, having a Supreme Court Justice that takes this view is VITAL.
h/t – Breitbart
God Bless.
Here's How To Be Sure To Continue Seeing Our Content On Facebook
TOGETHER WE WILL MAKE AMERICA GREAT AGAIN!
Dean James III% AMERICA'S FREEDOM FIGHTERS
Please like and share on Facebook and Twitter!