Sassy Liberty AMERICA'S FREEDOM FIGHTERS – 
The Women's March defended the honoring a known cop-killing terrorist on Monday night by saying the outrage over it was nothing more than right-wing fear.
Shakur was born Joanne Chesimard and was sentenced to life in prison.  She escaped in 1979 and fled to Cuba where she continues to live to this day.  The FBI has placed her on its most-wanted list as a "domestic terrorist" who belonged to an "extremist group," the Black Revolutionary Army, except the Women's March didn't quite describe her that way.
ADVERTISEMENT - STORY CONTINUES BELOW
take our poll - story continues below
Whom do you consider to be the most corrupt Democrat Politician?
Completing this poll grants you access to AFF updates free of charge. You may opt out at anytime. You also agree to this site's Privacy Policy and Terms of Use.
Shakur is a convicted cop killer, yet the Women's March saw fit to describe her as a "civil rights leader" giving her credit for work against sexism and racism.  She was known as a member of the extremist Black Liberation Army, serving a life sentence for murder when she escaped from a New Jersey prison. Shakur was found guilty in the 1977 murder of Officer Werner Foerester in New Jersey, but the Women's March described itself as a "nonviolent movement. We have never and will never use violence to achieve our goals."
ADVERTISEMENT - STORY CONTINUES BELOW
Last weekend, the Women's March led an 18.6-mile trek from the National Rifle Association in Fairfax, Virginia, to the Justice Department in D.C. to protest the gun-rights organization.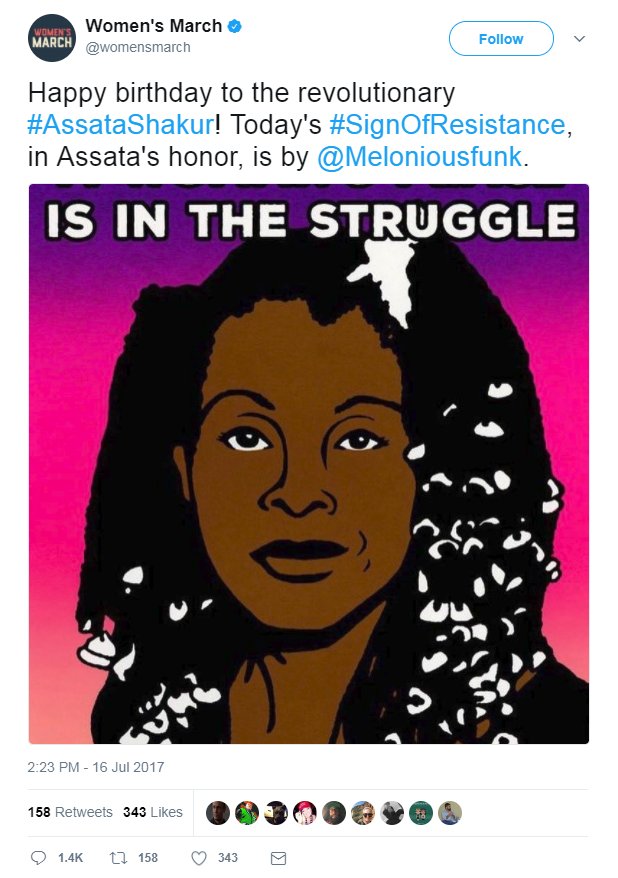 ADVERTISEMENT - STORY CONTINUES BELOW
The Black Liberation Army was an underground, black nationalist militant organization that operated in the US from roughly 1970 to 1981. Composed largely of former Black Panthers, the organization's program was one of armed struggle against the US government with a stated goal to "take up arms for the liberation and self-determination of black people in the United States." The BLA espoused the following principles –
That we are anti-capitalist, anti-imperialist, anti-racist, and anti-sexist.

That we must of necessity strive for the abolishment of these systems and for the institution of Socialistic relationships in which Black people have total and absolute control over their own destiny as a people.

That in order to abolish our systems of oppression, we must utilize the science of class struggle, develop this science as it relates to our unique national condition.
 They unleashed a social media tweetstorm in defense of fugitive Assata Shakur. The Women's March said they respected Shakur as a "feminist figure"  because she used her leadership to challenge "sexism" in the Black Liberation Movement. The tweet in question was posted as a tribute in celebration of Shakur's 70th birthday. The far left group posted some 20 tweets in rapid succession on Monday evening blasting the 'far right' and attempting to offer justification for why they consider Shakur a feminist figure.
The birthday tweet drew a plethora of criticism including a tweet from Sen. Marco Rubio. Rubio stated that it was "unbelieveable that anyone would idolize a cop killer."
Facebook Has Banned Us!
The leftists at Facebook decided they didn't like our message, so they removed our page and are censoring us. Help us fight back and subscribe to our newsletter so that you can stay up-to-date with everything Facebook doesn't want you to see!
Disqus Comments