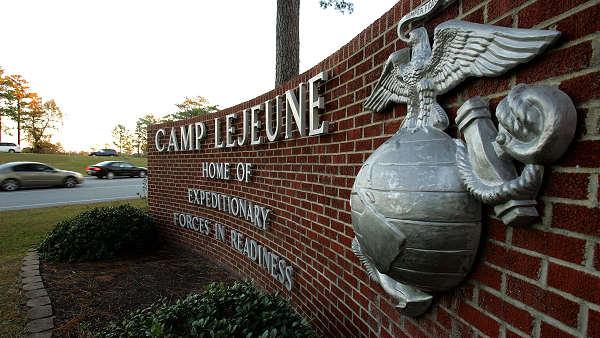 CAMP LEJEUNE, N.C. — A Marine remained in custody Wednesday after military officials say he shot and fatally wounded a colleague with his M4 rifle at the main gate of Camp Lejeune.
 The shooting happened at 5:30 p.m. Tuesday when the Marine fired on his colleague inside a guard shack at the base, said Camp Lejeune spokesman Nat Fahy.
Fahy said law enforcement and emergency personnel attempted to revive the shooting victim, who received a single shot, but the victim was later pronounced dead at a base hospital.
The shooting came less than a week after a shooting rampage by a soldier at Fort Hood in Texas killed three and wounded 16 others.
Fahy stressed the difference in the two situations.
"We understand that people are at a state of heightened sensitivity, given what happened over at Fort Hood," Fahy said. "It's important that we convey that this is not a Fort Hood-like incident. It was an isolated incident that's no longer active."
Fahy said the Marine who fired the shot from his M4 rifle was in custody and was awaiting questioning by Naval Criminal Investigative Services.
The name of the shooter, who Fahy said was a male, hasn't been released, and Fahy said the victim's name is being withheld until relatives are notified. There were other guards at the gate, but no one else was hurt.
The shack is approximately 15 feet by 15 feet and sits under a canopy, Fahy said. He didn't know if anyone other than the two Marines involved in the shooting were inside the shack at the time.
Fahy said the main gate remained open after the shooting.
He said authorities isolated the area immediately after the shoooting, and when it was determined the situation was secure, traffic was allowed to pass on and off the base.
"At no time was the base ever on lockdown," Fahy said.
Facebook Has Banned Us!
The leftists at Facebook decided they didn't like our message, so they removed our page and are censoring us. Help us fight back and subscribe to our newsletter so that you can stay up-to-date with everything Facebook doesn't want you to see!
ADVERTISEMENT - STORY CONTINUES BELOW
ADVERTISEMENT - STORY CONTINUES BELOW
Disqus Comments