THE COMMUNIST/LIBERAL BLACKOUT CONTINUES…
These scumbags will do whatever it takes to cover Biden and the radica left's a**es.
ADVERTISEMENT - STORY CONTINUES BELOW
As the Biden administration solely focuses on targeting conservatives for political extremism and white supremacy, they continue to ignore the violence of Antifa and Black Lives Matter.
One of the main arguments from the left and their flock, is that Antifa and Black Lives Matter groups are fighting for racial equality and equal justice.  They leave out the demands to defund police departments, rioting, looting, violence, burning down properties and even murder.
These violent riots have been largely ignored and dismissed as peaceful protests.
Nothing could be further from the truth.
ADVERTISEMENT - STORY CONTINUES BELOW
THESE ARE NOT FREAKING PEACEFULPROTESTS- THEY ARE VIOLENT RIOTS THAT HAVE COST TAXPAYERS BILLINS OF DOLLARS!
Well the BLM thugs were at it again last night as the mob marched through Midtown Manhattan beating people up, burning flags and assaulting police officers.
At least 11 protesters were arrested at the time this publication.
At least 2 Police Officers were injured according to the NYPD.
An official count of injured Police Officers has not been confirmed at this point.
There were at least 100 'peaceful' protesters according to reports.
New York Post reports that at least some of those arrested were accused of attacking Daily News photographer Sam Costanza at the intersection of Sixth Avenue and 54th Street in the mistaken belief that he was a cop, sources said.
Multiple BLM Protesters Arrested in Midtown NYC tonight following a "F**K 12" march. Member of the press also appear to have been arrested. 11 people were arrested and reports of two injured officers.

Desk@freedomnews.tv to license pic.twitter.com/Lxk8zZ24ji

— @SCOOTERCASTER (FNTV) (@ScooterCasterNY) February 13, 2021
Fox News has more:
The photographer was surrounded and struck after one of the marchers recognized him from a BLM protest outside the NYPD's 6th Precinct house in Greenwich Village last year, according to sources.
The agitated protester began yelling, "He's a cop," inciting many of his fellow marchers.

About a dozen people surrounded the photographer, shoving him and beating him with their fists and other objects, sources said.
These groups of violent thugs seemingly get a free-pass to do as they please and even the few who get detained here and there, don't worry too much about it because they get free money for bail as well as for legal representation.
Can you imagine if such a wide spread protesting groups of conservatives were nation wide and had the financial backing to do as Antifa and Black Lives Matter do?  One thing is certain, there wouldn't be rioting and looting nor violence instigated by the conservatives.
Tonight's #F12 #DEFUNDPOLICE #BlackLivesMatter march has reached Times Square with around 100 demonstrators. Two small flags were just burned in a circle of pavement near the Times Square NYPD annex — one US flag, and one Blue Lives flag. pic.twitter.com/8x7Dx01U4r

— NYC Protest Updates (@protest_nyc) February 13, 2021
Demonstrators gathered both in Times Square and several blocks away, outside the New York Hilton hotel, the New York Daily News reported.
Videos posted on social media showed several clashes between the crowd and city police, as well as a group of protesters burning an American flag.
Sam Costanza, a photographer for the newspaper, said he believed his nose had been broken after being attacked by 10-15 members of the crowd.
Two members of the media were among those arrested, FreedomNews.TV reported.
Of course now any groups that form together and attempt to stand in the way of these thugs, is considered political extremists by the feds and will be investigated and possibly detained.
This is not a nightmare, this is not propaganda, this is the reality that all citizens are now living in, in The United States!.  Let that sink in…
As Americas Freedom Fighters reported earlier, ABC News senior national correspondent Terry Moran said Thursday during his network's coverage of former President Donald Trump's impeachment trial that America has a continuing threat of domestic terrorism "based on the MAGA movement."
Moran said, "I thought Representative Raskin, they all touched on this issue, he put it most forcefully, I think, when he said if we don't draw the line here, what's next? What makes you think this nightmare with Donald Trump and his violent mobs is over? And not just Trump. What makes you think it can't happen to our democracy again? This thing is now in the bloodstream of the body politic. The FBI and law enforcement recognize that we have a domestic insurgency, domestic terrorism in this country based on the MAGA movement coming out of that."
So has "MAGA" now joined the ever growing list of who and what the government is targeting and labeling as "political extremism and white supremacy"?  You can read the full article here.
Remember that it was Kamala Harris that told us this violent activity would continue even after the election. Right after Biden and Harris took office, they signed the executive order to target strictly conservatives because they believe they are political extremists and white supremacy.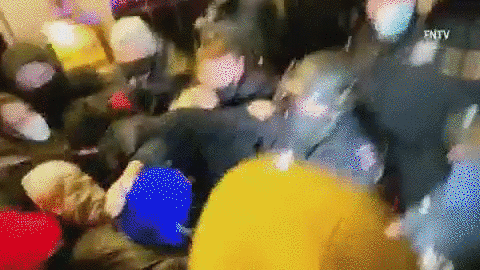 READ NEXT – 
Let us know what you think in the comments below!
ADVERTISEMENT - STORY CONTINUES BELOW
Sick of the censorship and election meddling?
Then join us at SPREELY , WeGo, Gab, Codias, Mumblit and Vomvos!
It's time to enjoy social media again… without the filthy Communist censorship!
DINO PORRAZZO at AMERICAS FREEDOM FIGHTERS
God Bless.
Facebook Has Banned Us!
The leftists at Facebook decided they didn't like our message, so they removed our page and are censoring us. Help us fight back and subscribe to our newsletter so that you can stay up-to-date with everything Facebook doesn't want you to see!
Disqus Comments