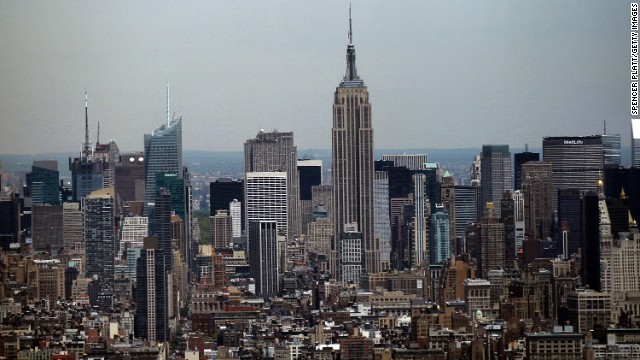 The couple silently knelt in an isolated area of the Empire State Building's observation deck, according to court documents.
STORY HIGHLIGHTS
Muslim family claims it was "humiliated" for actions taken when it paused to pray atop skyscraper
Empire State Building management company says it will respond in court
Family statement: "We weren't doing anything wrong"
Catholic League statement defends family's right to pray anywhere
Pray to our God or GTFO!!!!!!!!!
 THIS IS THE USA AND YOU WILL PRAY TO OUR GOD-NOT YOURS!
New York (CNN) — A New York family's hope for an enjoyable outing high atop Manhattan ended abruptly when the group was escorted out of the Empire State Building for saying Muslim prayers, according to a lawsuit.
Fahad Tirmizi, his wife, Amina, and their two young children were at the skyscraper's observation deck last July 2 shortly after 11 p.m., a time when the family's "religious beliefs require them to recite the evening prayers wherever they may be at the time," according to a lawsuit filed in Manhattan District Court on Tuesday.
The couple silently knelt in an isolated area of the observation deck, with little foot traffic, the court document said.
take our poll - story continues below
Completing this poll grants you access to AFF updates free of charge. You may opt out at anytime. You also agree to this site's Privacy Policy and Terms of Use.
While she managed to pray without incident, one guard interrupted and "menacingly poked" Fahad Tirmizi "with his hands and feet several times in various parts of his body," the court document said.
ADVERTISEMENT - STORY CONTINUES BELOW
The guard informed Tirmizi he was not allowed to pray while at the observatory, and then "forcibly" escorted his family to the ground floor exit of the building, according to the court document.
By Kristina Sgueglia, SEE ENTIRE STORY AT CNN
PRAY IN YOUR HOME-PREFERABLY FROM THE SAND DUNES YOU CAME FROM-YOU AREN'T PRAYING TO GOD – YOU ARE PRAYING TO ALLAH-AND WE KNOW WHAT THAT'S ALL ABOUT!
PLEASE SHARE OUR ARTICLES ON ALL SOCIAL MEDIA AND GO TO OUR HOMEPAGE FOR MORE REAL NEWS FOR REAL PATRIOTS! 
ADVERTISEMENT - STORY CONTINUES BELOW
Facebook Has Banned Us!
The leftists at Facebook decided they didn't like our message, so they removed our page and are censoring us. Help us fight back and subscribe to our newsletter so that you can stay up-to-date with everything Facebook doesn't want you to see!