Sassy Liberty AMERICA'S FREEDOM FIGHTERS –
We need a Caliph who will clean up these streets

Who will smack up armies and who will back beef [fighting].

Backhand your missiles back to your land, that's the plan.

World domination at hand. We can expand and take out these fools.
Those were the words of a poet invited to address the raucous and cacophonous crowd of British Muslims outside the Syrian Embassy in central London.  They were cheering and yelling Allahu Akbar in support of his calls for war.  The crowd was drawn mostly from mosques across London, was largely segregated with men in one section and with many of the women wearing Islamic clothing and their children in others. Many in the crowd were seen waving the Taliban flag and others handed placards made by Hizb ut-Tahrir Britain, which calls for the re-establishment of a caliphate.
Multiple lanes of traffic were blocked off in London's Belgrave Square as the protest began in full force at about 9pm.  It opened with prayers to Allah outside the Syrian embassy. The former embassy building has lain empty since May 2012 when the Syrian ambassador to the UK was expelled by the British government.
ADVERTISEMENT - STORY CONTINUES BELOW
Asim Qureshi, director of the Muslim rights group CAGE, with ties to extremist behavior, laid the blame for the situation in Aleppo squarely on America's doorstep.
He stated, "Never forget who is the problem here. When they say 'look, America is the one who is going to come and help you in this', then we have to remind them. Go back to the beginning of the war on terror when we were investigating cases of individuals being put on rendition flights to Syria where they had the soles of their feet beaten by the Syrian regime the moment they arrived in prison and who sent them there? The Americans, the CIA."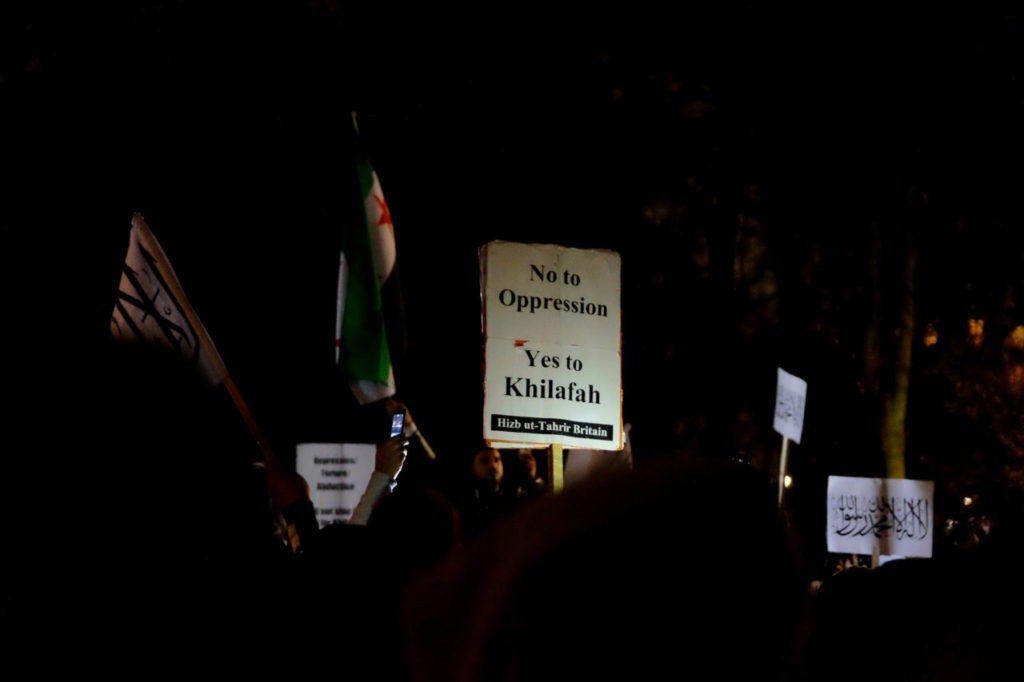 ADVERTISEMENT - STORY CONTINUES BELOW
take our poll - story continues below
Whom do you consider to be the most corrupt Democrat Politician?
Completing this poll grants you access to AFF updates free of charge. You may opt out at anytime. You also agree to this site's Privacy Policy and Terms of Use.
The British government is terrified of being made out to be culturally insensitive or branded racist, despite Islam not being a race of people, and clearly, these Islamic supremacists know it. They are so confident in fact, they will call for caliphate and know that no roadblocks will be placed in their path on the way.
ADVERTISEMENT - STORY CONTINUES BELOW
h/t – Breitbart
I VOTED FOR DONALD TRUMP AND TOGETHER WE WILL MAKE AMERICA GREAT AGAIN!
Dean James III% AMERICA'S FREEDOM FIGHTERS
 Please share this on all Social Media!
Facebook Has Banned Us!
The leftists at Facebook decided they didn't like our message, so they removed our page and are censoring us. Help us fight back and subscribe to our newsletter so that you can stay up-to-date with everything Facebook doesn't want you to see!
Disqus Comments