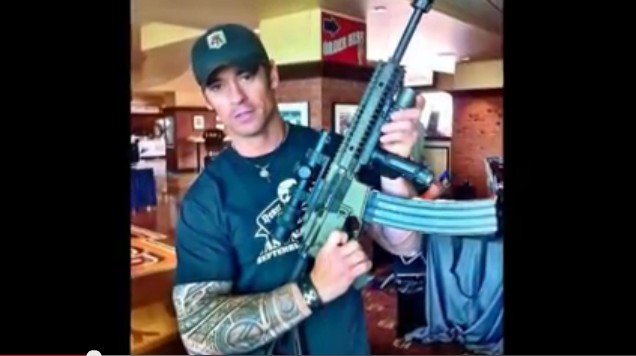 Ex-Navy SEAL Christopher Mark Heben was shot Friday night in Bath Township, Ohio, days after warning Americans on the Judge Jeanine Show about how easy it would be to take down the US power grid as shared in the 2nd video below. Christopher had been working upon a new project called The Patriot Project. Was this another attempted hit upon Patriotic Veterans? Mysteriously, though police said Heben was treated at a local hospital, the hospital had no record of him being there. 1st video below is a full video report of the shooting incident.
Police are seeking information following the shooting of a former Navy SEAL in a parking lot Friday night.
ADVERTISEMENT - STORY CONTINUES BELOW
Christopher Mark Heben, 44, of Medina County, was shot outside Mustard Seed Market & Cafe, Bath Township Police Chief Michael McNeely said.
After Heben was shot in the stomach, he followed the vehicle carrying the shooting suspect but began to feel ill and drove himself to the Bath Township Police and Fire Department to seek treatment, McNeely said.
The chief said Heben was hospitalized at Akron General Medical Center, but the hospital said Monday it had no record of him being a patient there. 
https://www.youtube.com/watch?v=CISio4yBMYk
ADVERTISEMENT - STORY CONTINUES BELOW
https://www.youtube.com/watch?v=Sx4oygX_X58
Facebook Has Banned Us!
The leftists at Facebook decided they didn't like our message, so they removed our page and are censoring us. Help us fight back and subscribe to our newsletter so that you can stay up-to-date with everything Facebook doesn't want you to see!
ADVERTISEMENT - STORY CONTINUES BELOW
Disqus Comments