Sassy Liberty AMERICA'S FREEDOM FIGHTERS –
Newly confirmed Supreme Court Justice Neil Gorsuch is starting his first week with a bang.  His first week of oral arguments is set to include a major religious liberty case.  Conservatives have high hopes that the case will swing in their direction with Gorsuch's addition to the Supreme Court.

Oral arguments are set to be heard in Trinity Lutheran Church of Columbia v. Comer starting on Wednesday when the Supreme Court will seek to decide whether the state of Missouri violated the Constitution when it made the decision to bar a church from a state program that gives nonprofits funding to resurface their playgrounds.  Missouri's Constitution includes a provision that prevents public funds from directly or indirectly assisting any church, sect or religion.
ADVERTISEMENT - STORY CONTINUES BELOW
A SCOTUS ruling in the Trinity Luthern case could have a widespread and lasting impact on the three dozen other states with a similar provision in their state constitution.  It is likely to be a narrow decision.  Justice Gorsuch is a known for advocating a broad definition of religious freedoms with written legal opinions in the Hobby Lobby Stores v. Sebelius (2013)  found in the Affordable Care Act's contraceptive mandate.
When a panel of the court denied similar claims under the same act in Little Sisters of the Poor Home for the Aged v. Burwell (2015), Gorsuch joined Judges Harris Hartz, Paul Joseph Kelly Jr., Timothy Tymkovich, and Jerome Holmes in their dissent.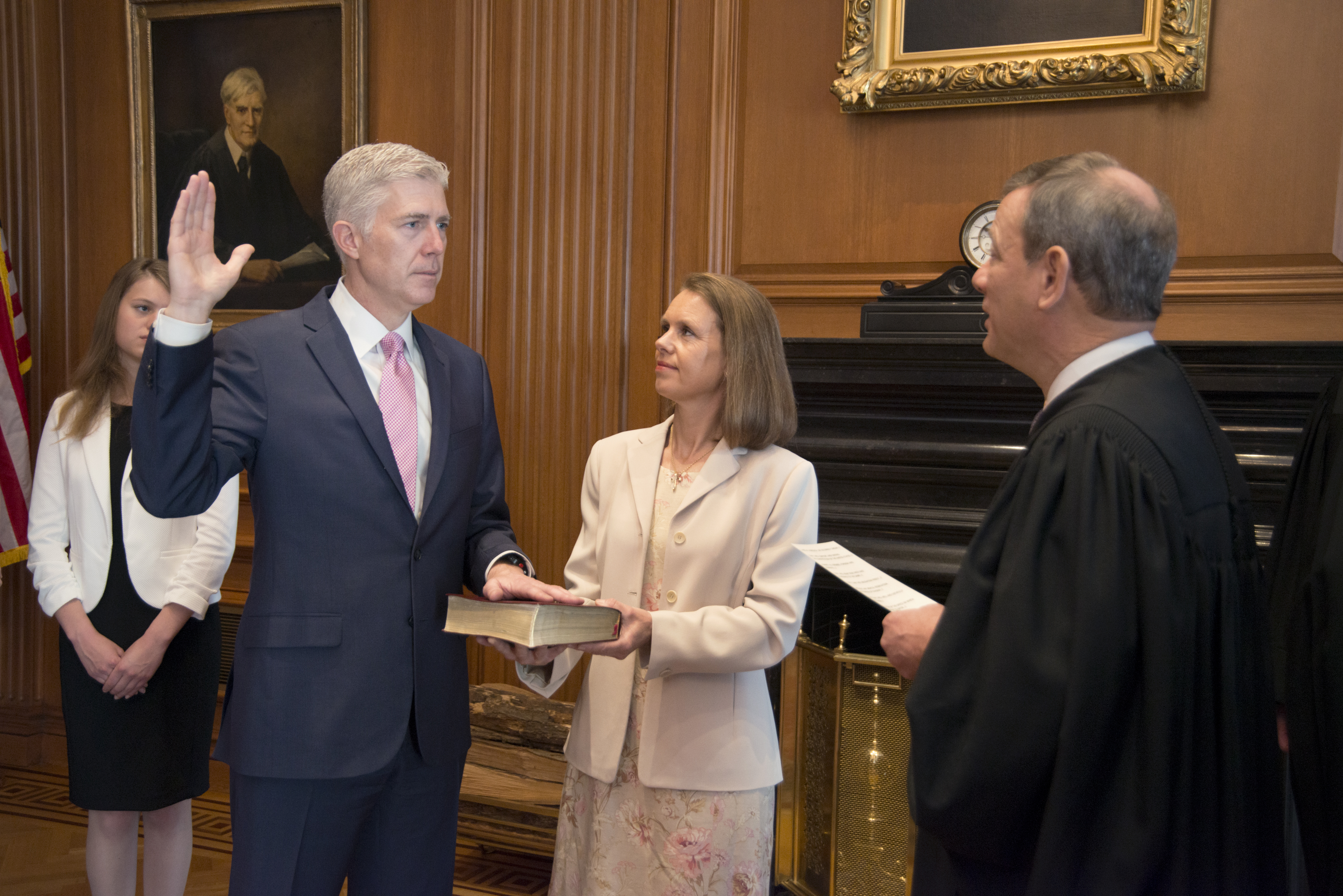 Gorsuch has written that "The law doesn't just apply to protect popular religious beliefs. It does perhaps its most important work in protecting unpopular religious beliefs, vindicating this nation's long-held aspiration to serve as a refuge of religious tolerance."
ADVERTISEMENT - STORY CONTINUES BELOW
The Supreme Court agreed to hear this case prior to Justice Antonin Scalia's passing.  Due to Justice Scalia's untimely passing by mutual agreement all waited until all nine seats were again filled before beginning to hear arguments.
According to Aaron Streett, chairman of Baker Botts' Supreme Court and Constitutional Law Practice –
"The court never gave any explanation for why it delayed scheduling the oral argument, but the natural inference is that scheduling was delayed because the court felt that it needed a ninth justice to decide this case. Now I don't think they would have taken an internal vote, a preliminary vote, that sort of thing is not done until all the merits briefs are in and the oral argument is heard, but it does suggest that the chief justice who would take the lead on scheduling cases had at least some concern that this could end in a 4-to-4 decision such that it would be helpful to have a ninth justice in place."
Streett filed the amicus brief in the case on behalf of conservative lawmakers thought Gorsuch's record as a 10th Circuit Court of Appeals judge showed him likely to align with Justices Clarence Thomas and Samuel Alito, as well as his predecessor, Scalia.
Liberals have expressed concerns that Justice Gorsuch may be overly solicitous of religious people's concerns, maybe even more so than Justice Scalia.  In a nation founded on religious freedoms, that's a bad thing WHY exactly?
God Bless.
Here's How To Be Sure To Continue Seeing Our Content On Facebook
TOGETHER WE WILL MAKE AMERICA GREAT AGAIN!
Dean James III% AMERICA'S FREEDOM FIGHTERS
Please like and share on Facebook and Twitter!
Facebook Has Banned Us!
The leftists at Facebook decided they didn't like our message, so they removed our page and are censoring us. Help us fight back and subscribe to our newsletter so that you can stay up-to-date with everything Facebook doesn't want you to see!
Disqus Comments