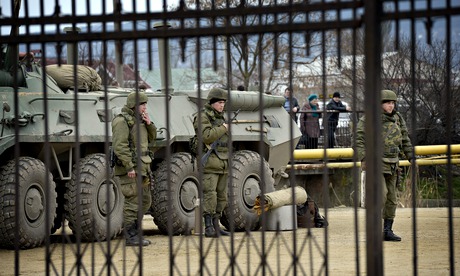 By DAN CANNON VIA GUNS SAVE LIVES
You're a new government in a country that might soon become involved in a ground war with Russia, what's the first logical thing you do? Start confiscating weapons from your citizens. Wait…what?!
ADVERTISEMENT - STORY CONTINUES BELOW
You would think Ukraine would want every citizen who is even remotely loyal to the new government to be armed during this time of possible war, however recent actions by the interim government seem to be saying otherwise.
According to the New York Times,
"In an effort to stabilize Ukraine and extend its authority, the interim government has set a deadline of Friday for turning in the illegal firearms that are now carried openly by so-called self-defense groups in Independence Square, the politically important plaza in the center of the capital."
Of course, the participants and leaders of those self-defense groups (the same groups that helped the current government rise to power) don't see things the same as their new government. Also from the Times,
ADVERTISEMENT - STORY CONTINUES BELOW
"Members of the self-organized defense groups that formed to defend Independence Square and other protest sites during the uprising have been reluctant to comply. Like gun owners in countries like the United States and Switzerland where ownership of firearms is widespread, they contend that the weapons are needed to defend the country against a possible foreign invasion and to defend their freedoms from potential government abuse".
"It's not normal to ask people to hand in their weapons in the situation we have now," Dmytro Yarosh, the leader of a right-wing paramilitary group, Right Sector, said in an interview this week. His organization opposes the request to surrender its weapons, but will comply with the law, he said.
Mr. Yarosh said lawyers with his group were drafting a bill for consideration in Parliament that was modeled on Swiss notions of firearms possession, in which an armed population is seen as a quick deterrent against a foreign invasion.
"Allow people to keep weapons at home," Mr. Yarosh said, describing the logic of gun ownership in the context of Ukraine. "Then, when the enemy walks down the streets of your country, you can shoot him right from your own window."
It sounds like there are some level headed patriots in Ukraine that understand the importance of the right to keep and bear arms.
Facebook Has Banned Us!
The leftists at Facebook decided they didn't like our message, so they removed our page and are censoring us. Help us fight back and subscribe to our newsletter so that you can stay up-to-date with everything Facebook doesn't want you to see!
ADVERTISEMENT - STORY CONTINUES BELOW
Disqus Comments