Sassy Liberty AMERICA'S FREEDOM FIGHTERS –
Appearing on the "Kelly File" Tuesday night, former Speaker of the House Newt Gingrich talked about two alternate universes: one in which Republican presidential candidate Donald Trump is doing well in polls and voting, and one in which he is losing.  Gingrich is being applauded by Trump supporters and members of the Trump campaign after he gave Megyn Kelly a piece of his mind on her Fox News show Tuesday night.  All of this stemmed from accusations of Donald Trump being a sexual predator.  Gingrich responded by making accusations that Kelly was 'fascinated with sex' and did not care about public policy.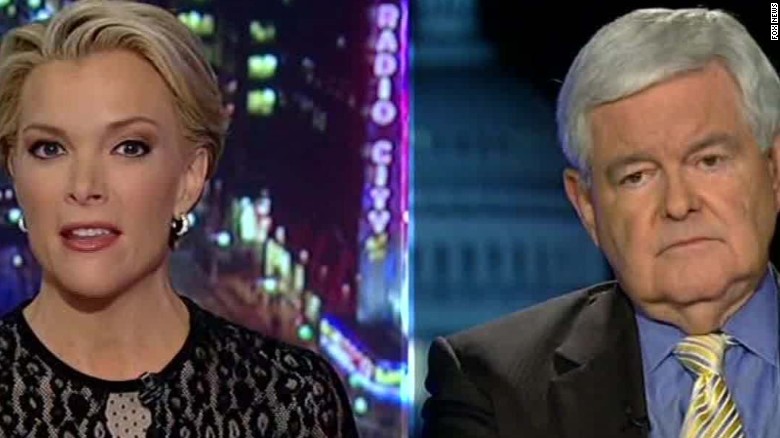 ADVERTISEMENT - STORY CONTINUES BELOW
Kelly fired back with  "You know what Mr. Speaker, I'm not fascinated by sex, but I am fascinated by the protection of women and understanding what we're getting in the Oval Office and I think the American voters would like to know …"
take our poll - story continues below
Completing this poll grants you access to AFF updates free of charge. You may opt out at anytime. You also agree to this site's Privacy Policy and Terms of Use.
Gingrich then pointed to Bill Clinton's and sending him back to the East Wing "because you, after all, are worried about sexual predators." Personally, it never ceases to amaze me that people will point fingers at Trump for words and some accusations with highly suspicious timing at best, yet utterly dismiss the actions of Bill Clinton.  Bill has had multiple mistresses throughout his marriage to Hillary – if you want to call THAT marriage – and has been accused of sexual assault by multiple women, at multiple times, from multiple walks of life, ALL with stories that are eerily similar to one another.  Some of his actions have even been caught on tape AND he was ordered by the courts to pay at least one victim a settlement of $850,000!  All of this while Hillary herself led some of the most vicious media smear campaigns ever heard of! Yet, people continue to excuse this and state much like this particular brainiac that commented on a post on my page – Sassy Liberty – earlier this morning –
ADVERTISEMENT - STORY CONTINUES BELOW
…and since when is it ok for the cheater to try and shame the cheated on ….i guess she could have had the bimbos over for dinner ..if you interfere in a marriage you get what you get …..
Apparently, Megyn Kelly follows that same philosophy.  Her response? "Listen, it's not about me. It's about the women and men of America!"  Well, where was the concern for the women and men of America during Bill Clinton's presidency? Or Obama's reign of terror? Frankly, where is all of this concern with regard to Chelsea? What sort of mother willingly raises her daughter in the home of a known sexual predator?
ADVERTISEMENT - STORY CONTINUES BELOW
Gingrich went on to explain in the interview that "Republicans are actually out-voting Democrats in Florida, and they're out-voting Democrats in Pennsylvania." And Gingrich is right – Trump is now leading Clinton by two points in Florida according to a new Bloomberg poll and Republicans are in fact out-voting Democrats in that state as of Tuesday morning according to Politico.  Where his information is from with regards to Pennsylvania, I am not sure as to my knowledge Pennsylvania does not have early voting.
Of course, Kelly retorted by mentioning 'most polls' including those released by Fox News show Hillary in the lead in several key battleground states.
'They're not non-partisan outlets. Every outlet you described is part of the establishment,' replied Gingrich.  Kelly quickly shot back at Gingrich: 'Fox News? Really, are we? I don't think so.'
At this point in the interview, Kelly changed tactics and began discussing Trump's history and her perceived setbacks from his campaign. She mentioned everything from his weak performance at the first debate to the former beauty queen Alicia Machado, who he was accused of insulting for gaining weight. She also mentioned the now infamous 2005 Access Hollywood hot mic audio that was released earlier this month in which Trump was caught bragging about sexually assaulting women and detailed his attempt to bed a married woman. Gingrich responded and rightly so by calling out the media bias against Trump with regard to the unfair coverage of these incidents and with regard to how the media was ignoring virtually all of Hillary Clinton's scandals, especially the more recent ones.
It seems that Fox News may want to change their tag line with regard to "Fair and Balanced" as it seems they are falling in right in line with the media establishment as "Yes Men (& women) for Hillary!" Megyn Kelly can't seem to get past her own personal bias against Trump since he called her out publicly after she moderated a Primary Presidential debate.
Check out the firey exchange!
h/t – People's Pundit Daily
God Bless.
VOTE FOR DONALD TRUMP AND TOGETHER WE WILL MAKE AMERICA GREAT AGAIN!
Dean James III% AMERICA'S FREEDOM FIGHTERS
 Please share this on all Social Media!
Facebook Has Banned Us!
The leftists at Facebook decided they didn't like our message, so they removed our page and are censoring us. Help us fight back and subscribe to our newsletter so that you can stay up-to-date with everything Facebook doesn't want you to see!
Disqus Comments