Sassy Liberty AMERICA'S FREEDOM FIGHTERS –
The feminazis are gearing up for yet another Anti-Trump…..errr I mean Women's March. This march is being billed as a general strike called, "A Day Without Women" or the International Women's Strike and it is scheduled for March 8, 2017.  Women are being urged to walk off their jobs and join a demonstration near them as a sort of grassroots movement sparking nationwide protests.
ADVERTISEMENT - STORY CONTINUES BELOW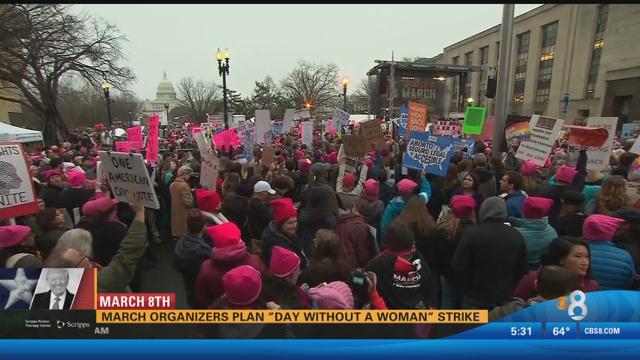 take our poll - story continues below
Whom do you consider to be the most corrupt Democrat Politician?
Completing this poll grants you access to America's Freedom Fighters updates free of charge. You may opt out at anytime. You also agree to this site's Privacy Policy and Terms of Use.
In a manifesto published in The Guardian on Feb. 6,  organizers of the movement are calling for a "new wave of militant feminist struggle."
No, your eyes are NOT playing tricks on you.  You read that right.
MILITANT, not peaceful — their words.
According to this manifesto, American women are encouraged to wear red in solidarity and spend their day "blocking roads, bridges, and squares, abstaining from domestic, care, and sex work" and "boycotting" pro-Trump businesses.
ADVERTISEMENT - STORY CONTINUES BELOW
ADVERTISEMENT - STORY CONTINUES BELOW
This manifesto was co-authored by several women.  Of note, one of the authors is a woman by the name of Rasmea Yousef Odeh.  Odeh is a Palestinian and a convicted terrorist, serving 10 years in prison for her crimes.  In 1970, she was convicted in Israel for her part in two terrorist bombings, one of which left two students dead as they shopped for groceries.  Despite all of this, she became a US citizen in 2004 by lying about her past.  She was convicted in the US in 2014 for immigration fraud due to the lies she told in order to obtain her citizenship.  Her trial is still pending and set for this spring as she claims that she didn't lie.  She was merely a victim of PTSD while she was filling out her immigration application!
Wrong: Odeh's immigration documents are seen here – note the series of 'No' boxes that have been ticked. She claimed she didn't know they included international convictions.
So extreme vetting is a problem for you liberals still – right?
For the icing on the cake?  During her time as a citizen, she had access to a great deal of personal information for many Americans due to working as an ObamaCare navigator.
Another author of the illustrious manifesto for the "Day Without Women" is Stalinist professor and Black Panthers devotee, Angela Davis.  Davis made her mark on the world by being acquitted in a 1972 trial after three guns that she purchased were used in a courtroom shootout, ending with the death of a judge.  She subsequently fled to Cuba to live amongst "friends."
The third contributor and author of the militant feminazi manifesto is Tithi Bhattacharya. Bhattacharya is also the author of an essay for the International Socialist Review.  The topic of said essay you ask?  Well, it was praising Maoism- you know, the guiding political principle and military ideology of the Communist Party of China?  In this essay, Bhattacharya notes that Maoists are "on the terrorist list of the US State Department, Canada, and the European Union," which she called an indication that "Maoists are back in the news and by all accounts, they are fighting against all the right people."
While I can respect the roots of feminism in that, at least in the United States, women are not treated like property.  They are afforded basic human rights.  They are not forced to marry and have the ability to work to help support their families.  Along with a host of other rights and privileges afforded to the female gender as a whole, women enjoy virtually all the freedoms and privileges afforded to men in this country. In fact, women have more rights in that they can freely murder their unborn young with impunity.  Men cannot.
I am still waiting for the march for TRUE female oppression.  Like in India, little girls are being bought and sold as property to temples as sex slaves and later to brothels or in nations where simply learning how to read as a female is a fate punishable by death. Nations where genital mutilation, rape, and domestic violence are virtually routine and normal.  Arranged and forced marriages at very young ages along with childbirth in bodies not yet developed enough to safely carry a baby to term resulting in death all too often, are common.
Human rights?  What are those?
Compared to these very real and horrific issues, the idea that American women are somehow oppressed is laughable at best.  Then to add insult to injury these same women think that going topless somehow promotes equality. It's classless and woefully pathetic when you consider what many women and girls across the globe must face just by virtue of being female.
Direct your angst towards real oppression against women and girls, not against some 1st world fiction designed to denigrate and shame men and boys, making them somehow less.  Teach girls to be strong and independent, to take care of themselves and others.  THAT is how you empower women – not by creating victims that want to flash their ta-tas or demanding the right to murder their unborn.
This idea of calling for some sort of "militant" uprising is just another example where it seems those claiming to protest fascism have mixed up the words "protesting" with "practicing" and they are increasingly willing to justify violence in the name of opposing Trump. The old adage of if you aren't with us?  You are against us.
Anti-Trump activism seems to have little to do with the political arts required to win elections — finding common ground, forging alliances, making friends.  Instead, these demonstrations are intended to terrify and intimidate and subdue the resistance – if they must use violence or force to do so?  Then so be it.
Seems a far cry from what our founders intended when they penned the first amendment, stating —
Congress shall make no law respecting an establishment of religion, or prohibiting the free exercise thereof; or abridging the freedom of speech, or of the press; or the right of the people peaceably to assemble, and to petition the Government for a redress of grievances.
h/t – the NYPost
God Bless.
Here's How To Be Sure To Continue Seeing Our Content On Facebook
TOGETHER WE WILL MAKE AMERICA GREAT AGAIN!
Dean James III% AMERICA'S FREEDOM FIGHTERS
Please like and share on Facebook and Twitter!
Facebook Has Banned Us!
The leftists at Facebook decided they didn't like our message, so they removed our page and are censoring us. Help us fight back and subscribe to our newsletter so that you can stay up-to-date with everything Facebook doesn't want you to see!
Disqus Comments