New York Jets' Robby Anderson to Cop: 'I'm Going to F*ck Your Wife…Nut in Her Eye…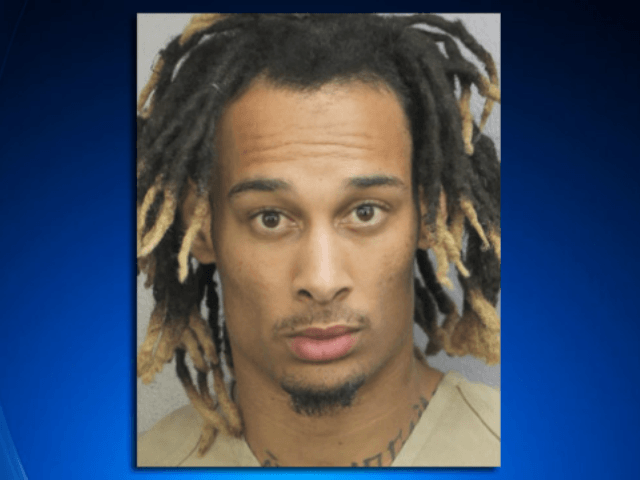 Boycott the NFL, DO NOT watch the Superbowl, "We The People" must stand united and help our President clean out corruption and those who think they are above the law!
ADVERTISEMENT - STORY CONTINUES BELOW
Chris "Badger" Thomas  AMERICA'S FREEDOM FIGHTERS –
A Florida police officer has alleged that New York Jets wide receiver Robby Anderson turned crude and lewd during a recent traffic stop, and threatened to sexually assault the officer's wife, Breitbart reports.
take our poll - story continues below
Completing this poll grants you access to AFF updates free of charge. You may opt out at anytime. You also agree to this site's Privacy Policy and Terms of Use.
Early Friday morning in Sunrise, Florida, 24-year-old Robby Anderson, wide receiver for the New York Jets, was traveling at 105 MPH in a 45 MPH zone when an officer gave chase.
ADVERTISEMENT - STORY CONTINUES BELOW
The thug did not pull over when the officers hit their lights and sirens tailing Anderson, officers stated Anderson was driving erratically.
Eventually Anderson had a moment of clarity and decided to pull over, LEO placed him cuffs and when they attempted to put him in the back of a patrol car, Anderson physically resisted and then opened his mouth and his true colors came out.
ADVERTISEMENT - STORY CONTINUES BELOW
The Police Report, obtained by TMZ:
According to the Sunrise Police Dept. in Florida, an officer clocked Anderson in his Jaguar going 105 mph in a 45 mph zone early Friday morning. 

The officer says Anderson was driving like a maniac — "all over the roadway and failed to maintain a single lane."

When the cop eventually got Anderson to pull over, Robby refused to cooperate — saying he wanted to speak with his lawyer right away and physically resisted when the cops tried to put him in the squad car. 

But the craziest part of the story … when Anderson was being transported to the police dept., the police report says, "that when he got out he was going to find my wife, f*ck her and nut in her eye."

"He continued to make other verbal threats towards my family. Based on his statements it was clear that he intended to sexually assault my wife."

"He also began to brag about how much money he has and how all I was doing was trying to do is 'Ruin his fun.'"

Anderson is facing 9 total charges including resisting arrest, reckless driving, speeding and something called, "harm public servant or family."
How people can still watch the NFL is beyond me, all it does is promote these crybabies protesting and because they have been allowed to carry out such acts, they get a self inflated "above the law" mentality.
Back in May of 2017, Anderson was arrested and charged with a felony count of resisting arrest and violence towards arresting officer, in Miami, Florida.
According to NFL Records of the arrest:
Anderson got into a fight with security at an event after being told to leave, according to a Miami-Dade Police Dept. report. He then pushed a police officer after being told to sit down. Anderson continued to fight with police while on the ground and was then arrested.
The trial date was originally set for December 26th, but it was recently pushed back to March 19th.
RWT reported earlier this month about the Superbowl and the NFL, allowing these thugs to protest and it will be aired live.
NBC Sports Executive Producer, Fred Gaudelli, told reporters, "When you are covering a live event, you are covering what's happening.  If there are players who choose to kneel, they will be shown live. If a player chose to protest during the anthem, NBC broadcasters Al Michaels and Cris Collinsworth would likely give the player's name, some background on the protests, and then "get on with the game." 
Chris "Badger" Thomas is a Veteran who served our country as an Army Combat Medic.
TOGETHER WE WILL MAKE AMERICA GREAT AGAIN!
Dean James III% AMERICA'S FREEDOM FIGHTERS
FOLLOW us on Facebook at Nation In Distress!
Please like and share on Facebook and Twitter!
Facebook Has Banned Us!
The leftists at Facebook decided they didn't like our message, so they removed our page and are censoring us. Help us fight back and subscribe to our newsletter so that you can stay up-to-date with everything Facebook doesn't want you to see!
Disqus Comments