A satellite image purportedly shows a North Korean nuclear test site in an unknown location in the northeastern part of the country. Photograph: AIRBUS / 38 NORTH / HANDOUT/EPA
By Sassy Liberty AMERICA'S FREEDOM FIGHTERS –
US Geological Survey records what measured at a 5.3 seismic event at ground level near a nuclear test site.  This satellite image is believed to show the North Korean nuclear test site in the northeastern part of the country.  North Korea has confirmed that it has conducted their most powerful nuclear test to date.
ADVERTISEMENT - STORY CONTINUES BELOW
It is a legitimate concern that North Korea is edging closer to developing a warhead capable of striking the US mainland.  The early morning test done on Friday also triggering  a magnitude 5.3 earthquake, drew immediate condemnation from North Korea's neighbors, Europe, and Washington.  After being briefed by National Security Adviser Susan Rice, Obama aid provocative actions by North Korea would have "serious consequences". He was just returning to the United States from his Asian Tour.
A later statement by Obama states "To be clear, the United States does not, and never will, accept North Korea as a nuclear state,"  He said he would work "to take additional significant steps, including new sanctions, to demonstrate to North Korea that there are consequences to its unlawful and dangerous actions."  Friday's test was confirmed by North Korea with state TV saying it had conducted a "nuclear warhead explosion" meant to counter what Pyongyang called US hostility.
take our poll - story continues below
Whom do you consider to be the most corrupt Democrat Politician?
Completing this poll grants you access to AFF updates free of charge. You may opt out at anytime. You also agree to this site's Privacy Policy and Terms of Use.
Japan called for an emergency meeting of the UN security council , where prime minister, Shinzo Abe, described North Korea's nuclear weapons program as a "grave threat."  Japan's top government spokesman, Yoshihide Suga, labelled North Korea a "neighbourhood outlaw."  As a result, Tokyo is considering a new round of sanctions. China has voiced "firm opposition" to the test.  They are normally an ally and a supporter to North Korea. The South Korean president, Park Geun-hye, denounced the test as a clear violation of security council resolutions. Park accused Kim of "maniacal recklessness" in his pursuit of building a viable nuclear arsenal.
ADVERTISEMENT - STORY CONTINUES BELOW
North Korea's response?  "It's really great news," said Kim Jong-su. "Now, I am full of confidence that if our enemies make the slightest provocation, we will counterattack, and we will definitely win."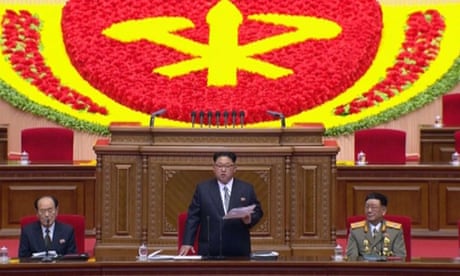 ADVERTISEMENT - STORY CONTINUES BELOW
"Some analysts suggested the bomb's yield could be significantly higher than 10 kilotonnes. "That's the largest DPRK test to date, 20-30kt, at least. Not a happy day," Jeffrey Lewis of the California-based Middlebury Institute of International Studies said, using the North's official title of the Democratic People's Republic of Korea. "Yield estimates are always kind of approximate. The point is that it is the biggest one to date unless they revise the yield downward.

Obama had expressed concern on Thursday about North Korea's nuclear activity. "We are going to make sure that we put our defensive measures in place so that America is protected, our allies are protected," Obama said during a summit with South-east Asian leaders in Laos. "We will continue to put some of the toughest pressure that North Korea has ever been under as a consequence of this behavior."
North Korea is thought to have a handful of rudimentary nuclear bombs, but it is now setting its sights on what would be a genuine geopolitical game-changer: a multistage, long-range missile able to carry miniaturised nuclear weapons.
Sassy Liberty AMERICA'S FREEDOM FIGHTERS 
God Bless.
VOTE FOR DONALD TRUMP AND TOGETHER WE WILL MAKE AMERICA GREAT AGAIN!
Dean James III% AMERICA'S FREEDOM FIGHTERS
 Please share this on all Social Media!
Facebook Has Banned Us!
The leftists at Facebook decided they didn't like our message, so they removed our page and are censoring us. Help us fight back and subscribe to our newsletter so that you can stay up-to-date with everything Facebook doesn't want you to see!
Disqus Comments