Sassy Liberty AMERICA'S FREEDOM FIGHTERS –
It is official!  Marine Le Pen – The French version of President Trump has just won round one of the French election! Initial estimates show Le Pen with 21.7% of the votes finishing behind  Macron with 23.7% of the votes.  
The final showdown of the French election is set to take place on May 7.  It looks like Le Pen will face off against former minister of the economy Emmanuel Macron.
ADVERTISEMENT - STORY CONTINUES BELOW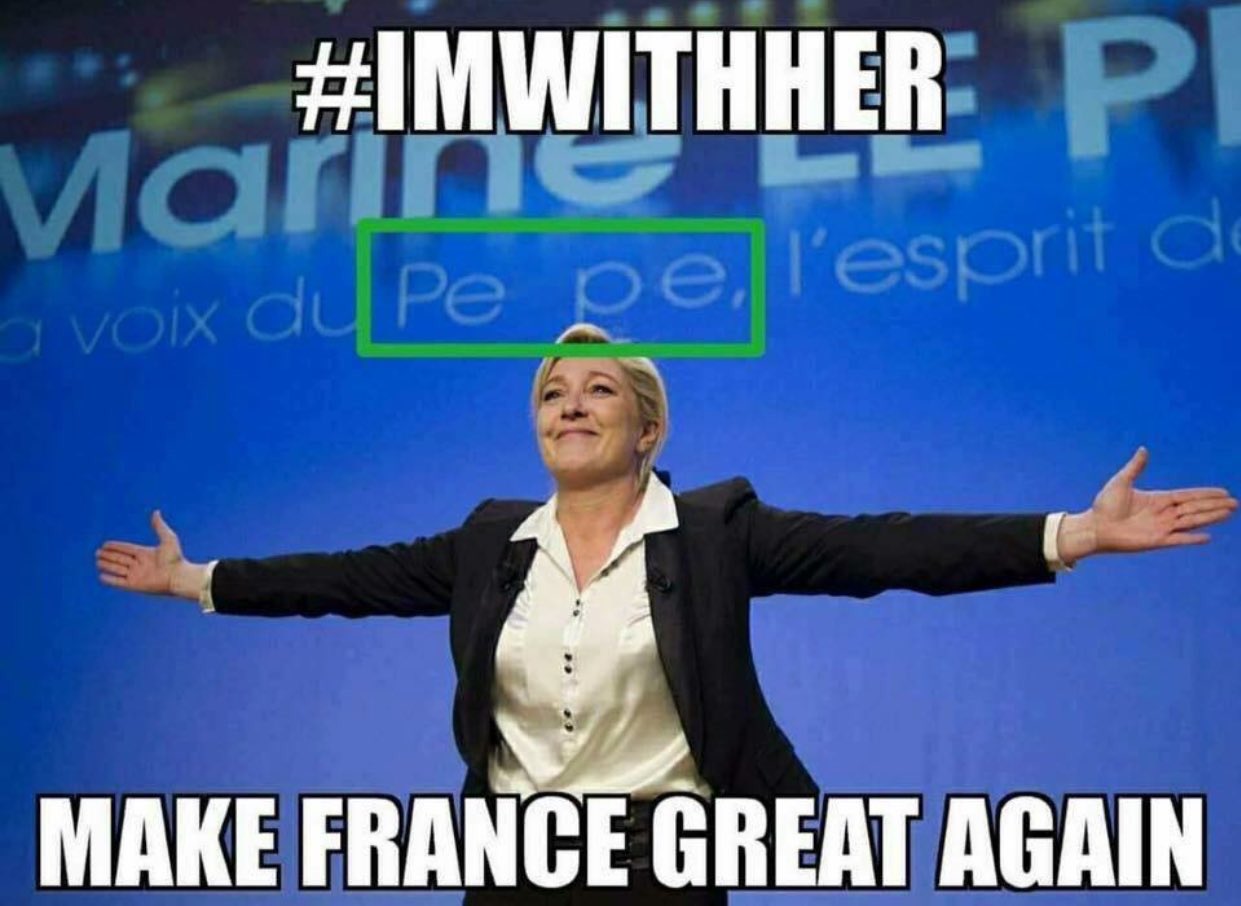 take our poll - story continues below
Whom do you consider to be the most corrupt Democrat Politician?
Completing this poll grants you access to AFF updates free of charge. You may opt out at anytime. You also agree to this site's Privacy Policy and Terms of Use.
The first results show Socialist candidate Benoit Hamon picked up a historically low 6.2%.  It seems France is learning its lessons about socialism and its failures and attempting to reverse the trend.
ADVERTISEMENT - STORY CONTINUES BELOW
Far-left candidates or the French version of liberals, Jean-Luc Melenchon and Francois Fillon will both claim 19.5% of the votes.
Meanwhile, Obama just cannot seem to stop meddling in European affairs despite his lectures regarding fictitious Russian meddling in American elections.  Remember when President Obama urged the British to vote to stay in the European Union, and they completely ignored him? As well they should have – not his call!
ADVERTISEMENT - STORY CONTINUES BELOW
He STILL apparently has not learned to mind his own business and stay out of foreign elections. Reports have confirmed that Obama as a private citizen called French presidential candidate Emmanuel Macron just three days before the election began. Macron was so excited about the call he filmed it.
Let's keep defending our progressive values. Thank you for this discussion @BarackObama. pic.twitter.com/8rhNdHkLo8

— Emmanuel Macron (@EmmanuelMacron) April 20, 2017
Macron said Obama wanted to exchange views about the French presidential campaign and that the ex-president had stressed how important the relationship between the two countries was. Yet Obama's insists that his phone call was not indicative of an endorsement.  SURE it's not!  Tell me another one.  Did you call Le Pen as well? Or any of the other candidates for that matter as to give the appearance of impartiality?
In a brief victory speech, Le Pen said she welcomed the result with "humility and gratitude."
"It is historic. I now have the immense responsibility of defending the French nation. This result is an act of pride of a country raising its head."
In a dig at Macron, who is economically liberal, Le Pen stated –
"…savage globalization has put our civilization in danger. The French now have a choice. I am proposing a fundamental alternative."
Le Pen's platform consists of a similar theme to which won President Trump the U.S. Presidency, that of anti-globalization, anti-immigrant platform.  She wants France to follow Britain's lead and depart the European Union.  This would probably be the E.U.'s death knell.
Le Pen proclaimed, "It's time to free the French people from the arrogant elites….I am the candidate of the people."
God Bless.
Here's How To Be Sure To Continue Seeing Our Content On Facebook
TOGETHER WE WILL MAKE AMERICA GREAT AGAIN!
Dean James III% AMERICA'S FREEDOM FIGHTERS
Please like and share on Facebook and Twitter!
Facebook Has Banned Us!
The leftists at Facebook decided they didn't like our message, so they removed our page and are censoring us. Help us fight back and subscribe to our newsletter so that you can stay up-to-date with everything Facebook doesn't want you to see!
Disqus Comments