Sassy Liberty AMERICA'S FREEDOM FIGHTERS –
At a far cry shorter than the original monstrosity that was the original Obamacare bill, a 105-page draft of the Obamacare replacement has been leaked prior to the vote. We now have the opportunity to read it BEFORE we pass it, unlike the debacle with the original bill.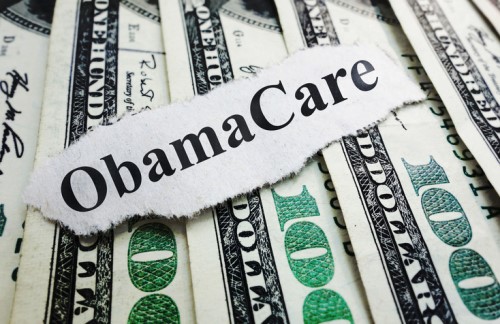 ADVERTISEMENT - STORY CONTINUES BELOW
The bill calls for large-scale cutbacks to the Medicaid program, as well as seeking to eliminate penalties attached to the individuals and employer mandates.  It also calls for tax credits for individuals based on age, ranging between $2,000 and $4,000. Obamacare in its current incarnation bases subsidies on income. States that have expanded their Medicaid programs under the Obama administration would be given until 2020 when the additional federal funds would be phased out.  Instead, states will be allocated a per capita cap based on the amount of enrollees, which proponents of the changes argue will provide flexibility while bringing costs down.
take our poll - story continues below

Whom do you consider to be the most corrupt Democrat Politician?

Completing this poll grants you access to AFF updates free of charge. You may opt out at anytime. You also agree to this site's Privacy Policy and Terms of Use.

The legislation would take down the foundation of Obamacare, including the unpopular individual mandate, subsidies based on people's income, and all of the law's taxes. It would significantly roll back Medicaid spending and give states money to create high-risk pools for some people with pre-existing conditions. Some elements would be effective right away; others not until 2020.

ADVERTISEMENT - STORY CONTINUES BELOW
The aim of the bill is to stabilize skyrocketing premiums, yet still maintain coverage for individuals deemed to have pre-existing conditions, doing so under something called "State Innovation Grants."  These grants would provide roughly $100 billion total – $15 billion in the years 2018 and 2019 and then scaling down to $10 billion in 2020 through 2026 in efforts to address a broad range of issues.
ADVERTISEMENT - STORY CONTINUES BELOW
To fund the changes, a tax would be imposed on high-end, employer-sponsored plans that fall in the 90th percentile of premiums. The provision will likely be controversial among conservative groups, who were highly critical of Obamacare and its "Cadillac tax."
According to the document, there's only one single revenue generator to pay for the new tax credits and grants. Republicans are proposing to cap the tax exemption for employer sponsored insurance at the 90th percentile of current premiums. That means benefits beyond that level would be taxed.

And while health care economists on both sides of the aisle favor tax-limits along those lines, politically it's a hard sell. Both businesses and unions fought the Obamacare counterpart, dubbed the Cadillac tax.
According to Hot Air –
The devil is in the details with proposals like this. The insidious part of the Cadillac tax was that it was designed to gradually ratchet down and eliminate the tax exemption for all employer sponsored insurance. We'll see whether the GOP proposal has a similar design.
While the insurance mandate is being eliminated, these proposed grants give insurers the ability to increase premiums by up to 30% if there is an extended lapse in coverage. This bill will COMPLETELY ELIMINATE ALL Federal Funding for abortion providers.  This is a HUGE step in our efforts to speak up for the unborn and to protect the weakest and most vulnerable among us.
Under the new proposal, premiums will be capped at five times the cost of coverage for younger individuals. Under Obamacare, individual health plans forced people to switch from their old plans and migrate to plans on to exchange plans. The proposed changes allow insurers to offer grandfathered plans and permit people to keep their existing plans.  Perhaps they finally mean it when they say, "If you like your doctor, you can keep him." One can only hope.
h/t – Politico
God Bless.
Here's How To Be Sure To Continue Seeing Our Content On Facebook
TOGETHER WE WILL MAKE AMERICA GREAT AGAIN!
Dean James III% AMERICA'S FREEDOM FIGHTERS
Please like and share on Facebook and Twitter!
Facebook Has Banned Us!
The leftists at Facebook decided they didn't like our message, so they removed our page and are censoring us. Help us fight back and subscribe to our newsletter so that you can stay up-to-date with everything Facebook doesn't want you to see!
Disqus Comments