Obama Proves He is Wall Street Darling With Fat Cat Fundraisers for Shadow Government…
Sassy Liberty AMERICA'S FREEDOM FIGHTERS –
As president, Obama was fond of spewing a lot of rhetoric concerning Wall Street calling them "fat cats" and saying the rich must pay their"fair share." Except, as usual, the rules only apply to us, not to him and as usual the hypocrisy is glaringly obvious to everyone BUT Obama.
ADVERTISEMENT - STORY CONTINUES BELOW
Less than 100 days out of office, Obama has agreed to speak at a Wall Street conference run by Cantor Fitzgerald LP.  His speaking fee?  A cool $400,000 — nearly TWICE what even Hillary Clinton charged a private business for such speaking engagements.
take our poll - story continues below
Whom do you consider to be the most corrupt Democrat Politician?
Completing this poll grants you access to America's Freedom Fighters updates free of charge. You may opt out at anytime. You also agree to this site's Privacy Policy and Terms of Use.
Obama will be the keynote speaker at a luncheon at Cantor's health care conference scheduled in September.  A formal announcement is forthcoming according to the mid-sized New York-based investment bank.
ADVERTISEMENT - STORY CONTINUES BELOW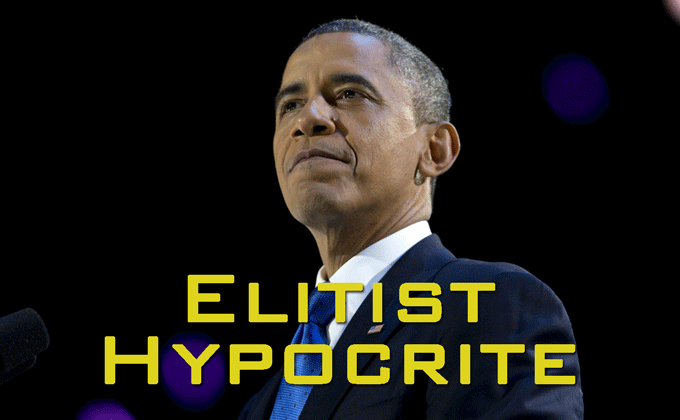 It is the height of hypocrisy given the litany of attacks Obama waged against Wall Street bankers for making huge salaries while average Americans were suffering from the ravages of the 2008 financial crisis. Now he is accepting a speaking fee from the industry he singled out as the main culprit of the banking collapse.
ADVERTISEMENT - STORY CONTINUES BELOW
Democratic political consultant, Hank Sheinkopf, states –
"Is there an irony here because he spoke incessantly about the income gap and is now earning from those same people he criticized? Yes it is. Should we expect it? Yes, we should because all former presidents do this. He went on the attack against Wall Street and now he's being fed by those same people he called 'fat cats'. It's more hypocritical than ironic."
Yet another astounding bit of hypocrisy and not a little bit of irony that apparently has completely passed Obama by?  He will be speaking at said healthcare conference when his signature legislation – the one that bears his name – Obamacare – could be radically altered by President Trump and a Republican Congress. Given the date of the conference? Perhaps Obama will be forced to address some very uncomfortable questions and problems with the health care law that has become such a bane of existence to the average American such as the massive premium hikes, providers ceasing to offer coverage in particular areas, etc.  Or perhaps he may even be forced to address a GOP repeal of the law altogether.
Obama memorably stated in a 2009 interview with CBS's "60 Minutes" –
"I did not run for office to be helping out a bunch of fat cat bankers on Wall Street."
He then went on to give a series of speeches demanding accountability from banks.  He blamed them as the main culprits of the 2008 financial crisis, yet the Obama DOJ did not indict a single bank for their part in the financial crisis related frauds.
God Bless.
Copyright 2017 Americas Freedom Fighters/ AFF Media. All rights reserved. This material may not be published, broadcast, rewritten, or redistributed.
Here's How To Be Sure To Continue Seeing Our Content On Facebook
TOGETHER WE WILL MAKE AMERICA GREAT AGAIN!
Dean James III% AMERICA'S FREEDOM FIGHTERS
Please like and share on Facebook and Twitter!
Facebook Has Banned Us!
The leftists at Facebook decided they didn't like our message, so they removed our page and are censoring us. Help us fight back and subscribe to our newsletter so that you can stay up-to-date with everything Facebook doesn't want you to see!
Disqus Comments