Sassy Liberty AMERICA'S FREEDOM FIGHTERS –
Just a few days ago former Secret Service agent, Dan Bongino, put out a series of tweets stating that he was planning to share more information in the days to come regarding #Obamagate.  True to his word Bongino has offered additional explanations for why he believes that there is truth to President Trump's claims of the Obama regime wiretapping Trump Tower.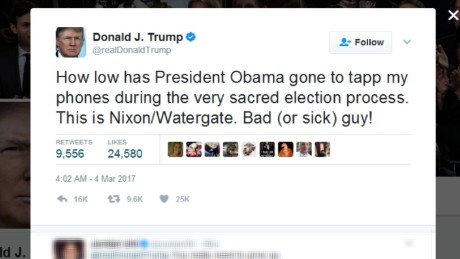 ADVERTISEMENT - STORY CONTINUES BELOW
Bongino stated –
take our poll - story continues below

Whom do you consider to be the most corrupt Democrat Politician?

Completing this poll grants you access to AFF updates free of charge. You may opt out at anytime. You also agree to this site's Privacy Policy and Terms of Use.

"The Secret Service does ECM sweeps, electronic counter-measures, where they go in frequently and look for listening devices, radio frequencies, all kinds of things to make sure the president or president-elect is not being, in fact, wiretapped or listened in on on specific phone lines. They've never considered the third option, that he had Secret Service protection and there was likely an ECM sweep done to check for bugs. The FBI's not going to tell the Secret Service if they're monitoring the president-elect, and if Obama or his DOJ officials wanted Trump monitored, the Secret Service probably didn't know at all."
Bongino began his career with the Secret Service in 1999.  He served on the elite Presidential Protective Division during the latter years of the George W. Bush administration continuing into the beginning of Obama's term. He resigned in 2011 and now hosts a radio show called "The Renegade Republican." He is also a contributor to CNN and Fox News and is affiliated with the Conservative Review website.
Bongino was quick to point out the contradictions found in the leftist mainstream media stories with regard to President Trump's belief that Trump Tower was wiretapped during the election. The York Times contradicted its own reporting.  Reporting on the wiretaps weeks ago, it was BREAKING NEWS, now that President Trump has brought it to the forefront of discussion, it is a "conspiracy theory."
ADVERTISEMENT - STORY CONTINUES BELOW
ADVERTISEMENT - STORY CONTINUES BELOW
When the media hacks wrote weeks ago about the Trump wire-taps it was breaking news, now that Trump mentions it it's a "conspiracy theory."

— Dan Bongino (@dbongino) March 6, 2017
Bongino posted an excerpt from a NYT article from January 19, 2017, showing where "one official said intelligence reports based on some of the wiretapped communications had been provided to the White House."  Perhaps the NYT forgot?  Or are they just THAT incompetent?
Is the @nytimes refuting its own reporting? Asking for a friend. pic.twitter.com/4jxbdLUFMW

— Dan Bongino (@dbongino) March 6, 2017
While Obama and his spokespersons have denied ordering any such action, a careful reading of their denials leaves open the possibility of sensational executive overreach if not outright illegal activity.
Andrew McCarthy, in an op-ed for National Review, explained how, technically, a president doesn't "order" such surveillance measures. And just because a "wiretap" may not have been placed directly on a Trump Tower phone line doesn't mean other forms of surveillance weren't taken against Trump or his campaign surrogates.
"This seems disingenuous on several levels. First, as Obama officials well know, under the FISA process, it is technically the FISA court that 'orders' surveillance. And by statute, it is the Justice Department, not the White House, that represents the government in proceedings before the FISA court. So, the issue is not whether Obama or some member of his White House staff 'ordered' surveillance of Trump and his associates. The issues are (a) whether the Obama Justice Department sought such surveillance authorization from the FISA court, and (b) whether, if the Justice Department did that, the White House was aware of or complicit in the decision to do so. Personally, given the explosive and controversial nature of the surveillance request we are talking about – an application to wiretap the presidential candidate of the opposition party, and some of his associates, during the heat of the presidential campaign, based on the allegation that the candidate and his associates were acting as Russian agents – it seems to me that there is less than zero chance that could have happened without consultation between the Justice Department and the White House."
In a May 20, 2013, article from the Washington Post titled – Justice Department's scrutiny of Fox News reporter James Rosen in leak case draws fire – WaPo details just what sort of liar Obama and his regime are in the denial of wiretapping the American citizenry, stating –
Journalists, First Amendment watchdogs and government transparency advocates reacted with outrage Monday to the revelation that the Justice Department had investigated the newsgathering activities of a Fox News reporter as a potential crime in a probe of classified leaks.

Critics said the government's suggestion that James Rosen, Fox News's chief Washington correspondent, was a "co-conspirator" for soliciting classified information threatened to criminalize press freedoms protected by the First Amendment. Others also suggested that the Justice Department's claim in pursuing an alleged leak from the State Department was little more than pretext to seize his e-mails to build their case against the suspected leaker.

"It is downright chilling," Fox News executive Michael Clemente said in a statement. "We will unequivocally defend [Rosen's] right to operate as a member of what up until now has always been a free press."
In an article from the Society of Professional Journalists dated August 11, 2015, Obama's lack of transparency with the public is made abundantly clear.
No less than 53 journalism and government watchdog groups urged the Obama regime to cease practices of federal agencies restricting information.  The Obama regime was known to restrict information in the following ways –
• Officials blocking reporters' requests to talk to specific staff people;
• Excessive delays in answering interview requests that stretch past reporters' deadlines;
• Officials conveying information "on background," refusing to give reporters what should be public information unless they agree not to say who is speaking.
• Federal agencies blackballing reporters who write critically of them.
Yet all of this information is ignored and President Trump and his administration are ridiculed and dubbed conspiracy theorists for even the mere suggestion that the Obama regime was involved in wiretapping Trump Tower.  It seems little more than act three in a staged dog and pony show in the continued elaborate attempts to discredit President Trump.  The American people are WAY past tired of this nonsense!
God Bless.
Here's How To Be Sure To Continue Seeing Our Content On Facebook
TOGETHER WE WILL MAKE AMERICA GREAT AGAIN!
Dean James III% AMERICA'S FREEDOM FIGHTERS
Please like and share on Facebook and Twitter!
Facebook Has Banned Us!
The leftists at Facebook decided they didn't like our message, so they removed our page and are censoring us. Help us fight back and subscribe to our newsletter so that you can stay up-to-date with everything Facebook doesn't want you to see!
Disqus Comments