Agenda Becomes Even Clearer As SOCOM Hires Anti-Trump As Well As Any Anti-Americans Who Support Trump, As ""Chief of Diversity and Inclusion"
In another move to push diversity and inclusion within our United States military, SOCOM has hired an individual that is anything but diverse and its proven by his won words to be extremely anti-Trump as well any citizen that supports Trump.
ADVERTISEMENT - STORY CONTINUES BELOW
SOCOM is our militaries Special Operations Command develops and employs fully capable Special Operations Forces to conduct global special operations and activities as part of the Joint Force to support persistent, networked and distributed Combatant Command operations and campaigns against state and non-state actors to protect and advance U.S. policies and objectives.
Breitbart reports that United States Special Operations Command (SOCOM) has hired as its first "chief of diversity and inclusion" a person who posted anti-Trump memes on his Facebook page, including one that compared the former president to Adolf Hitler.
SOCOM posted about Richard Torres-Estrada's hire on Thursday.
take our poll - story continues below
Whom do you consider to be the most corrupt Democrat Politician?
Completing this poll grants you access to America's Freedom Fighters updates free of charge. You may opt out at anytime. You also agree to this site's Privacy Policy and Terms of Use.
So our Special Operations Command has put into place an individual who is clearly anti-diversity as well as extremely against any citizen, soldier and politician who does not agree with his personal beliefs.
ADVERTISEMENT - STORY CONTINUES BELOW
It is vital to understand the dangerous as well as why the Biden regime has implemented this new military program to seek out any soldiers who believe in conservatism an free republic's.
Breitbart continued, After his hire was announced, some of Torres-Estrada's apparent social media posts began circulating.
ADVERTISEMENT - STORY CONTINUES BELOW
USSOCOM welcomes our new Chief of Diversity & Inclusion, Mr. Richard Torres-Estrada. We look forward to his contribution in enhancing the capabilities and effectiveness of #SOF through diversity of talent, helping us recruit the best of the best. #QuietProfessionals pic.twitter.com/Z6aJnz91mx

— USSOCOM (@USSOCOM) March 25, 2021
A Facebook account appearing to belong to Torres-Estrada posted on June 2, 2020: "Here I leave this and slowly retire (to continue working from home)…" along with a meme of then-President Donald Trump, holding up a bible in front of St. John's Episcopal Church after Black Lives Matter protesters set fire to it, next to a photo of Hitler.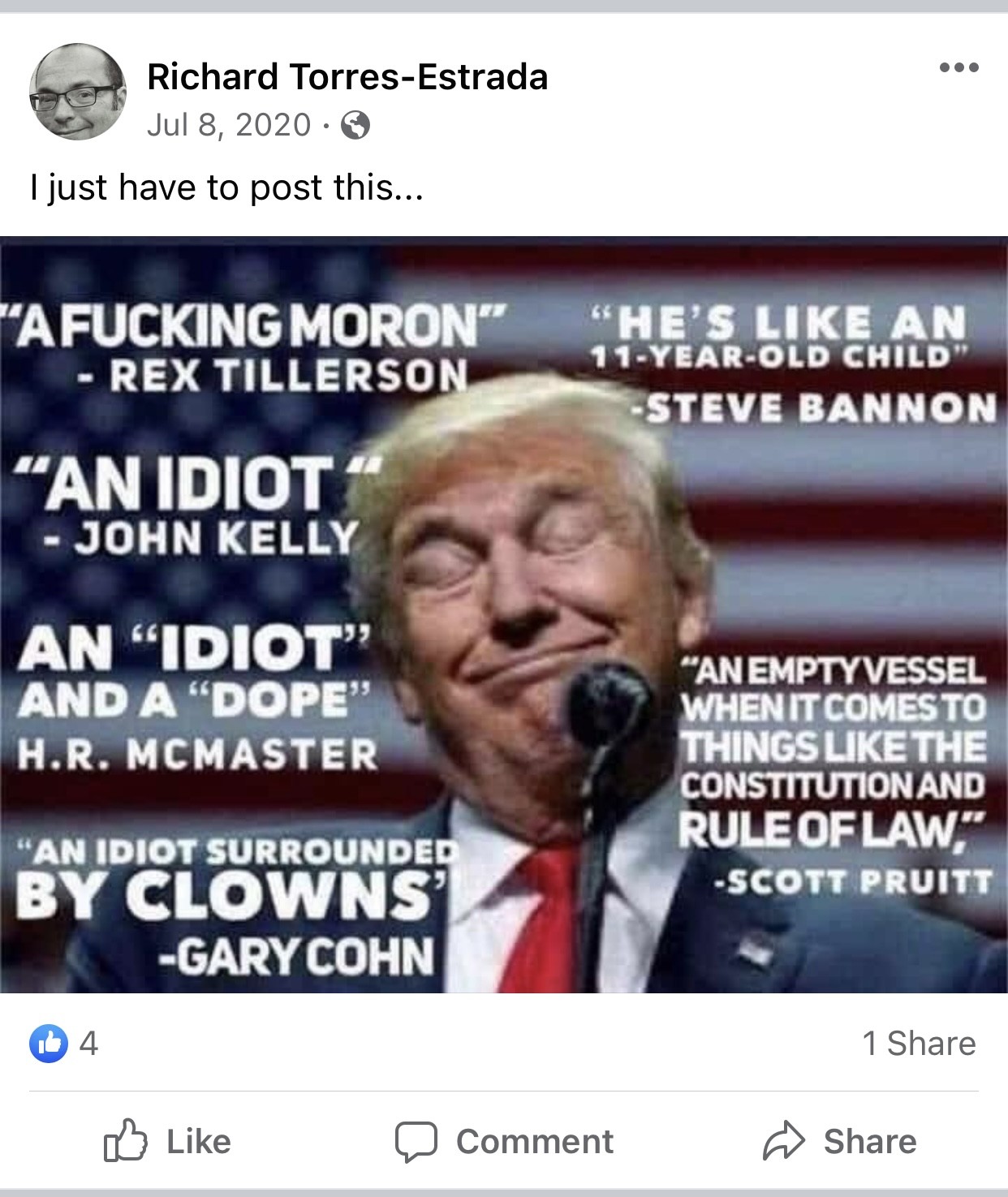 I fail to see how this will benefit our militaries special operations as well as special forces that are the elite of our military.
This is clearly meant to continue to cleans our military of any and all who oppose the Biden Regime as well as believes in the oaths they took to the Constitution and not an oath to any political party.
Breitbart News furthered, we reached out to a spokesman for SOCOM on Friday afternoon, asking, "Does SOCOM have a statement on why he was hired at SOCOM to be the diversity and inclusion chief when his posts could be seen as partisan, and concerning for members of the military and SOCOM community who supported Trump?"
The spokesman responded, "We are aware of the allegations and are looking into them now."
Joe Kent, retired U.S. Army Special Forces chief warrant officer 3, who spent more than 20 years in special operations and completed 11 combat deployments, criticized Torres-Estrada's posts.
"Looks like the new diversity officer loves celebrating diversity with those who agree with him. Here is what he thinks of the rest of us- Mr. Torres-Estrada was not placed in US Special Operations command by mistake," Kent tweeted.
You can bet your ass it was no mistake and the agenda is clear and evident that their intentions are to gain control of our military by removing any soldiers that refuse to take a knee to the new regime.
Looks like the new diversity officer loves celebrating diversity with those who agree with him.

Here is what he thinks of the rest of us-

Mr. Torres-Estrada was not placed in US Special Operations command by mistake. https://t.co/YJ26av1ftz pic.twitter.com/dgwlmP00oQ

— Joe Kent for WA-3 (@joekent16jan19) March 26, 2021
Americans, our soldiers and their commands should be outraged and demand politicians stay the hell out of the military.
Under the Biden regime they have created policies to target U.S. soldiers that believe in serving our nation and protecting it from enemies foreign and domestic.
This is not just targeting current active duty soldiers but military vets as well, including citizens who supported Trump and also believe in protecting our nation from domestic enemies within our nation.
Breitbart continued, Kent added: "The left is not hiding the fact that they are in control & have the power to cleanse the ranks of those who do not submit He is one of the reason you see so much woke tweeting from Sr Mil leaders They are pledging their loyalty to the new order & cleansing themselves of the old."
He added: "Special ops leans heavily right, that's why Biden's team put such an outspoken monitor in SOCCOM & is not having him tidy up his social media, it's a not so subtle warning. Special ops leans right but honorably serves our nation, regardless of what party POTUS is from."
There is something far larger going on, an agenda that seems to be pushing a socialism and communism turning point in our nation.
Facts are what they are D.C. militarized zone is just the beginning and leads down a rabbit hole that many people refuse to see or believe.
If ever there was a time for citizens to reach out to one another with an open and honest dialogue to achieve peace and unity as citizens. the time is now and clearly essential.
READ NEXT – BREAKING: Putin Just Made A FOOL Of Dictator Biden- Gets Called Demented- Challenges Him To THIS
SCROLL DOWN TO LEAVE A COMMENT! INVITE YOUR FRIENDS AND MAKE SURE TO SUBSCRIBE! WE APPRECIATE YOU ALL PATRIOTS! WELCOME TO THE

AFF FAMILY!
Sick of the censorship and basement dwelling liberal scumbags fact checking you?
Then sign up and join us at SPREELY , WeGo, Gab, Codias, Mumblit, Vomvos and WorldAnon!
It's time to enjoy social media again… without the filthy Communist censorship!
DINO PORRAZZO at AMERICAS FREEDOM FIGHTERS
God Bless.
Facebook Has Banned Us!
The leftists at Facebook decided they didn't like our message, so they removed our page and are censoring us. Help us fight back and subscribe to our newsletter so that you can stay up-to-date with everything Facebook doesn't want you to see!
Disqus Comments