Dean James III% AMERICA'S FREEDOM FIGHTERS –
BREAKING – The US-led coalition fighting ISIS in Syria conducted air and artillery strikes against pro-regime forces in Syria on Wednesday, killing an estimated 100 pro-regime fighters, according to a coalition statement.
take our poll - story continues below
Completing this poll grants you access to AFF updates free of charge. You may opt out at anytime. You also agree to this site's Privacy Policy and Terms of Use.
The coalition described its action — which if confirmed could represent the largest number of pro-regime casualties inflicted by the US-led coalition — as carried out in "self defense," CNN reports.
ADVERTISEMENT - STORY CONTINUES BELOW
According to a coalition statement, its strikes were carried out after forces allied with Syrian President Bashar al-Assad "initiated an unprovoked attack" against a well-established Syrian Democratic Forces headquarters where coalition advisers were working with US-backed Syrian fighters.
Some 500 pro-regime troops carried out the attack using artillery, mortar fire and Russian-made tanks "in what appears to be a coordinated attack on Syrian Democratic Forces," US Army Col. Thomas Veale, a spokesman for the US-led coalition told CNN.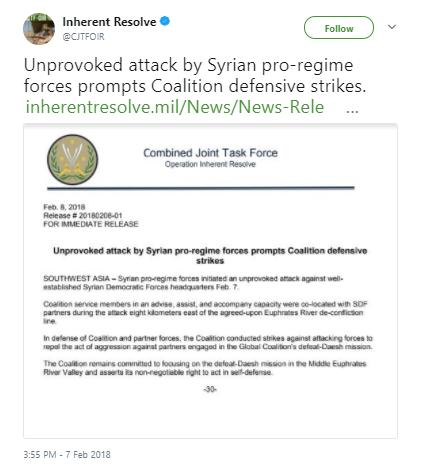 The attack on the headquarters appeared "to be a coordinated attack on Syrian Democratic Forces approximately 8 kilometers east of the Euphrates River de-confliction line in Khusham, Syria," Col. Thomas Veale, a public affairs officer for the Inherent Resolve Soalition, told Military Times.

The pro-regime troops used mortar fire, artillery, and T-55 and T-72 main battle tanks with support from multiple-launch rocket systems to carry out the attack.  Roughly "20 to 30 artillery and tank rounds landed within 500 meters" of the headquarters before the U.S.-led coalition carried out strikes in self-defense.

No U.S.-led coalition forces were injured in the attack, but one SDF member was wounded.

"We suspect Syrian pro-regime forces were attempting to seize terrain SDF had liberated from Daesh in September 2017," Veale told Military Times. "[Pro-regime forces] were likely seeking to seize oilfields in Khusham that had been a major source of revenue for Daesh from 2014 to 2017."

ADVERTISEMENT - STORY CONTINUES BELOW

Khusha is five miles east of the de-confliction line that separates Russian-backed and U.S.-backed forces in Syria.
US F-22 stealth jets, F-15 fighters, and MQ-9 drones were involved in the counterattack according to US Air Forces Central Command.
There are roughly 2,000 U.S. troops operating in Syria, mostly with SDF forces fighting ISIS.
Facebook Has Banned Us!
The leftists at Facebook decided they didn't like our message, so they removed our page and are censoring us. Help us fight back and subscribe to our newsletter so that you can stay up-to-date with everything Facebook doesn't want you to see!