"NO CONCEALED WEAPONS ALLOWED. If you are such a loser that you feel a need to carry a gun with you when you go out, I do not want your business. Douchebag."
That's the message Backstreets Pub & Deli recently sent to gun owners with a sign posted in its store window. The backlash against the establishment, located in Clemson, S.C., was swift after the conservative website Twitchy posted several photos of the sign from Twitter.
The Washington Times reports that the pub has a one-star rating out of five on Yelp.com, "with pages upon pages of negative comments and reviews by Second Amendment supporters."
ADVERTISEMENT - STORY CONTINUES BELOW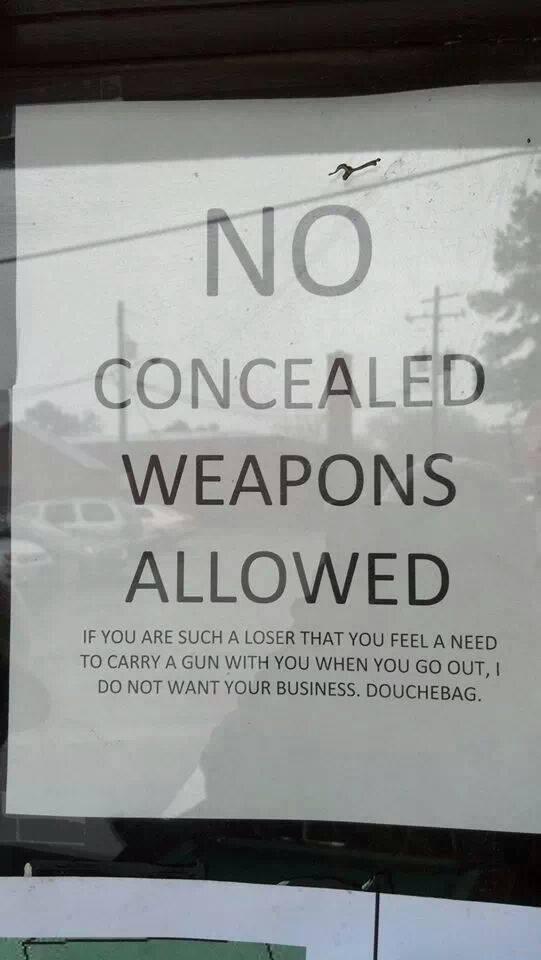 The owner of the pub, who identified to himself only as Pete, is already backpedaling. He said the sign was only temporary and that he regrets using the rude language.
"It just came out wrong because I was frustrated," he said.
ADVERTISEMENT - STORY CONTINUES BELOW
The Times has some of the reactions:
Terri, on Yelp, gave the pub a one-star rating.
"Not allowing law abiding permit holding background checked conceal carry permit holders into your establishment is begging for criminals to come in and make an easy target out of you," she said.
"So, you would even insult the soldiers that fought for your freedom and right to post that offensive sign?" asked Tim, who also gave one star. "Would you say the same thing to a police officer? I guess you have the right to be an idiot as well. God bless America, the Constitution and the Second Amendment."
Pete, who describes himself as a "conservative Democrat," claims he has been a concealed carry permit holder since 2001, but guns don't belong in public in a college town.
He explained why he feels that way: "There are cops everywhere. Cameras everywhere. Guns have no place here in a college town."
Meanwhile, he has had to take the phone at the pub off the hook because of the national outrage.
Facebook Has Banned Us!
The leftists at Facebook decided they didn't like our message, so they removed our page and are censoring us. Help us fight back and subscribe to our newsletter so that you can stay up-to-date with everything Facebook doesn't want you to see!
ADVERTISEMENT - STORY CONTINUES BELOW
Disqus Comments