Sassy Liberty AMERICA'S FREEDOM FIGHTERS –
Just a few days ago House Intelligence Committee Chair Devin Nunes dropped a bombshell in a press conference confirming that the Obama regime had indeed conducted surveillance on President Donald Trump and his team during his transition into the presidency.  The leftist media and the Democrats have kept up a steady stream of accusations in the meantime, continuing to make wild claims about President Trump's administration and their ties to Russia.  President Trump's former campaign chairman, Paul Manafort, has been in the center of these accusations.
Nunes has now made the announcement that Manafort has volunteered to testify before the House Intelligence Committee through his attorney.  The Committee has been investigating alleged ties between Trump campaign officials and Russia as well as the Kremlin's activities in the 2016 election since July.
ADVERTISEMENT - STORY CONTINUES BELOW
The committee had also asked FBI Director James B. Comey and NSA head Adm. Michael S. Rogers to brief the panel. Comey appeared before the Committee on Monday and gave act three in the dog and pony show, confirming only that the bureau was probing Russia's role in the elections — as well as Trump aides' possible Russian affiliations.
take our poll - story continues below
Completing this poll grants you access to AFF updates free of charge. You may opt out at anytime. You also agree to this site's Privacy Policy and Terms of Use.
Much ado has been made by the left and the leftist mainstream media with regard to Manafort's Russian business dealings causing Manafort to step aside as President  Trump's campaign manager during the 2016 Presidential Election and former Breitbart editor, Stephen Bannon to take his place.
ADVERTISEMENT - STORY CONTINUES BELOW
The New York Times reported that Manafort is listed in some sort of a "secret ledger" showing payments from the former, Russia-friendly, Ukrainian government. Except the fact that Hillary Clinton's campaign chair, John Podesta, helped a Russian government-linked company earn $35 million — an actual, bigger scandal — is completely disregarded and ignored.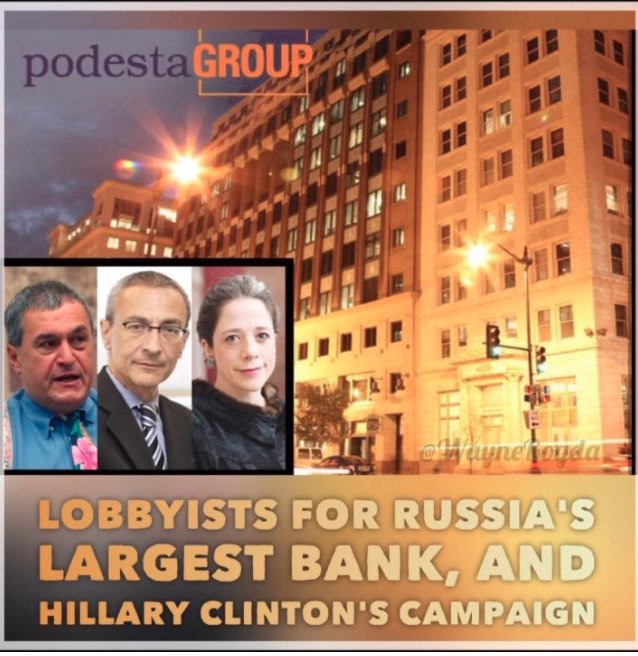 ADVERTISEMENT - STORY CONTINUES BELOW
The article is a mass of contradictory conjecture and all it manages to prove is that Manafort was listed in a handwritten ledger as having received money from that same party as compensation for services rendered.  Considering he worked as a consultant for the Ukrainian ruling party, helping it win elections, the money is perfectly normal.  Then goes on in the article to report that Manafort "is not a target" in a separate investigation into offshore dealings by the former regime.  The article also admits that it is "unclear" whether Manafort would have had to register with the U.S. government as a foreign agent. All the Times managed to prove is what is already known about Manafort which is mainly that he advised an unsavory regime, and was paid handsomely for his services.
Welcome to political life as a consultant in Washington! It is an unfortunate fact of political life that senior operatives on both sides have side gigs working as lobbyists, sometimes for foreign governments — and sometimes nasty ones.
Podesta, on the other hand, joined the boards and executive committees of three related entities in 2011 – Boston-based Joule Unlimited, Rotterdam-based Joule Global Holdings, and Joule Global Stichting, the company's controlling interest. All entities are high-tech renewable energy enterprises.
Three months after Podesta's arrival, Joule Unlimited accepted a 1 billion ruble investment from Rusnano, amounting to $35 million in U.S. currency. The firm also awarded a Joule board seat in February 2012 to Anatoly Chubais, Rusnano's CEO.  Chubais is reported and believed to be a corrupt individual.
But according to the left?  Nope….nothing to see here….move along!
 In 2008, Sen. John McCain (R-AZ) made an effort to cut lobbyists from his campaign staff to set an example.  Then-Sen. Barack Obama (D-IL) ran on a "no lobbyist" pledge that he violated
even before he took the oath of office
. Even the Facebook fact checking, uber left-leaning PolitiFact named the no-lobbyist pledge a "
broken promise
" by Obama.
Nevermind that Hillary Clinton herself  presided over a nuclear disarmament treaty that slashed America's nuclear arsenal while leaving Russia's weapons largely intact, abandoned American missile defense programs in Europe to appease Russia, undercutting our Eastern European allies in the process; allowed a Putin-controlled company to acquire 20% of U.S. supplies of uranium, after a timely donation to the Clinton Foundation; and encouraged American tech companies to invest in a Russian project that was likely used to improve Russian defense and espionage.
But the left is still all yammering about RUSSIA, RUSSIA, RUSSIA with regards to Manafort and the Trump Administration!
The fact that the democrats and the leftist mainstream media are STILL obsessing about what is a flimsy conspiracy theory about Russian ties to the Trump campaign, while largely ignoring the overt record of appeasement and explicit commercial ties between the Clinton campaign and the Putin regime, says more about media bias than it does about the business dealings of Paul Manafort.
God Bless.
Here's How To Be Sure To Continue Seeing Our Content On Facebook
TOGETHER WE WILL MAKE AMERICA GREAT AGAIN!
Dean James III% AMERICA'S FREEDOM FIGHTERS
Please like and share on Facebook and Twitter!
Facebook Has Banned Us!
The leftists at Facebook decided they didn't like our message, so they removed our page and are censoring us. Help us fight back and subscribe to our newsletter so that you can stay up-to-date with everything Facebook doesn't want you to see!
Disqus Comments