Tensions are escalating to the breaking point between Black Lives Matter activists and the Philadelphia Police Department after BLM took it upon themselves to descend upon on an officer's home.
As a result of the protesters targeting the officer's home and family, the president of Philadelphia's chapter of the Fraternal Order of Police John McNesby responded and he did not mince words. However, the leftists, mainstream media, and race baiters only respond to one side of the equation rather than address the incident as a whole as usual.
McNesby slammed the actions of BLM calling them a "pack of rabid animals" who "show up at your home and openly threaten your family." The protesters were responding to the fatal shooting of an armed black man by police. McNesby's comments were made on Thursday at a "Back the Blue" rally at the FOP Lodge 5 headquarters.  The rally was planned in an effort to respond to the BLM protest held outside the home of Officer Ryan Pownall a week prior.  The FOP was very vocal in their condemnation of the actions of BLM in the targeting of Officer Pownall and his family at their home, labeling it an act of "urban terrorism" led by "anarchists."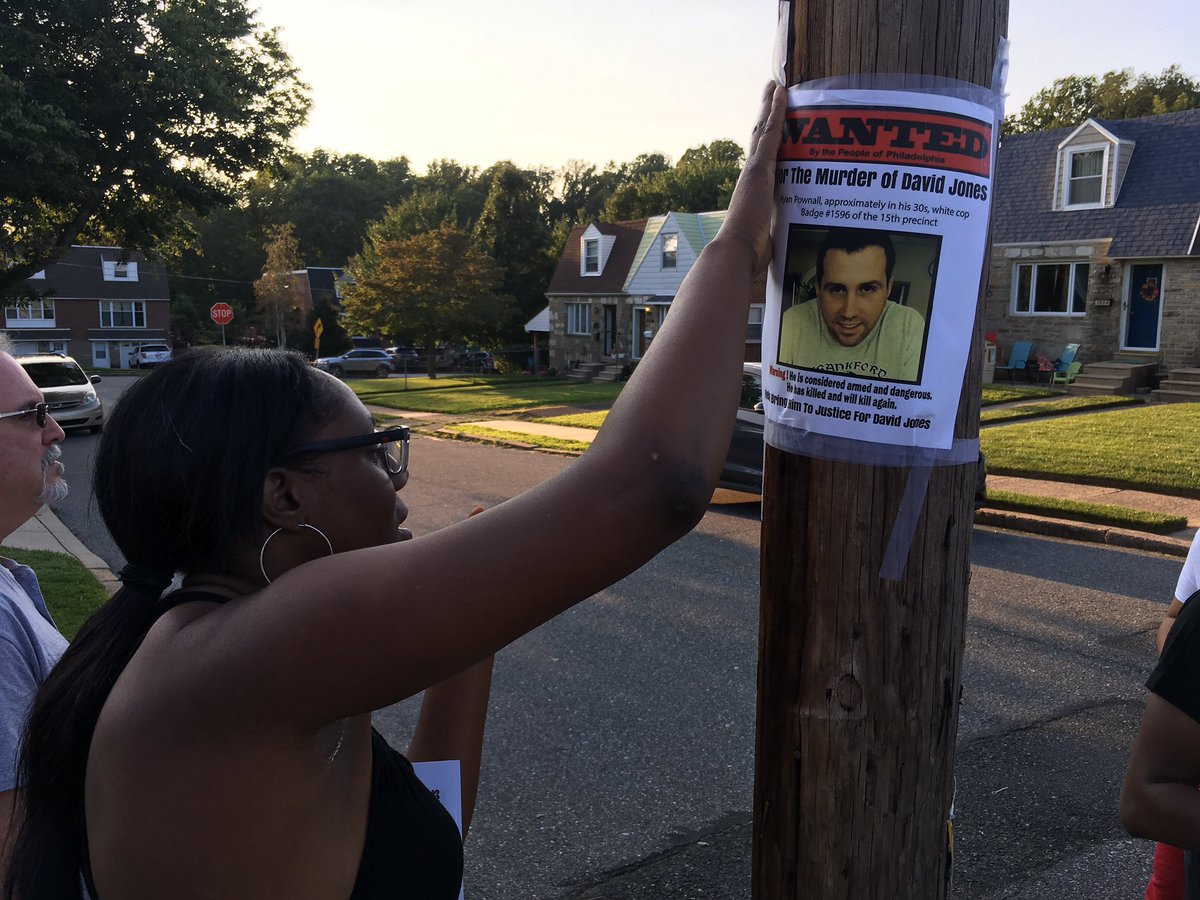 According to Philly local news affiliate WHY, McNesby stated to a crowd of hundreds gathered at the rally –
"When you go to work each day, you shouldn't have to worry that a pack of rabid animals will suddenly show up at your home and openly threaten your family. These are not activists, they are racist hate groups determined to instigate violence."
McNesby's sentiment echoed the official statement put out by FOP Lodge #5. Within that statement, FOP Lodge #5 made the announcement that McNesby and VP John McGordy were seeking a temporary restraining order and a block on the release of the officer's name.
The statement reads in part –
"This is due to the events of last night in which urban terrorists showed up at an officer's residence. These anarchists were allowed to threaten the officer, his family, and an entire city neighborhood."
Rather than focusing on the reason WHY the statement was made and choosing to address why an officer's family was targeted at his personal home, Black Lives Matter as a group as well as multiple left leaning mainstream media outlets have chosen to focus on the "pack of rabid animals" line, and slammed McNesby's language.  Apparently, they would rather parse words than address the reason the words were necessary in the first place.
According to NBC Philadelphia, Asa Khalif of Black Lives Matter stated –
"We're not going to dignify that with an answer. That ridiculous comment doesn't deserve a response. I'll simply say, 'Justice for David Jones.'"
Yet Khalif apparently does not feel his own inflammatory language should be addressed as well, nor does he see how his own actions contributed to the issue at hand or WHY the statement in question was made in the first place.  Khalif repeatedly called Officer Pownell a "racist, bigot pig cop" with "a murderous spirit."
Outside Officer Pownell's home Black Lives Matter chanted "If we don't get no justice, they don't get no peace!"
An internal investigation into Officer Pownell's actions is still ongoing. When asked about why it was acceptable for Khalif and others of the BLM to use inflammatory and racist language, Khalif defended his words, stating –
"The language is strong because the emotion is strong, but we never advocated violence."
Many people believe that this situation pitting police against citizens, most especially in the black community is reaching a boiling point between both factions.  The situation is being exacerbated by the Mainstream Media with selective editing, selective reporting, and inflammatory language.
According to preliminary reports, Officer Pownall's home was targeted for the protest after his name was released as the officer that shot David Jones.  Jones was carrying a fully loaded .9 mm and there are claims he resisted arrest. Pownall is believed to have shot Jones in the back and buttocks on June 8.
Officer Pownall initially stopped Jones for riding an illegal dirt bike in North Philadelphia.  The .9 mm was discovered during a pat down. According to witnesses, Pownall pulled his service weapon and warned Jones not to touch his gun. There was a scuffle and Jones fled on foot.  According to surveillance video Jones dropped the .9 mm as he ran away from Officer Pownall. Jones was shot as he ran away and died from his injuries. The .9 mm was recovered from the scene.
SCROLL DOWN TO LEAVE A COMMENT! INVITE YOUR FRIENDS AND MAKE SURE TO SUBSCRIBE! WE APPRECIATE YOU ALL PATRIOTS! WELCOME TO THE AFF FAMILY!
?Be sure to sign up for our FREE newsletter and we'll keep you in the loop by CLICKING HERE!?
?Be sure to follow us at TRUTH SOCIAL, TWITTER, PARLER, GETTR and OUR EXCLUSIVE TELEGRAM GROUP.
Please take a moment and share our articles with your friends,  family and on all social media sites! Thank you, we appreciate it!
Facebook Has Banned Us!
The leftists at Facebook decided they didn't like our message, so they removed our page and are censoring us. Help us fight back and subscribe to our newsletter so that you can stay up-to-date with everything Facebook doesn't want you to see!
Disqus Comments