Antifa thugs strike again, this time in Portland, Oregon. The group that looks and behaves just like ISIS were busily harassing Trump supporters attending to a pro-Trump rally.
The free speech rally drew several hundred to a plaza near City Hall more than a week after two Portland men were fatally stabbed trying to stop a man from shouting anti-Muslim insults at two teenage girls on a light-rail train.
Looking towards City Hall from inside Terry Schrunk. Rally, counter protesters exchanging chants #KOIN6News pic.twitter.com/hB7tQhkTnz

ADVERTISEMENT - STORY CONTINUES BELOW

— Cole Miller (@ColeMillerTV) June 4, 2017
The pro-Trump free speech rally was a pre-planned conservative event organized by Patriot Prayer and featured Kyle Chapman, aka "Based Stick Man."
Chapman became internet famous for hitting an Antifa protester on the head with a stick.
ADVERTISEMENT - STORY CONTINUES BELOW
Wearing a helmet, gas mask, knee pads and heavy clothing, Chapman joined freedom-lovers with a Captain America-esque shield and large stick to fight back against the Communist black block horde.
https://youtu.be/EeCbVTAp88E
At least fourteen people were arrested after Antifa showed up at the event causing violent clashes between the groups as Antifa again got confused about whether they were protesting fascism or simply practicing it.
Antifa and other counter-protesters claimed to be making a stand against hate and racism, yet they were armed with bricks, sticks, and other weapons. As one Twitter user observed, the Antifa thugs were literally planning on stoning people, just like ISIS.
Antifa in Portland were planning to literally stone people. Just like ISIS. pic.twitter.com/V4XyNR6K3T

— Ian Miles Cheong (@stillgray) June 5, 2017
That rally was met across the street by hundreds of counter-protesters organized by immigrant rights, religious and labor groups. They said they wanted to make a stand against hate and racism.
Another collection of weapons seized today. pic.twitter.com/tdMmMSM2Wp

— Portland Police (@PortlandPolice) June 5, 2017
Portland police said Sunday evening that 14 people were arrested, and several dozen knives, bricks, sticks and other weapons were seized. Portland Mayor Ted Wheeler tried to stop the pro-Trump Free Speech rally from happening at all with claims that Trump supporters should forfeit their first amendment rights due to his belief that they would spread "hate and vitriol."  Wheeler called on the federal government to revoke the permit for the event, but it went on as scheduled despite his attempts to shut it down. It seems the only hate and vitriol being spread was by the so-called ANTI-fascists.
Police were forced to use flash-bang grenades and pepper balls to disperse that crowd after the so-called ANTI-fascists started hurling bricks and other objects at officers. Counter-protesters claimed motivated to come out Sunday to speak out against acts of hate and bigotry perpetuated by President Trump and his supporters. On the other side of the caution tape, however, pro-Trump demonstrators said they felt the left in Portland were the ones spewing hate and acting violently.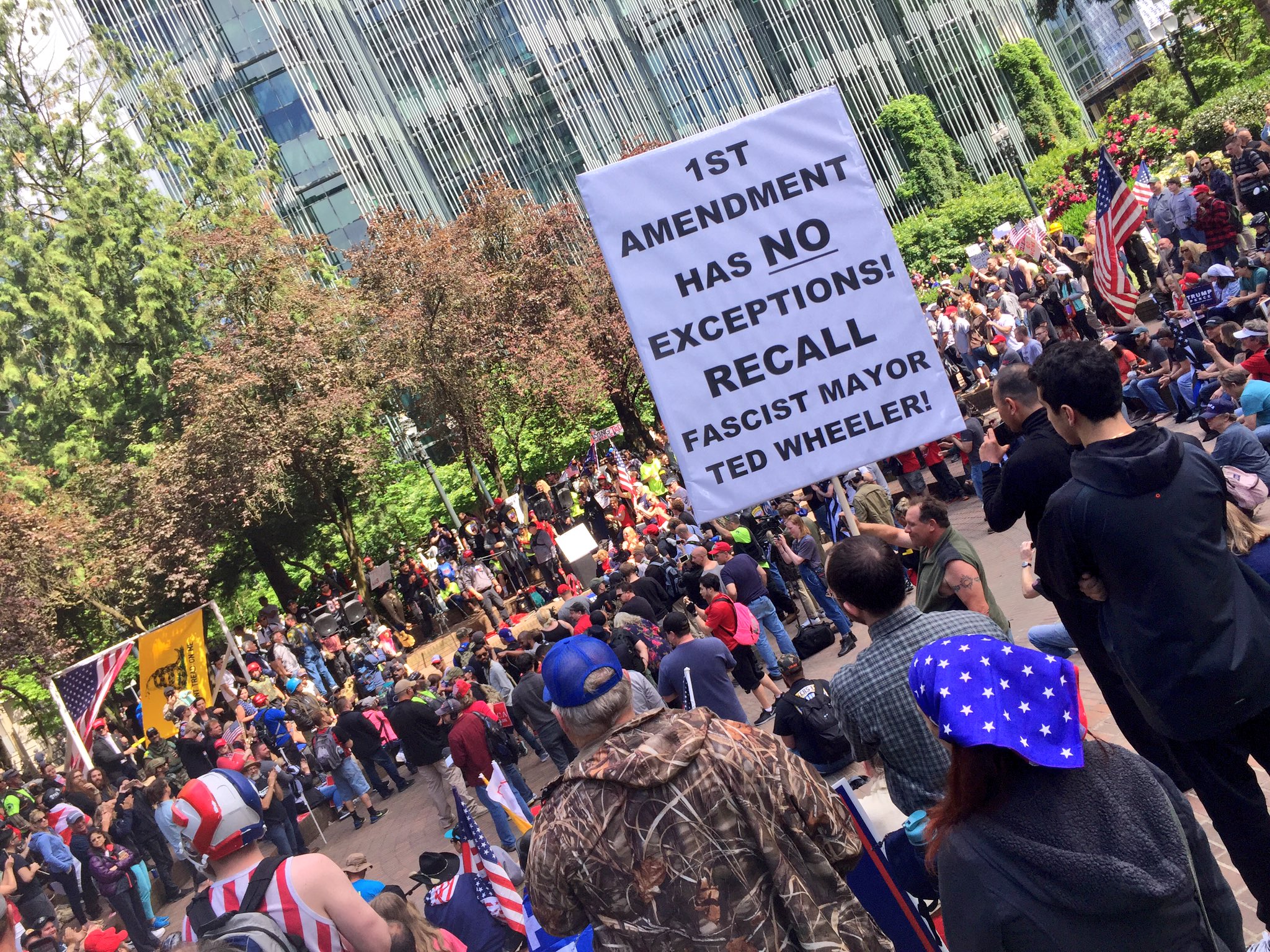 "We're here standing in solidarity with marginalized communities," one counter-protester said. "We wanted to show people that we're not afraid and this is our town and we're not going to tolerate any hatred here."
"I came out to support our great, great President, Donald J. Trump," a woman named Martha said. "Our side over here, our patriots have been calm. But Antifa, liberals, very very fierce… it's just a terrorist group."
Source- AFF 
Let us know what you think in the comments below!
Sick of the censorship and election meddling?
Then join us at SPREELY and PARLER!
It's time to enjoy social media again… without the filthy Communist censorship!
DINO PORRAZZO at AMERICAS FREEDOM FIGHTERS
Join me on Twitter! 
God Bless.
Facebook Has Banned Us!
The leftists at Facebook decided they didn't like our message, so they removed our page and are censoring us. Help us fight back and subscribe to our newsletter so that you can stay up-to-date with everything Facebook doesn't want you to see!
ADVERTISEMENT - STORY CONTINUES BELOW
Disqus Comments