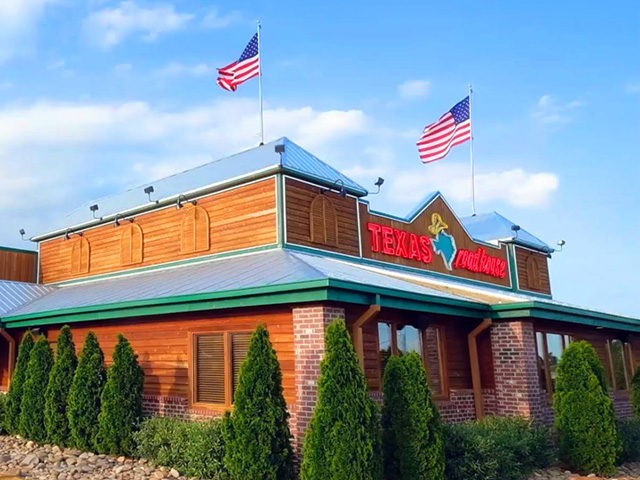 Texas Roadhouse/Facebook
Liberals, leftists, Communist/ Democrats aren't a patriotic group of Americans.
ADVERTISEMENT - STORY CONTINUES BELOW
In fact most despise everything about America including our police and military.
That's part of why I am enjoying doing this article but the greatest part is that what you are about to see is absolutely awesome.
I think you will agree.
Okay let's go to a Texas Roadhouse restaurant in Florida where they paid tribute to the 13 servicemembers killed due to demented Biden's botched Afghanistan evacuation.
ADVERTISEMENT - STORY CONTINUES BELOW
From Breitbart:
A Florida Police Department Posted a photograph of a local Texas Roadhouse's tribute to the 13 fallen servicemembers who lost their lives in the August 26 suicide bombing at the Kabul airport.
The Ocoee Police posted a photo of a table at the Ocoee Texas Roadhouse reserved for the 13 fallen servicemembers. The tribute was done in a large booth of the restaurant that displayed a framed photograph of the servicemembers. Each of the 13 settings was accompanied by aluminum bud light bottles. A sign, fixed at the end of the table read, "this table is reserved in honor of the 13 fallen soldiers who lost their lives in the Kabul airport bombing – Till Valhalla."
Take a look!
Our own Texas Roadhouse Ocoee tribute to our Country's 13 fallen soldiers. #NeverForget

#FallenHeroes
Our own Texas Roadhouse Ocoee tribute to our Country's 13 fallen soldiers. #NeverForget #FallenHeroes pic.twitter.com/d1io8WrdGi

— Ocoee Police (@OcoeePD) September 4, 2021
WHAT A BEAUTIFUL SIGHT! (Except the Bud Light- SCREW THAT BEER lol!)
Breitbart News spoke with Texas Roadhouse Manager Alexandria Dickerson, who explained what prompted the tribute.
"We just wanted to honor the 13 servicemembers who passed and give respect to their families" Dickerson stated. "Texas Roadhouse overall supports veterans and everyone who has served or who has passed away from serving."
Dickerson would add that every Veteran's Day, the Texas Roadhouse looks to give back to the nation's heroes:
Every Veteran's Day we try to give back. We give away free entrees for all veteran's current and previous as well.
When asked if the tribute was a coordinated effort with Ocoee Police, Dickerson stated, "We do partner with them a lot, so it might have just been from- we have several police officers that come in here and eat on a regular basis, so it could be from there.
We do partner with them, so if they happened to see it on another Facebook page it was probably just shared that way."
GOD BLESS THIS WONDERFUL WOMAN AND GOD BLESS OUR POLICE, MILITARY, FIRSTRESPONDERS, BORDER PATROL, ICE AND EVERY MAN AND WOMAN WHO HAVE DEDICATED THIER LIVES TO KEEPING AMERICA SAFE.
I hope you enjoyed this as much as I did.
Be sure to sign up for our FREE newsletter and we'll keep you in the loop by CLICKING HERE!
Be sure to follow us at TRUTH SOCIAL, TWITTER, PARLER, GETTR and OUR EXCLUSIVE TELEGRAM GROUP.
Please take a moment and share our articles with your friends,  family and on all social media sites! Thank you, we appreciate it!
Make Sure To Scroll Down And Leave A Comment And Let Your Voice Be Heard, We Will NEVER Silence You!
Facebook Has Banned Us!
The leftists at Facebook decided they didn't like our message, so they removed our page and are censoring us. Help us fight back and subscribe to our newsletter so that you can stay up-to-date with everything Facebook doesn't want you to see!
Disqus Comments