Sassy Liberty AMERICA'S FREEDOM FIGHTERS –
President Donald Trump was met with thunderous approval on a stop in Louisville Monday, offering a blend of promises to restore jobs, cut taxes, rebuild the nation's "crumbling infrastructure," strengthen the military and stop illegal immigration.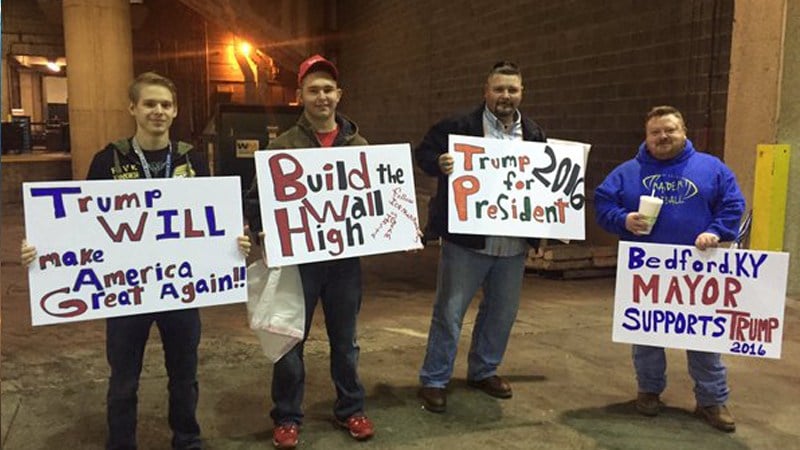 ADVERTISEMENT - STORY CONTINUES BELOW
President Trump left Washington again in his efforts to gain support for the House Republicans' health care bill, dubbed to be the Obamacare replacement.  This time Freedom Hall in Louisville, Kentucky.
President Trump stated to the crowd this "is our chance to end ObamaCare and the ObamaCare catastrophe."
"This is our long-awaited chance to finally get rid of Obamacare. It's a long-awaited chance. We're going to do it."
President Trump's speech was filled with shout-outs to the Kentucky Congressional delegation –
ADVERTISEMENT - STORY CONTINUES BELOW
"Hey, Mitch, we gonna be OK? … That health care's looking good?"
In reference to Senate Majority Leader Mitch McConnell of course, then President Trump told the crowd if the health bill did not pass, "the alternative is what you have and what you have is nothing."
He also took a conciliatory stance towards KY Senator Rand Paul, one of the bill's most outspoken opponents.
"I look forward to working with him so we can get this bill passed — in some form."
The plan is to get the GOP health bill passed, then sweeping tax reform.
"We've got to get this done before we can do the other. In other words, we have to know what this is before we can do the big tax cuts. We've got to get it done for a lot of reasons, but that's one of them."
"We will build a great border wall," he proclaimed to a cheering audience while he described his plans to secure our borders and block illegal immigration.
"We will stop radical Islamic terrorism. We are going to drain the swamp of government corruption. We are going to keep our promises."
One of the biggest cheers of the night erupted with President Trump promised to stop Obama's ridiculous "War on Coal" and restore the nation's struggling industry.  Obama's "war" on this industry has hit the Kentucky economy especially hard with regard to job losses.  Skeptics state it will be a pledge impossible for President Trump to keep due to an abundance of cheaper natural gas and the costs and pollution of coal.
Of course, no Trump rally would be complete without the protesters.  There were several interruptions due to protester actions.
Two people tried to unfurl a banner over a balcony that a Trump supporter wrested away from them. Another two protesters wearing "Black Lives Matter" T-shirts were hustled out by police. President Trump did not acknowledge either incident.
God Bless.
Here's How To Be Sure To Continue Seeing Our Content On Facebook
TOGETHER WE WILL MAKE AMERICA GREAT AGAIN!
Dean James III% AMERICA'S FREEDOM FIGHTERS
Please like and share on Facebook and Twitter!
Facebook Has Banned Us!
The leftists at Facebook decided they didn't like our message, so they removed our page and are censoring us. Help us fight back and subscribe to our newsletter so that you can stay up-to-date with everything Facebook doesn't want you to see!
Disqus Comments