Sassy Liberty AMERICA'S FREEDOM FIGHTERS –
A liberal leftist group attempted to take over the lobby of Trump Tower and ended in the arrests of at least 25 individuals.
Over 30 protesters with the group 'Rise and Resist NYC' gathered in the lobby of the building to protest the policy of extreme vetting for refugees and immigrants.
ADVERTISEMENT - STORY CONTINUES BELOW
Organizers said the action was in support of refugees, immigrants, and their families as well as to "protest the administration's immigration policies."
take our poll - story continues below
Whom do you consider to be the most corrupt Democrat Politician?
Completing this poll grants you access to AFF updates free of charge. You may opt out at anytime. You also agree to this site's Privacy Policy and Terms of Use.
Protest organizer Jamie Bauer stated –
ADVERTISEMENT - STORY CONTINUES BELOW
"My grandparents, who fled Eastern Europe looking for both religious freedom and economic opportunity, taught me to respect all people regardless of their race, nationality, or religion. I'm honoring them today by saying loud and clear that all immigrants are welcome in the United States."
New York police arrest 25 at immigration protest in Trump Tower https://t.co/mqkH3UKeNH pic.twitter.com/kOtcMSNZjr

ADVERTISEMENT - STORY CONTINUES BELOW

— Reuters Top News (@Reuters) April 14, 2017
at #TrumpTower now! #resist #noban #nowall #noraids #riseandresist pic.twitter.com/S0GwwdfH6A

— Rise and Resist (@riseandresistny) April 13, 2017
The group was repeatedly asked to leave.  They refused.  As a result, 25 were arrested with some having to be literally carried out of the building. Due to the disruption, the lobby of Trump Tower was temporarily closed to the public until the protesters could be physically removed.
Protester Ann Shirazi states –
"It's very important for me to be here. We have a very, very dangerous person in the White House. It is totally unstable. It is filled with hatred."
She stated that more than 100 leaflets were thrown from the balcony of the atrium with the words "no ban, no wall, no raids" written in bold letters.
At #TrumpTower now! #noban #nowall #noraids #risesndresist pic.twitter.com/bbjmGvAhpt

— Rise and Resist (@riseandresistny) April 13, 2017
The group posted their antics on Twitter and elsewhere unfurling large banners that read "No Raids" from the second floor of the building's atrium on Thursday afternoon.  Pictures also show the sit-in that took place in the atrium near the elevators where protesters sat on the marble floor.  Other demonstrators held signs saying "No Ban" and No Wall."

Security has been significantly increased at Trump Tower since President Trump's election by both the New York Police Department and the Secret Service. Trump Tower is a private building, however, the lobby and atrium area is considered public space thanks to a deal Trump made with New York City during its development phase.
President Trump lived in the building with his family before he taking office in January. Both his campaign and transition teams have both operated out of the building over the past few years. Currently, first lady Melania Trump and their son Barron still reside there, though that is due to change shortly.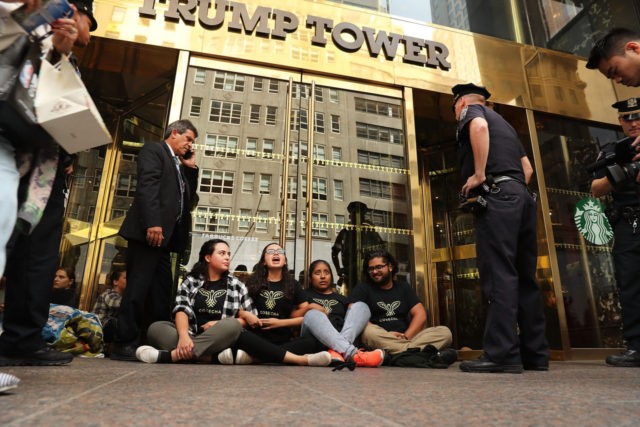 Several protesters were seen being placed into police vans outside Trump Tower.  One man sat on the ground wearing a shirt that said "No Wall." Other protesters chanted "No ban, no raids, no wall," over and over again as they stood on 57th Street with their hands cuffed in plastic zip ties.
Tthe recent policies that organizers wanted to draw attention to were President Donald Trump's travel bans, his proposed border wall with Mexico, and what they term as the "aggressive" increase in immigration raids.
Protester Alexis Danzig states –
"We oppose and reject the Trump administration's hateful policies towards immigrants and refugees."
God Bless.
Here's How To Be Sure To Continue Seeing Our Content On Facebook
TOGETHER WE WILL MAKE AMERICA GREAT AGAIN!
Dean James III% AMERICA'S FREEDOM FIGHTERS
Please like and share on Facebook and Twitter!
Facebook Has Banned Us!
The leftists at Facebook decided they didn't like our message, so they removed our page and are censoring us. Help us fight back and subscribe to our newsletter so that you can stay up-to-date with everything Facebook doesn't want you to see!
Disqus Comments