Sassy Liberty AMERICA'S FREEDOM FIGHTERS –
President Donald Trump is set to make his first address to Congress tonight and it seems the usual suspects are already gearing up to "protest." Rosie O'Donell is leading the charge yet again in an anti-Trump protest outside the White House scheduled for just before the president speaks a joint session of Congress for the first time.
ADVERTISEMENT - STORY CONTINUES BELOW
Trump's 9 p.m. address on Tuesday technically won't be a State of the Union, but it's customary for new presidents to give a speech before Congress in their first months of taking office.
take our poll - story continues below
Completing this poll grants you access to AFF updates free of charge. You may opt out at anytime. You also agree to this site's Privacy Policy and Terms of Use.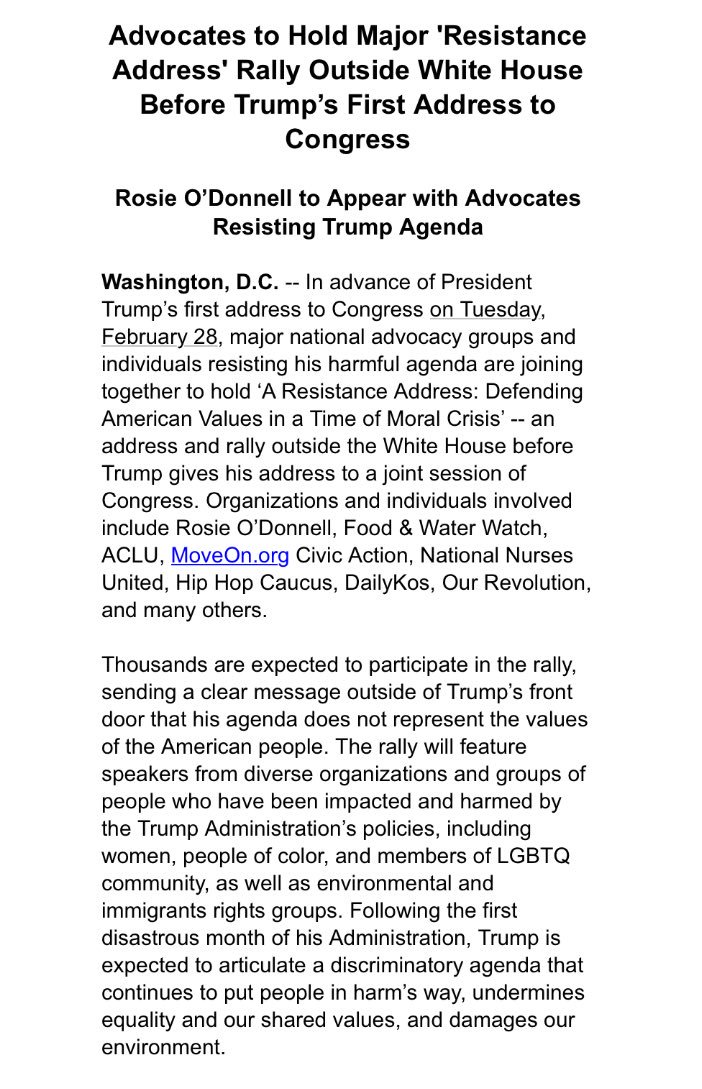 ADVERTISEMENT - STORY CONTINUES BELOW
On Monday, the 54-year-old has-been actress and "comedian" shared the news via Twitter that she along with others will participate in yet another anti-Trump rally in Washington D.C. to send  what she claims is "a clear message outside of Trump's front door that his agenda does not represent the values of the American people."
*YAWN*
The rally has been dubbed the  "A Resistance Address: Defending American Values in a Time of Moral Crisis," is set to kick off Tuesday at 6 p.m., right outside the White House. One wonders if we will see a repeat of the events on the Berkeley campus or if those "protesting" so-called fascism will get the words "protesting" and "practicing" mixed up again as the so often seem to do.
ADVERTISEMENT - STORY CONTINUES BELOW
FREE SPEECH??? *GASP* We can't have that!!
Several leftist organizations are also participating in this "protest"  including the American Civil Liberties Union, MoveOn.org, and the Daily Kos. Rosie is the featured speaker.  Apparently, personal feuds take precedent over America and the will of her people, at least if your name happens to be Rosie O'Donnell, that is.
A feud that Rosie herself started back in 2006  when Rosie slammed President Trump, then-co-owner of the Miss Universe pageants, for his bankruptcies and, in her opinion, his inability to lead. Trump responded by calling O'Donnell out as a "real loser" and a "woman out of control."
Rosie has called for everything under the sun in her efforts to thwart President Trump, demanding everything from President Trump's arrest to Martial Law, dubbing Trump as "mentally unstable" and accusations of "treason."
Rosie has even stooped to all new lows, even for her, after she publicly attacked President Trump's 10-year-old son, Barron Trump, mocking him as autistic.
HE MUST NEVER BE SWORN IN – DELAY INAGURATION – INVESTIGATE – ARREST HIM @nickolasb @HuffPostPol

— ROSIE (@Rosie) January 6, 2017
White House press secretary Sean Spicer said that the theme of Trump's Tuesday address to Congress will be "renewal of the American spirit." Unlike Trump's inauguration, no Democrats are planning to boycott his joint address in protest, at least not so far. But many Democrats claim that they are planning to put people in front of Trump who they claim would be negatively impacted by his policies.
Democrats are bringing undocumented immigrants to Trump's address to a joint session of Congress https://t.co/yLIcx6eegg via @EliStokols pic.twitter.com/yJbn5qwYUs

— POLITICO (@politico) February 27, 2017
Rep. Jim Langevin (D-R.I.), has invited a Muslim critical care doctor from Pakistan. At least three House Democrats claim to have plans to bring young undocumented immigrants who came to the United States as children and have work permits under the Obama-era program stopping them from deportation. Rep. Luis Gutierrez (D-Ill.) is bringing a Chicago immigration attorney who works with mostly Middle Eastern clients and is herself a child of refugees from Gaza.
h/t – the Daily Caller
God Bless.
Here's How To Be Sure To Continue Seeing Our Content On Facebook
TOGETHER WE WILL MAKE AMERICA GREAT AGAIN!
Dean James III% AMERICA'S FREEDOM FIGHTERS
Please like and share on Facebook and Twitter!
Facebook Has Banned Us!
The leftists at Facebook decided they didn't like our message, so they removed our page and are censoring us. Help us fight back and subscribe to our newsletter so that you can stay up-to-date with everything Facebook doesn't want you to see!
Disqus Comments