Sassy Liberty AMERICA'S FREEDOM FIGHTERS –
Reports are coming in from Honduras that fugitive lawyer Eric Conn has been captured nearly six months after he ran from Lexington facing some 12 years in prison.  The Honduran public magistrate's office states Conn is expected to be extradited to the U.S. as of this week. Conn was captured coming out of a restaurant in the coastal city of La Ceiba in Honduras.
The flamboyant attorney that called himself "Mr. Social Security" was taken into custody by a national police SWAT team after becoming the subject of a massive manhunt. He was at the center of a more than $550 million Social Security fraud case and then he vanished after cutting his electronic monitoring device in June. The attorney was under house arrest while awaiting sentencing for his crimes.
ADVERTISEMENT - STORY CONTINUES BELOW
Conn opened is law practice in a small trailer in 1993 feeding his outlandish TV persona of "Mr. Social Security" with garish and outrageous television commercials and small-scale replicas of the Statue of Liberty and the Lincoln Memorial at his office in eastern Kentucky. He built the third largest disability practice in the United States.
take our poll - story continues below
Completing this poll grants you access to AFF updates free of charge. You may opt out at anytime. You also agree to this site's Privacy Policy and Terms of Use.
ADVERTISEMENT - STORY CONTINUES BELOW
Conn represented thousands of successful claims for Social Security benefits.  The majority of his clients were from the poverty-stricken coalfields of eastern Kentucky and West Virginia. His house of cards came crumbling down when investigators discovered he had been bribing a doctor and judge to approve disability claims based on fake medical evidence.
Conn pleaded guilty to stealing from the federal government, along with bribing a federal judge in a massive Social Security fraud case. Conn was sentenced in absentia handing down the maximum sentence possible – a 12-year-prison term. He was ordered to pay approximately $170 million in restitution for theft and bribery to a public official in his elaborate scheme to rig disability hearings for Conn's clients.
ADVERTISEMENT - STORY CONTINUES BELOW
The local FBI office in Louisville, Kentucky has not yet confirmed Conn's arrest and his attorney, Scott White states in response to reports his client had been taken into custody by U.S. law enforcement –
"It does appear from the reporting that Eric was taken into custody by some uniformed group in Honduras. But, given the security situation in Honduras and the dangerous gangs operating there as has been reported as recently as the last few weeks in relation to its election, then who knows who these masked folks are, for whom they work, or if Eric has even been lawfully seized. Those may or may not be issues for either our courts or the Honduran courts.

If in fact Eric has been lawfully captured and is legally returned, then, as I told you in June, this comes as no surprise … the FBI usually gets their man."
The Honduran Magistrate's office distributed photos of Conn, showing him with close-cropped, red hair speckled with gray. He was wearing a blue polo shirt while sitting at a table while a police agent wearing a ballistic vest and carrying a long rifle.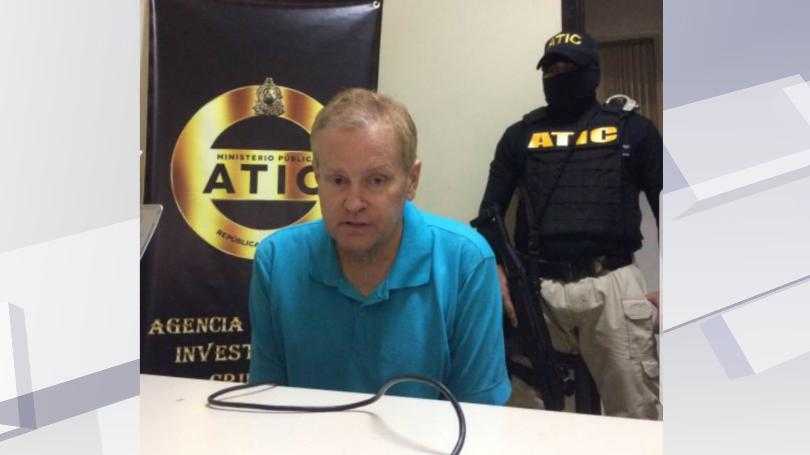 Ned Pillersdorf is an eastern Kentucky attorney and has been charged with representing hundreds of Conn's former clients.  He says Conn's greed and scheming caused a "true humanitarian crisis."
Pillersdorf stated of Conn's capture –
"With his capture, I'm hoping we can get this ordeal behind us, put him in prison where he belongs and start to undo the damage he has done to his former clients."
FOLLOW us on Facebook at Nation In Distress!
Dean James III% AMERICA'S FREEDOM FIGHTERS
Copyright 2017 Americas Freedom Fighters/ AFF Media. All rights reserved. This material may not be published, broadcast, rewritten or redistributed without expressed permission.
Please share this on Facebook and Twitter!
Facebook Has Banned Us!
The leftists at Facebook decided they didn't like our message, so they removed our page and are censoring us. Help us fight back and subscribe to our newsletter so that you can stay up-to-date with everything Facebook doesn't want you to see!
Disqus Comments