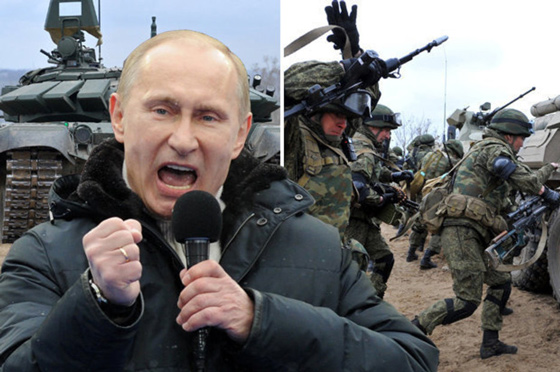 Relations between the United States and Russia have reached new all-time lows. With tensions between Russia and Ukraine at all-time highs, the geopolitical landscape is getting intense.
Russian Forces Mount On Ukraine Border
ADVERTISEMENT - STORY CONTINUES BELOW
The march toward war is slowing, but it's still on its way.  While de-escalation has not yet occurred, it still could if cooler heads prevail. However, it does not appear that there are any cool heads in politics right now.
take our poll - story continues below

Whom do you consider to be the most corrupt Democrat Politician?

Completing this poll grants you access to America's Freedom Fighters updates free of charge. You may opt out at anytime. You also agree to this site's Privacy Policy and Terms of Use.

After years of deteriorating relations, sanctions, tit-for-tat diplomatic expulsions, and an escalating "information war," some in Moscow are asking if there even is any point in seeking renewed dialogue with the U.S., if only out of concern that more talks might just make things worse. -The Christian Science Monitor

ADVERTISEMENT - STORY CONTINUES BELOW
There also seems to be limited interest from the mainstream media in reporting on the issues between the West and Ukraine, and Russia. That's not a surprise considering the "vaccines" which are a large part of the overall New World Order agenda are front and center. Is there a distraction from the geopolitical tensions going on? Most likely, but I'll let you decide using your own discernment and critical thinking.
And there is a growing sense in Moscow that the downward spiral of East-West ties has reached a point of no return, and that Russia should consider abandoning hopes of reconciliation with the West and seek permanent alternatives: perhaps in an intensified compact with China, and targeted relationships with countries of Europe and other regions that are willing to do business with Moscow.-The Christian Science Monitor

ADVERTISEMENT - STORY CONTINUES BELOW
"Things are at rock bottom. This may not be structurally a cold war in the way the old one was, but mentally, in terms of atmosphere, it's even worse," says Fyodor Lukyanov, editor of Russia in Global Affairs, a Moscow-based foreign policy journal. "The fact that Biden offered a summit meeting would have sounded a hopeful note anytime in the past. Now, nobody can be sure of that. A hypothetical Putin-Biden meeting might not prove to be a path to better relations, but just the opposite. It could just become a shouting match that would bring a hardening of differences, and make relations look like even more of a dead end."
Hopefully, there will be no major conflict or worse. War benefits only the rulers, as they don't have to put their lives on the line for their own agenda.
By Mac Slavo at SHTFplan.com / republished with permission.
Biden is no match for Putin.
It's best for those 2 guys to avoid each other.
Nothing good would result from a meeting- they both hate each other and Biden is a senile ass wipe and he could very well kick off a nuclear war.
JMO.
RELATED ARTICLE-
BREAKING News From USSTRATCOM- Warns About Imminent Nuclear War Under Biden Regime
SCROLL DOWN TO LEAVE A COMMENT! INVITE YOUR FRIENDS AND MAKE SURE TO SUBSCRIBE! WE APPRECIATE YOU ALL PATRIOTS! WELCOME TO THE AFF FAMILY!
Sick of the Communist censorship and basement dwelling liberal scumbags fact checking you?
Then sign up and join us at SPREELY , WeGo, Gab, Codias, Mumblit, Vomvos and WorldAnon!
DINO PORRAZZO at AMERICAS FREEDOM FIGHTERS
God Bless.
Facebook Has Banned Us!
The leftists at Facebook decided they didn't like our message, so they removed our page and are censoring us. Help us fight back and subscribe to our newsletter so that you can stay up-to-date with everything Facebook doesn't want you to see!
Disqus Comments