Sassy Liberty AMERICA'S FREEDOM FIGHTERS –
What has happened at Rockville High School in Rockville, Maryland can only be described as a heinous and brutal loss of innocence. A loss that was completely avoidable and direct result of what happens when the open border policies are embraced and the left is allowed to run things.
Two illegal-alien teenagers, Henry Sanchez, 18, of Guatemala and Jose Montano, 17, of El Salvador, were placed in ninth-grade classes at Rockville High School in the Montgomery County School system. They have been arrested and charged with the brutal rape of a 14-year-old girl, a freshman at the school.
ADVERTISEMENT - STORY CONTINUES BELOW
take our poll - story continues below
Completing this poll grants you access to AFF updates free of charge. You may opt out at anytime. You also agree to this site's Privacy Policy and Terms of Use.
Both boys approached the young girl in the hallway near the gymnasium inside Rockville High School during school hours about 9 a.m. on Thursday.
Montano asked her for sex. The girl refused — twice.
So the two boys forced her into the boys' bathroom into a stall where they forcibly removed her clothes and the two proceeded to rape her at the same time, then traded positions and raped her again. She screamed and cried out but for reasons unknown, no one at the school heard her cries for help. According to the police report, by the time it was over, they had raped her anally, orally, and vaginally.
ADVERTISEMENT - STORY CONTINUES BELOW
Sanchez had a pending deportation order, which was never carried out due to immigration activists fighting the order. Maryland is the most welcoming state in the East for illegal immigrants and refugees, with Montgomery County being THE most welcoming in the state.  Maryland gives in-state tuition rates to illegal aliens that go to college in the state and the legislature just approved a measure to make Maryland a sanctuary state.
According to the Washington Examiner –
The Democratically-controlled House of Delegates voted 83-55 to OK the Maryland Law Enforcement and Trust Act. Generally, it would bar state and local law enforcement from helping federal immigration officials seeking illegals, including requests to detain inmates for deportation.
This will make Maryland the first sanctuary state and Montgomery County is already a sanctuary county, denying 63 ICE requests to turn over illegal-alien criminals last year.
Now to add further insult to injury Montgomery County Superintendent Dr. Jack Smith Smith avoided questions about the alleged sexual assault for days and had to be confronted by a reporter in the parking lot outside of his office before finally answering questions. He is in charge of 204 schools in the district.

After the confrontation with the reporter, Dr. Smith fired off an email Thursday accusing parents and members of the community of racism and xenophobia.
The following is the entire email from Montgomery County Superintendent Dr. Jack Smith:
Dear MCPS Community:

As you may have heard or read, a serious incident occurred at Rockville High School on March 16, 2017. While I can't share many details because it is an ongoing police investigation, I can share that the incident involves allegations of rape and the arrest of two students.

The allegations presented in the charging documents are horrible and unacceptable. They do not represent the positive values of our students and school communities. Our thoughts are with the student who reported the incident and her family. Montgomery County Public Schools (MCPS) is committed to supporting them through these difficult times.

Please know that our school staff immediately contacted the Montgomery County Police Department (MCPD) once they were informed about the alleged sexual assault. MCPS continues to fully cooperate with MCPD and the Montgomery County State's Attorney's Office on this matter.

ADVERTISEMENT - STORY CONTINUES BELOW

While I know this tragic incident has become part of a national political debate, I want to remind community members that the lives of real students have been forever affected. While many have chosen to engage civilly in the conversation, far too many have crossed the line with racist, xenophobic calls and emails. MCPS is working with law enforcement to identify those who are making threats toward our students and schools. This behavior will not be tolerated in our community.

Rockville High School staff, with the support of the MCPS administration, are working closely with their community to heal after this tragedy. Tuesday night, the Rockville High School Parent Teacher Student Association held a meeting where police and school representatives provided an update on the investigation, school security and MCPS policies. The community used this opportunity to express their concerns and ask questions of the principal, law enforcement and MCPS staff.

Watch the video of the Meeting

In addition to the questions we heard last night, we have received many questions from community members seeking to learn more about our policies. To help answer these questions we have created a web page that includes information and resources about our system policies; frequently asked questions and more. We will continue to update the page as more information becomes available.

MCPS is committed to the safety and security of our students and schools. In the coming days, we will share more about our efforts to ensure the safety of every student in our 204 schools.

Respectfully,

Jack R. Smith

Superintendent of Schools
Naturally, the email failed to mention that Sanchez and Montano are in the U.S. illegally. Smith states emphatically that the illegal-alien rape must not become a political issue. Parents have been protesting outside the office of  Dr. Smith for days.  They also voiced their concerns during a public meeting Tuesday evening.
Meanwhile, Republican Governor Larry Hogan is demanding answers –
"Why is an 18-year-old man in a class with 13 or 14-year-old girls? Why was his status not known to those folks? Why was he allowed to enter the country after he was picked up for illegally crossing the border—both of them? So there are a lot of questions. My biggest concern is the Montgomery County School System and their lack of cooperation and the lack of information they've been providing. Not only have they refused to provide any information to us, but they've refused to provide information to the state Board of Education, which specifically requested more information."
What was done to this poor girl was a horrible violation by these two animals.  What Montgomery County Schools and Montgomery County itself are continuing to do in their attempts to protect illegals at the expense of one 14-year-old girl and others just like her.  Rather than admitting their complicity in this issue, they are doubling down and further victimizing this girl through no fault of her own.  Please contact the Montgomery County Schools and Rockville High School to express your displeasure at their policies.  Public outcry can and does cause things to happen.  This girl needs justice.  Perhaps some public pressure will force officials to do what they SHOULD have been doing in the first place.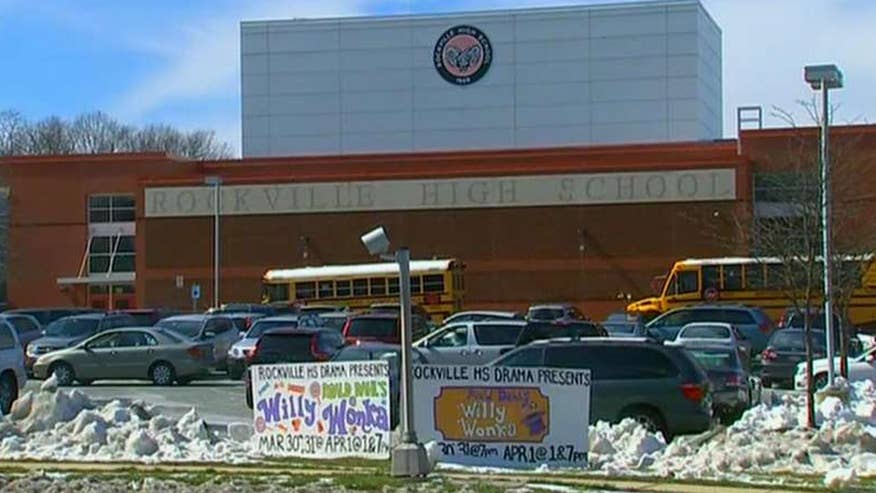 Following a meeting that was closed to the media on Tuesday, parents let WTOP know just how outraged they are over the entire ordeal.
A woman named "Debbie," who wouldn't give her last name stated:
"I think it's pretty important to know the whole demographics of your child's community. I think we all have a right to know who's living among us, who our kids are spending 40 hours a week with every day."
Meanwhile, a second-generation Italian immigrant names Sam Fenati slammed liberal policies for causing the young girl's assault.
"This little girl's rape is the fruition of liberal policy in this county," he said. "I'm not against immigrants, but we came in legally."
Other parents stated they're considering homeschooling their children after the incident because they no longer believe the school will keep them safe.
According to Fox 5, Maryland Gov. Larry Hogan was just as outraged as the parents, and he demanded to know why the idiots running the school district allowed grown men in the country illegally to attend a freshman class.
"Why is an 18-year-old man in a class with 13 or 14-year-old girls? Why was his status not known to those folks?
Why was he allowed to enter the country after he was picked up for illegally crossing the border — both of them? So there are a lot of questions."
To make matters worse, Democrats in the state legislature passed a bill this week that would make Maryland a "sanctuary state" in which law enforcement wouldn't cooperate with federal authorities over immigration-related issues. However, despite their utter stupidity, the Republican governor has vowed to veto the measure, showing there's still some reasonable people left in the state.
Mr. Fenati is right; this young girl's innocence was sacrificed on the altar of multiculturalism and tolerance, forced upon us by liberal Democrats. Unfortunately, she's just one of thousands upon thousands of victims whose lives have been forever altered or stolen directly as a result of failed liberal ideas, which turn innocent Americans into sacrificial lambs so the left can show the world how virtuous they are, yet for some reason leftists keep trying forcing them upon us.
With any kind of luck, the immense pain and terror inflicted on this young girl by men who weren't supposed to be in the country won't be in vain, and the national dialogue that's erupted as a result ends up forever changing our policies on immigration. Now that we have President Trump at the helm, what was once a fantasy may soon become a reality since he doesn't subscribe to the leftist fairy tale that you can import third-world savagery into the first-world and somehow expect it to improve our society.
Montgomery County Superintendent's office is located at 850 Hungerford Drive, Room 122 Rockville, MD 20850,  phone number: 301-279-3381, and Fax: 301-279-3206. Rockville High School is located at 2100 Baltimore Rd, Rockville, MD 20851 and the phone number is (301) 517-8105. 
CHRISTOPHER VAN HOLLEN, JR. (Democrat), U.S. Representative, 8th Congressional District can be reached at Capitol Hill – 1707 Longworth House Office Building, Washington, DC 20515, phone number (202) 225-5341; fax: (202) 225-0375.  Senator Benjamin L. Cardin – (D – MD) can be contacted at 509 Hart Senate Office Building Washington DC 20510 with a phone number of (202) 224-4524 or online at www.cardin.senate.gov/contact/
Maryland Governor Larry Hogan can be contacted at his office number 410-974-3901. His email and address are Governor.mail@marylandygov and his physical address is 100 State Circle, Annapolis, MD 21401.

God Bless.
Here's How To Be Sure To Continue Seeing Our Content On Facebook
TOGETHER WE WILL MAKE AMERICA GREAT AGAIN!
Dean James III% AMERICA'S FREEDOM FIGHTERS
Please like and share on Facebook and Twitter!
Facebook Has Banned Us!
The leftists at Facebook decided they didn't like our message, so they removed our page and are censoring us. Help us fight back and subscribe to our newsletter so that you can stay up-to-date with everything Facebook doesn't want you to see!
Disqus Comments