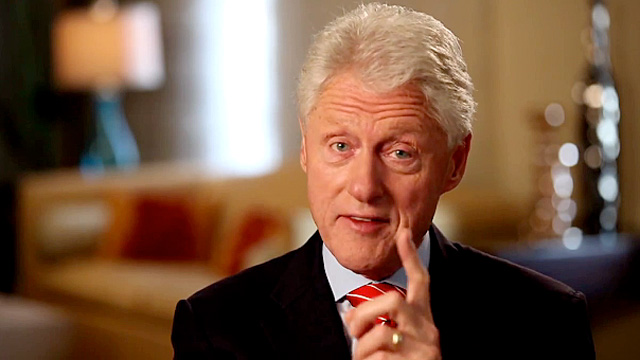 UPDATE: By Kris Zane  Original article appears below
ADVERTISEMENT - STORY CONTINUES BELOW
According to former child sex slave Virginia Roberts and a class action lawsuit against convicted billionaire pedophile Jeffrey Epstein, former President Bill Clinton was present during sex parties involving up to twenty underage girls at Epstein's secluded island in the Caribbean. That flight records show Clinton was flown on numerous occasions to the island on Epstein's private jet. Clinton had a close relationship with an employee of Epstein's who compiled thousands of photos of nude young girls posed in lewd positions. And these photos were used as a catalog for Epstein to loan out his girls to powerful politicians and British royalty, including Bill Clinton.
"…Clinton was friends with an unnamed woman who "kept images of naked underage children on her computer, helped to recruit underage children for Epstein… and photographed underage females in sexually explicit poses."
While Epstein was indicted and jailed for his pedophilia, Bill Clinton oddly has remained unscathed, more than likely by having friends in high places.
ADVERTISEMENT - STORY CONTINUES BELOW
If Bill Clinton is in fact a pedophile, will the American people demand that he be put away for a very long time so that he can't hurt any more children? Or will having friends in high places exempt him from the rule of law?
ORIGINAL ARTICLE: By Shanequa Nelson
Woody Allen has been spotted strolling on New York's Upper East Side with billionaire child sex-offender Jeffrey Epstein, who served time for hiring minors to 'massage' him at his Florida mansion.
Jeffrey Edward Epstein (born January 20, 1953 in Coney Island, New York) is an Americanfinancier. He served 13 months in jail of an 18-month sentence as a convicted sex offender in the state of Florida for soliciting an underage girl for prostitution. He is a registered sex offender, and remains under investigation by the FBI over allegations of involvement with underage girls and for money laundering.
Nude pictures Allen took of Soon-Yi Previn would figure prominently in his divorce proceedings with Mia Farrow, and the presiding judge would label his behavior "grossly inappropriate." The behavior included full frontal Polaroids of Soon-Yi posing with her legs spread apart, with her vagina and face prominent in all of the pictures Allen took. Additionally, Farrow alleged that Allen had molested their seven year old adopted daughter Malone (known at the time as Dylan Farrow).
Allen had taken pornographic photos of adopted daughter Soon-Yi Previn and was having an affair with her when she was only 17-years-old.
In March 2005, a woman contacted Palm Beach police, concerned that her 14-year-old step-daughter had been taken to Epstein's mansion by an older girl and been paid $300 after stripping to her panties and massaging the man while he masturbated. By 2011 at least 40 girls aged 13 to 17 had come forward with similar stories, some saying Epstein sexually assaulted them during the massage.
Virginia Roberts, who now lives in Australia, was born in Sacramento, California, in 1983. She was sexually molested by 'a man close to her family'. Aged 11, she was sent to live with an aunt. Three years later, she started a new life with her father, in Palm Beach, Florida. Her father was maintenance manager at Donald Trump's country club, Mar-a-Lago. At the age of 15, she met Ghislaine Maxwell, who arranged for her to work as Epstein's masseuse.
Virginia worked for Epstein for four years. For three of those years, she was under Florida's age of consent. "Basically, I was training to be a prostitute for him and his friends who shared his interest in young girls," she says. "The way it usually worked was I'd be sent to meet a man at his ranch in New Mexico, which was really isolated…"I met famous friends of his such as Al Gore, Donald Trump and Kevin Spacey."
Court filings in a civil case filed by billionaire sex offender Jeffrey Epstein link Epstein and Jean Luc Brunel, owner of modeling agency MC2. [1]
The documents say MC2 employees told attorney Brad Edwards that Epstein's condos at 301 E. 66th St. in New York City were used to house young models.
Edwards, who has sued Epstein on behalf of several women claiming to be victims of sex abuse by Epstein, was told MC2 brought underage girls in from all over the world, promising them modeling contracts.
"Epstein and Brunel would then obtain a visa for these girls, then would charge the underage girls rent," the documents say.
They also allege Epstein tried to thwart Edwards from taking depositions of Brunel, Epstein's companion Guislaine Maxwell, and other high-profile names such as former President Bill Clinton.
Details are listed in more than 62 pages filed by attorney Jack Scarola on behalf of Edwards in the lawsuit Epstein filed against Edwards. Edwards represents four of Epstein's minor victims, three of whom have settled their cases with Epstein under a confidential agreement.
Epstein attorneys Christopher Knight and Joseph Ackerman declined to comment on the court filings.
According to flight logs from Epstein's private planes, Clinton flew several times on Epstein's planes, many times with Palm Beach resident Sarah Kellen and Adriana Mucinska according to court papers.
"Epstein's personal phone directory from his computer contains e-mail addresses for Clinton along with 21 phone numbers for him and what appears to be Clinton's personal numbers," court papers say.
Court documents in that case claimed he routinely sought out underage girls and paid them $200 to $1,000 for sexual  massages in his homes in Palm Beach, Florida, and Manhattan. [2]
But the financier avoided a longer sentence after he signed a secret non-prosecution deal under which the government agreed to drop its investigation into the string of sex-crime allegations if Epstein confessed to prostitution felonies in Florida state court.
Epstein has so far made 17 out-of-court settlements, and some cases are ongoing.
Dylan Farrow said that her father had taken her to the attic, where he had sexually molested her. She says she is still tormented by Allen. She says hearing the famous Irving Berlin song Cheek To Cheek, which he used to sing to her, makes her throw up.
She spelled out exactly what she recalls Allen making her do there, 'I was cracking. I had to say something. I was seven. I was doing it because I was scared. I wanted it to stop.' Allen, she says, told her it was their secret and she couldn't tell anyone – although she disobeyed him and told her mother.
"When I was seven years old, Woody Allen took me by the hand and led me into a dim, closet-like attic on the second floor of our house. He told me to lay on my stomach…..Then he sexually assaulted me."
Dylan later suffered severe depression and started cutting herself, even making a 'half-hearted' attempt at suicide.
First, Allen told investigators he had never been in the attic where the alleged abuse took place. After his hair was found on a painting in the attic, he admitted that he might have stuck his head in once or twice. A top investigator concluded that his account was not credible.
The state attorney, Maco, said publicly he did have probable cause to press charges against Allen but declined, due to the fragility of the "child victim." Maco told me that he refused to put Dylan through an exhausting trial, and without her on the stand, he could not prosecute Allen.
According to Sacramento, Calif., psychologist Herbert N. Weissman, symptoms, such as fear, anxiety, depression, anger, withdrawal, sexual preoccupation and school or sleep difficulties ruins them for life. Allen has had a lifelong impact on her. Dylan says she initially broke up with the man who is now her husband, telling him that childhood memories had given her 'hang-ups about sex'.
"This is such a betrayal to me and my whole family," Dylan Farrow said. "My memories are  the truth and they are mine and I will live with that for the rest of my life. My mother never coached me. She never planted false memories in my brain. My memories are mine. I remember them. She was distraught when I told her. When I came forward with my story she was hoping against hope that I had made it up."
ADVERTISEMENT - STORY CONTINUES BELOW
She regrets that she has never been asked to testify against Allen, adding: 'If I could talk to the seven-year-old Dylan, I  would tell her to be brave, to testify.'
Mia Farrow, was married and divorced from Frank Sinatra and conductor Andre Previn, before dating Woody Allen.
A SPECIAL THANKS TO OUR FRIEND Shanequa Nelson
PLEASE SHARE- Re-Post to Facebook, Twitter, StumbleUpon, Reddit, Digg, etc. 
Please like and share on Facebook and Twitter!
Facebook Has Banned Us!
The leftists at Facebook decided they didn't like our message, so they removed our page and are censoring us. Help us fight back and subscribe to our newsletter so that you can stay up-to-date with everything Facebook doesn't want you to see!
Disqus Comments