Sassy Liberty AMERICA'S FREEDOM FIGHTERS – 
As London Mayor Sadiq Kahn proclaims to one and all that climate change is the biggest threat to mankind while his city is ravaged by radical Islamic terrorists in the third terror attack in less than three months, it really makes one wonder just who's side is Kahn on.
Following the most recent attack on London Bridge, Kahn proclaims that he is still "reassured" that the British capital is "one of the safest cities in the world." London is one of the safest cities in the world, despite 2 terror attacks in 3 months & 18 stabbings in 6 weeks — how does that work exactly? Funny, but it sure wasn't safe for all those that lost their lives.
ADVERTISEMENT - STORY CONTINUES BELOW
Meanwhile, Kahn continues to maintain close ties with groups associated with both Al-Qaeda and ISIS.
During the 1990's, Khan's own brother in law Makbool Javaid gave multiple fiery public addresses advocating jihad.  His name even appeared on a fatwa calling for holy war against the United Kingdom and the United States.
Javid was a known member of the Islamic group Al-Muhajiroun.  This group was founded by Islamic hate preacher Omar Bakri Muhammad, a man who was banned from the UK in 2005 due to acting as a sponsor and recruiter of British jihadis looking to join up with ISIS.
ADVERTISEMENT - STORY CONTINUES BELOW
Another leader of the same group is Anjem Choudary.  Choudary is radical Muslim jailed in 2016 for supporting the Islamic State after he released guides on making bombs and establishing "Muslim gangs" for the purpose of committing terror attacks. Other additional connections to Al-Muhajiroun by known radicals include Parliament attacker Khalid Masood, Lee Rigby's murderer Michael Adebolajo, and Abdul Waheed Majeed. Majeed is an Al-Nusra affiliated militant who in 2014 gained notoriety for becoming the first British-born to carry out a suicide attack in Syria.
Trump's ignorant view of Islam could make both our countries less safe. It risks alienating mainstream Muslims. London has proved him wrong

— Mayor of London (@MayorofLondon) May 10, 2016
Since becoming active politically Kahn has publically tried to distance himself from his brother in law and Al-Muhajiroun.  However, in 2003 he shared a stage with Sajeel Abu Ibrahim, yet another member of the terror group and also a convicted terrorist that ran a camp in Pakistan which trained Taliban militants and Al-Qaeda 7/7 bomber Mohammad Sidique Khan. Also present to speak at the very same event was Yasser al-Siri, a terrorist who has been sentenced to death in absentia by Egyptian authorities over a political assassination attempt there which left a young girl dead.
In 2004, Kahn attended four meetings organized by Stop Political Terror, a group supported by Al-Qaeda in the Arabian Peninsula senior recruiter Anwar al-Awlaki. Stop Political Terror was later merged with the Islamic organization CAGE, who represented the ISIS executioner "Jihadi John" (Mohammed Emwazi) as a "beautiful young man." When questioned about his presence, Kahn dismissed his presence as a simple error in judgment.  He went on to claim that his presence was merely part of his efforts to help fight the extradition of convicted terrorist Babar Ahmed to the US. Kahn now claims to condemn CAGE despite his presence at this event and the fact that in 2006 he went on to write a forward for a report run by CAGE.
In 2008 Kahn served as a legal consultant for convicted 9/11 plotter Zacarius Moussaoui as the only practicing Muslim on Moussaoui's defense team. Ultimately, Moussaoui was extradited to the US for his role in the 9/11 terror attacks and he is currently being held at the Federal ADX Supermax prison in Florence, Colorado, where he is serving 6 life sentences without the possibility of parole.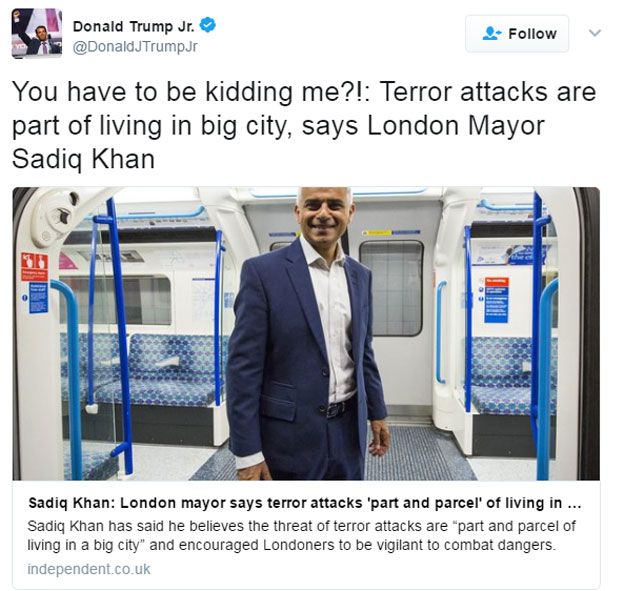 So while Kahn is "too busy" to respond to President Trump for rightfully calling out Kahn's hypocrisy and failure to do his job as the Mayor of London, it seems Kahn has his own agenda in advancing that of radical Islam and terrorism in England and London specifically.  As Kahn proclaims that terror attacks are just part and parcel of life in the big city – one must beg the question, how exactly those that live in cities such as Tokyo, Prague, Budapest, Warsaw ad nauseum escape terror attacks as part of every day living.
Spot the difference?? *GASP* I wonder just what that would be??
Source- AFF 
Facebook Has Banned Us!
The leftists at Facebook decided they didn't like our message, so they removed our page and are censoring us. Help us fight back and subscribe to our newsletter so that you can stay up-to-date with everything Facebook doesn't want you to see!
Disqus Comments