Sassy Liberty AMERICA'S FREEDOM FIGHTERS –
The man believed to have unleashed a suicide bomb attack on a subway train in St. Petersburg, Russia, killing more than a dozen people, was identified Tuesday as a 22-year-old Russian citizen born in Kyrgyzstan, Fox News reports.
Akbardzhon Dzhalilov was named as the killer by Russia's Investigative Committee. Detectives said they also found his DNA on a bag holding a second bomb in a nearby subway station — which crews defused before it could explode.
ADVERTISEMENT - STORY CONTINUES BELOW
take our poll - story continues below
Whom do you consider to be the most corrupt Democrat Politician?
Completing this poll grants you access to America's Freedom Fighters updates free of charge. You may opt out at anytime. You also agree to this site's Privacy Policy and Terms of Use.
Before naming him, Russian investigators linked the suspected attacker to radical Islamic terror groups. They said he himself carried the deadly bomb on the train in a backpack.
ADVERTISEMENT - STORY CONTINUES BELOW
The terror attack left at least 14 dead and at least 50 others injured.
The subway's administration says several stations in the northern Russian city have been closed and that an evacuation is underway Monday afternoon. A suspected IED detonated inside a subway car.
ADVERTISEMENT - STORY CONTINUES BELOW
Footage of the panicked aftermath of the bombing shows shocked commuters searching through the twisted metal wreckage.
St. Petersburg is Russia's second-largest city and with evacuation and rescue efforts underway it is unknown when the city's subway system will be back up and operational.
The explosions occurred at the Sennaya Ploshchad and the Technology Institute stations, with a third unexploded bomb found
ISIS is celebrating the attacks, claiming responsibility.  They claim the attacks were revenge for Russia's backing of Syrian President Bashar al-Assad.
Assad is fighting against ISIS and other rebel groups in a six-year-long civil war. Russian airstrikes in Syria have killed hundreds of people reducing entire areas to rubble in the war-torn area.
Take a look:
https://twitter.com/JackPosobiec/status/848888715388825602
Just like London, Al Jazeera viewers are celebrating the terror attack in St. Petersburg. pic.twitter.com/XkOQwcfqaq

— Paul Joseph Watson (@PrisonPlanet) April 3, 2017
An ISIS supporter from the terror group's al-Minbar online forum states –
"We ask Allah to bless the operation by the lions of the Caliphate, we ask Allah to kill the Crusaders."
Others celebrated by saying that the Monday bombs made for "a metro to hell for the worshipers of the Cross."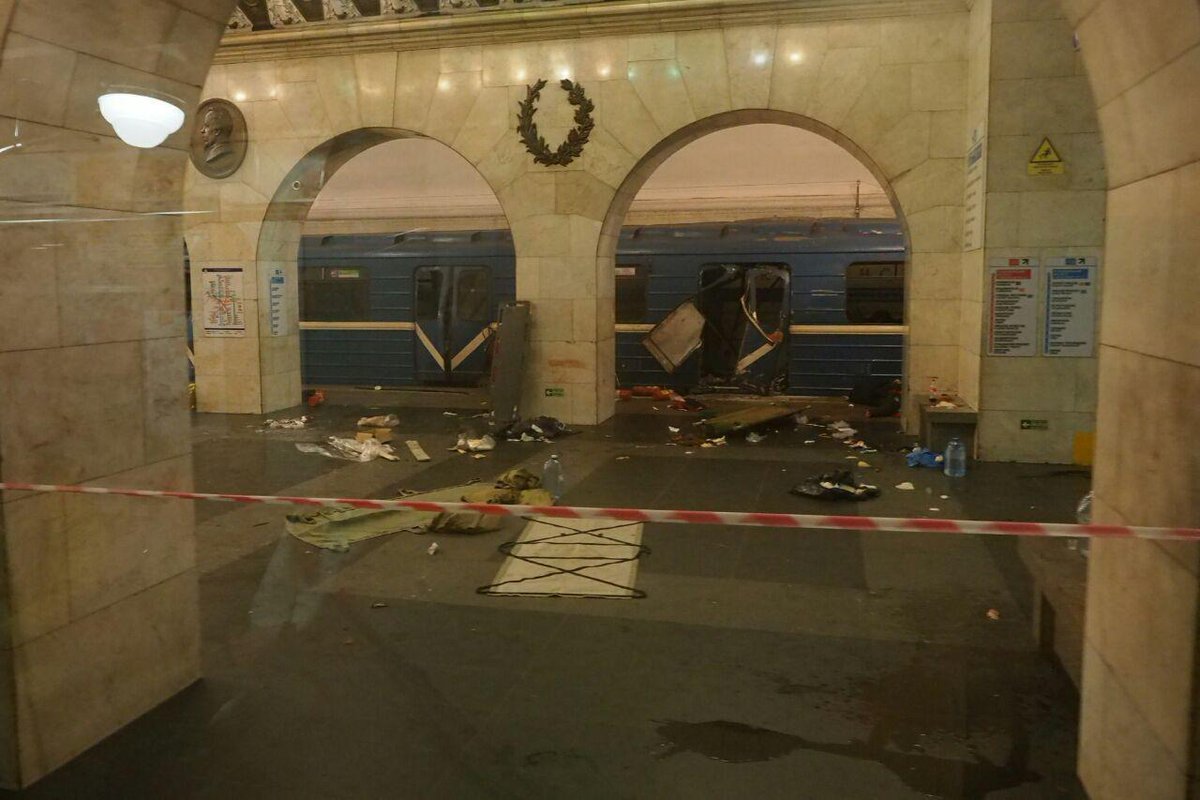 Video from inside the Sennaya station located at the center of the city shows people desperately trying to help injured victims on the blue underground train after tragedy struck.   The doors and windows of the train were blown out by the explosion with blood, shrapnel, and metal debris seen on the subway station platform.
Kremlin spokesman Dmitry Peskov states that Russian President Vladimir Putin has been informed about the explosion. Putin was already visiting the city due to planned meeting with the Belarusian president later today.
https://twitter.com/Britalianissima/status/848887181825462272
The leftist Mainstream Media are, of course, denying Islam had any bearing on the attack whatsoever and instead of looking for means to somehow blame President Trump and demonize Putin for the attack.
Some on the left would rather see Islamic terror attacks in Europe every single day than peace & cooperation between the U.S. & Russia.

— Paul Joseph Watson (@PrisonPlanet) April 3, 2017
The left is continuing to chase their blind obsessions more concerned about propping up hysterical, baseless paranoia over election interference than actual threats.  Meanwhile, they continue to make baseless accusations preventing an alliance to defeat the common threat of Islamic terrorism and people continue to die as a result.
God Bless.
Here's How To Be Sure To Continue Seeing Our Content On Facebook
TOGETHER WE WILL MAKE AMERICA GREAT AGAIN!
Dean James III% AMERICA'S FREEDOM FIGHTERS
Please like and share on Facebook and Twitter!
Facebook Has Banned Us!
The leftists at Facebook decided they didn't like our message, so they removed our page and are censoring us. Help us fight back and subscribe to our newsletter so that you can stay up-to-date with everything Facebook doesn't want you to see!
Disqus Comments