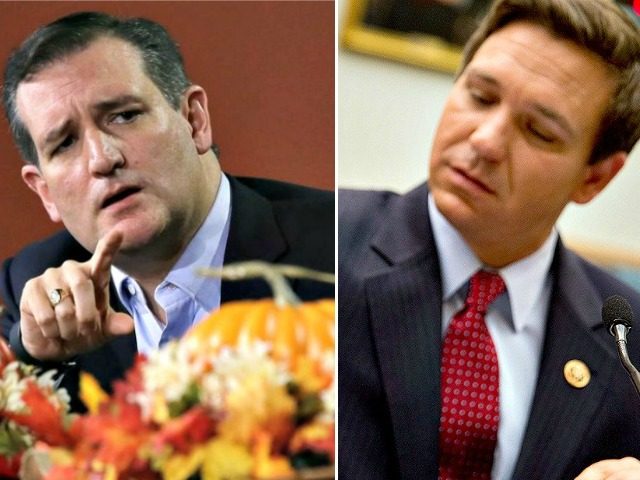 Sassy Liberty AMERICA'S FREEDOM FIGHTER –
Sen. Ted Cruz (R-Texas) and Rep. Ron DeSantis (R-Fla.) have revealed a proposal to introduce a constitutional amendment that will impose term limits for both congressmen and senators. They propose term limits as an effective means for the incoming Republican administration to make good on their promise to "drain the swamp."
ADVERTISEMENT - STORY CONTINUES BELOW
take our poll - story continues below
Whom do you consider to be the most corrupt Democrat Politician?
Completing this poll grants you access to America's Freedom Fighters updates free of charge. You may opt out at anytime. You also agree to this site's Privacy Policy and Terms of Use.
A resounding message was delivered by the American people on Election Day to "drain the swamp" that is modern Washington. So far on Capitol Hill, the game hasn't changed, and many of the Congressional players remain the same. Cruz and DeSantis are FINALLY proposing a solution that has been bandied about but circumvented by many of the career politicians in Washington.  However, the proposal enjoys broad public support in congressional term limits. This same policy of congressional term limits was repeatedly advocated for by President-elect Donald Trump during his presidential campaign. Speaker of the House Paul Ryan has also voiced his support for the idea.
ADVERTISEMENT - STORY CONTINUES BELOW
When asked about the proposal Cruz and DeSantis stated – "We believe that the rise of political careerism in modern Washington is a drastic departure from what the founders intended of our federal governing bodies. To effectively "drain the swamp," we believe it is past time to enact term limits for Congress."
The amendment proposes a three-term limit for members of congress and a two-term limit for senators. According to an October Ramussen survey, 74% of voters are in support of the amendment. Congressional term limits have been proposed before.  In 1998 and in 2012, the proposal failed to receive the necessary two-thirds support for passage from Congress.
ADVERTISEMENT - STORY CONTINUES BELOW
The pair believes with a Republican majority now in the House and Senate, as well as a sitting Republican president, that now is the time to pass a constitutional amendment establishing congressional term limits. They believe they have a responsibility to respond to the voters' request for decisive action.
It's truly refreshing to hear true leadership in Washington that grasps what a government "…for the people, by the people…" looks like.
h/t – Breitbart
I VOTED FOR DONALD TRUMP AND TOGETHER WE WILL MAKE AMERICA GREAT AGAIN!
Dean James III% AMERICA'S FREEDOM FIGHTERS
 Please share this on all Social Media!
Facebook Has Banned Us!
The leftists at Facebook decided they didn't like our message, so they removed our page and are censoring us. Help us fight back and subscribe to our newsletter so that you can stay up-to-date with everything Facebook doesn't want you to see!
Disqus Comments