Sassy Liberty AMERICA'S FREEDOM FIGHTERS –
A small family-owned company in middle Tennessee is now suffering from the wrath of liberal leftists. The company known as Bradley Coatings, Incorporated (BCI) made national news after it fired some 18 people that refused to show up for work in protest for the "Day Without Immigrants."
The protest claimed its intent was to show the significance that immigrants play in the U.S. workforce while protesting President Donald Trump's immigration policies.
ADVERTISEMENT - STORY CONTINUES BELOW
BCI is a commercial painting business based out of a small middle Tennessee town known as Nolensville, Tennessee, a suburb of Nashville.  Prior to the Day Without Immigrants protest, the company let their employees know that their services are provided to their clients on a very demanding schedule.
take our poll - story continues below
Whom do you consider to be the most corrupt Democrat Politician?
Completing this poll grants you access to AFF updates free of charge. You may opt out at anytime. You also agree to this site's Privacy Policy and Terms of Use.
Due to the time sensitive nature of the type of work that they do, they have made commitments to their clients that they are expected to fulfill.  As a result, ALL employees are expected to report to work or they would be terminated.
ADVERTISEMENT - STORY CONTINUES BELOW
Despite this warning, 18 employees chose to disregard it and they were fired as a result.  Now, the company is being criticized and attacked by the left.
On social media and review websites, a deluge of negativity has targeted Bradley Coatings Inc. — and even spilled over onto an unrelated Pennsylvania business with a similar name. This past week even saw more than a dozen protesters from the International Union of Painters and Allied Trades and Workers Dignity show up on the company's front door. They arrived to find the company's glass front door locked.
ADVERTISEMENT - STORY CONTINUES BELOW
Rather than leave, they taped their demands to the door and began peering inside the door and windows while chanting to anyone that would listen –
"What do we want!?" called out Doug Claypool, with the International Union of Painters and Allied Trades.

"Justice!" came the callback.
The protesters are demanding that the employees be reinstated and given back pay for time lost.  Claypool claims they tried to deliver these demands directly to the company but within 10 minutes of the demonstration beginning, Nolensville Police arrived to escort them off the property.  The demonstration continued from the curb in front of the property.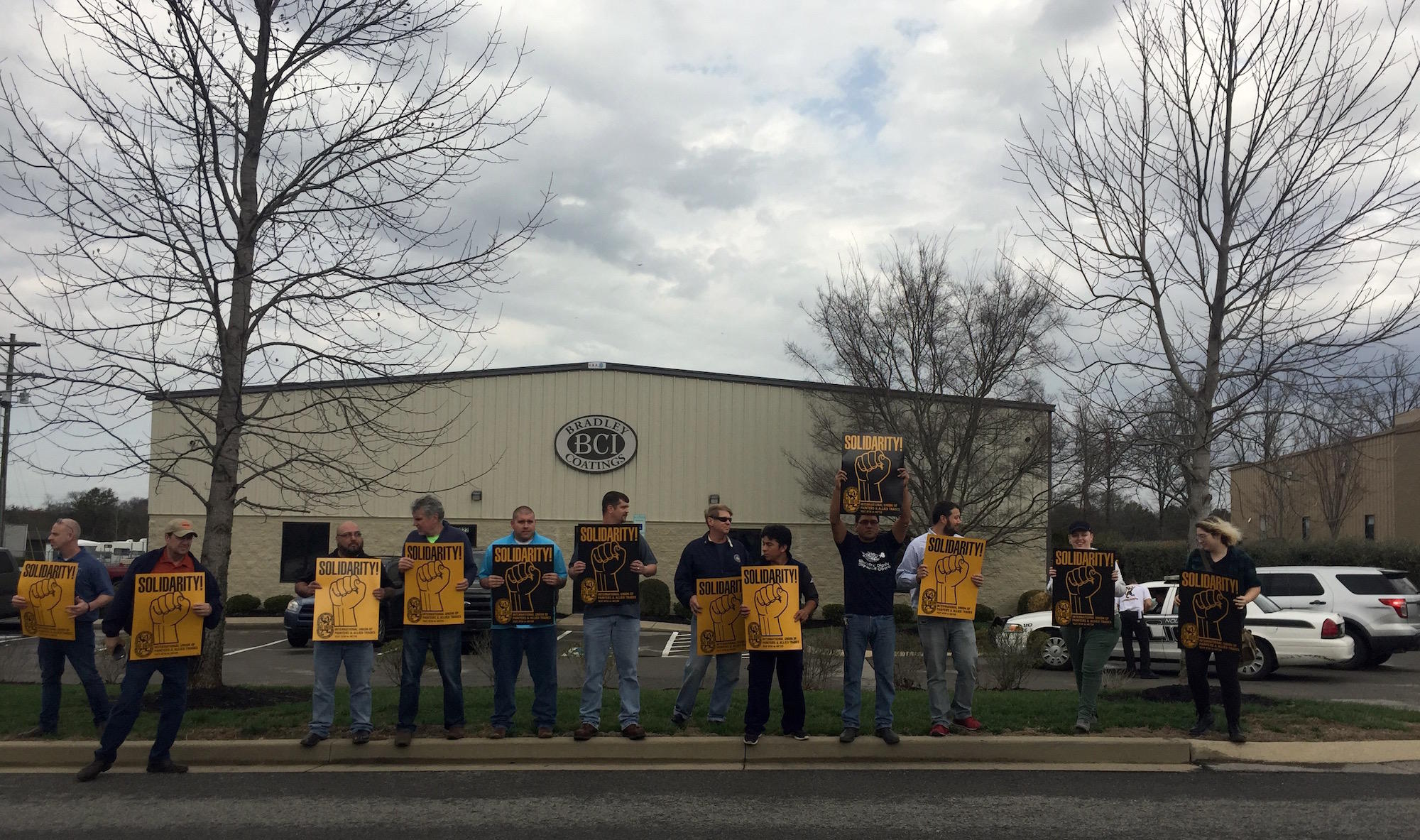 The company has stood their ground, standing by their official statement that firings were never over free speech or politics and that Bradley has a long history of employing immigrants. Employees were warned a day in advance that they could not skip out on time-sensitive work. Tennessee is a Right-to-Work state. These laws are to that prohibit the use of union membership status as a condition for getting or keeping a job.
According to state law, the company was well within their rights to terminate the employees for not showing up to work, according to Tennessee Department of Labor and Workforce Development spokesman Chris Cannon.
"Tennessee is an employment-at-will state which basically means an employer can end your employment at any time without reason or cause."
Protester and construction worker, Mark Poole states –
"Any time people with like-minds can stand together and stand for something that they believe in, to show either the government or the community of racism and bigotry that it's wrong … then we're doing what we're supposed to do as American people."
Many of the dismissed employees state they have found work elsewhere and are not especially hopeful that they will be reinstated.  The company has already filled the majority of the vacant positions.
"I've seen companies do that before," Claypool said. "I wouldn't say it's impossible, but I don't think the chances are really good that that will happen."
h/t – NPR
God Bless.
Here's How To Be Sure To Continue Seeing Our Content On Facebook
TOGETHER WE WILL MAKE AMERICA GREAT AGAIN!
Dean James III% AMERICA'S FREEDOM FIGHTERS
Please like and share on Facebook and Twitter!
Facebook Has Banned Us!
The leftists at Facebook decided they didn't like our message, so they removed our page and are censoring us. Help us fight back and subscribe to our newsletter so that you can stay up-to-date with everything Facebook doesn't want you to see!
Disqus Comments