Sassy Liberty AMERICA'S FREEDOM FIGHTERS –
Vicious Muslim fundamentalist terror group, the Taliban, claimed responsibility for the attack on Kabul International Airport on Wednesday morning.  
The Taliban claimed it fired at least six rockets at Afghanistan's main airport in an attack intended to target Defense Secretary Gen. James "Mad Dog" Mattis during his unscheduled visit. Mattis had just left the airport located in the capital of Kabul hours prior according to reports from Afghan President Ashraf Ghani. No casualties have been reported currently.
ADVERTISEMENT - STORY CONTINUES BELOW
The Taliban specifically stated the target was Mattis and he was targeted for elimination. Shortly afterward, ISIS claimed responsibility through its Amaq news agency.
Afghan security forces had surrounded two houses near the airport to assist in their search for suspects in the attack. All departures and arrivals at the airport were canceled for at least two hours.  This information is per the Afghan's ministry for civil aviation.
take our poll - story continues below
Whom do you consider to be the most corrupt Democrat Politician?
Completing this poll grants you access to America's Freedom Fighters updates free of charge. You may opt out at anytime. You also agree to this site's Privacy Policy and Terms of Use.
ADVERTISEMENT - STORY CONTINUES BELOW
According to a statement from one Taliban commander according to NBC News –
ADVERTISEMENT - STORY CONTINUES BELOW
"We fired six rockets and planned to hit the plane of U.S. secretary of defense and other U.S. and NATO military officials. We were told by our insiders that some losses were caused to their installations but we are not sure about James Mattis."
NBC claims to have spoken to two different Taliban commanders that made claims of sources of information within Afghanistan's security apparatus tipping the terror group off to Mattis's visit.
NATO Secretary General @jensstoltenberg together with US Secretary of Defense James Mattis is at RSHQ today visiting AFG leadership & troops pic.twitter.com/Saf5r7dIa2

— Resolute Support (@ResoluteSupport) September 27, 2017
Taliban spokesman Zabihullah Mujahid confirmed the Taliban's claim of responsibility also stating their target was the defense secretary and other U.S. officials.
Differing from the Taliban's claim, the airport itself states two missiles were fired toward the airport at around 11:00 a.m. local time.  The U.S. embassy has given warnings that the attack may still be ongoing.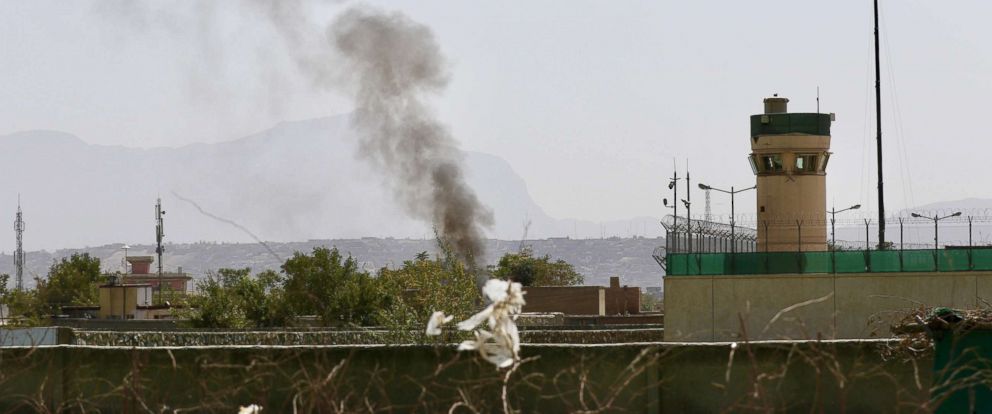 Airport chief Yaqub Rassouli stated –
"At 11.36 am two missiles were fired on Kabul International Airport from Deh Sabz district, damaging the air force hangers and destroying one helicopter and damaging three other helicopters, but there were no casualties."
Matthis was actually in the midst of a press conference during the attack on the airport and not anywhere near the premises. He stated that it was his belief that Afghan forces would strongly oppose the action of the Taliban in their attack, stating –
"If in fact there was an attack … this is a classic statement to what Taliban are up to. If in fact this is what they have done, they will find Afghan security forces against them."
The defense secretary's unannounced visit to the country alongside NATO Secretary General Jens Stoltenberg was his first trip to Afghanistan since President Donald Trump announced a new strategy for America's longest war.
That new strategy was just announced on Monday but no details were given during a prime-time address to America from Ft. Myer in Arlington, Virginia. He noted that after becoming president he quickly came to the realization that a hasty withdrawal would cede valuable ground to terror groups making work done previously by American troops for nothing.
President Trump said before an audience comprised of both current and former service members –
"We are not nation-building again. We are killing terrorists."
Matthis has previously stated his plans to send some 3,000 US troops to the region, though currently the Pentagon officially acknowledges 8,400 troops are on the ground. Defense officials have stated number actually hovers between 11,000 and 12,000 currently.
FOLLOW us on Facebook at Nation In Distress!
Dean James III% AMERICA'S FREEDOM FIGHTERS
Copyright 2017 Americas Freedom Fighters/ AFF Media. All rights reserved. This material may not be published, broadcast, rewritten or redistributed without expressed permission.
Please share this on Facebook and Twitter!
Facebook Has Banned Us!
The leftists at Facebook decided they didn't like our message, so they removed our page and are censoring us. Help us fight back and subscribe to our newsletter so that you can stay up-to-date with everything Facebook doesn't want you to see!
Disqus Comments