Sassy Liberty AMERICA'S FREEDOM FIGHTERS –
It seems appeasement is the name of the game and Disney World is another company that is joining a long list of companies that seems to be willing to avoid absolutely anything to do with Donald Trump now that he has become president in order to appease the liberal left.
Just a few short years ago, the Donald was the darling of celebrities and business moguls alike, at least until he had the sheer audacity to take on the corrupt Hillary Clinton and actually beat her!
ADVERTISEMENT - STORY CONTINUES BELOW
Disney World traditionally gives speaking roles to presidential robots in its famed Hall of Presidents.  However, for President Trump?  Disney wants to grant him a NON-SPEAKING ROLE in an effort to avoid offending visitors!
take our poll - story continues below
Whom do you consider to be the most corrupt Democrat Politician?
Completing this poll grants you access to America's Freedom Fighters updates free of charge. You may opt out at anytime. You also agree to this site's Privacy Policy and Terms of Use.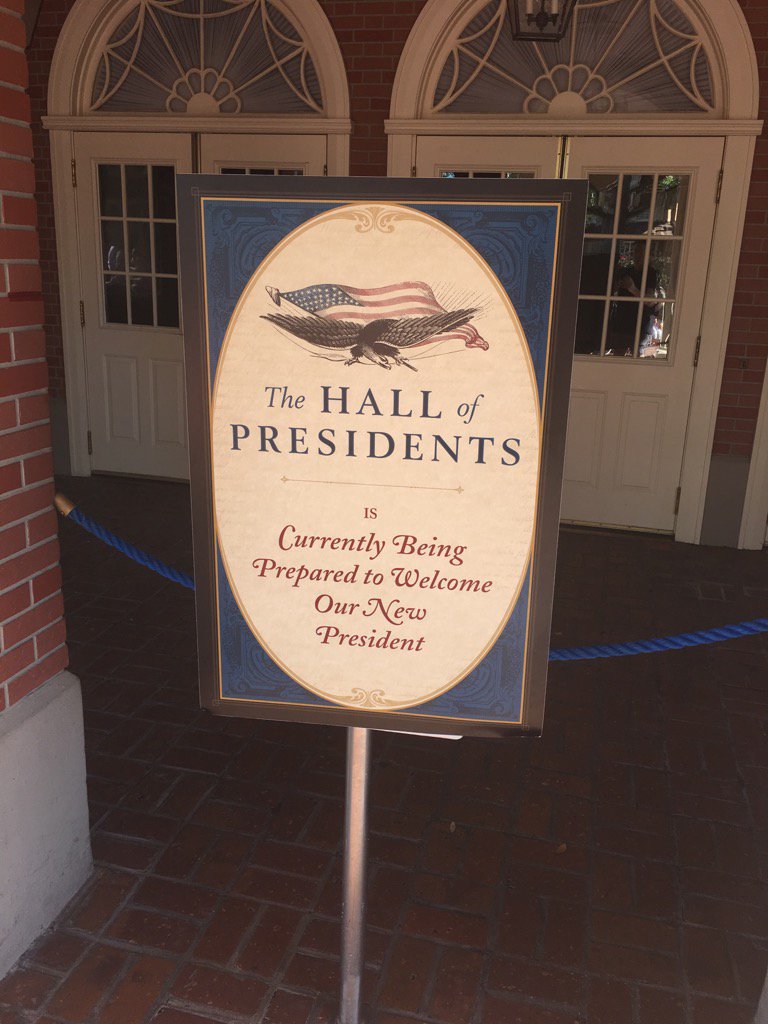 ADVERTISEMENT - STORY CONTINUES BELOW
The Florida resort's Hall of Presidents is currently closed but scheduled to reopen later this year with a robotic replica of President Trump included. He is set to be unveiled June 30, according to the website devoted to Disney park news – Walt Disney World Today.
Since the mid-1990s, Disney's Hall of Presidents has featured a recorded statement from the current president, including Bill Clinton, George W. Bush and Barack Obama.
ADVERTISEMENT - STORY CONTINUES BELOW
According to Motherboard. Disney states –
"Given how polarizing the president is right now, Disney Parks & Resorts is currently trying to find [a solution] that approaches middle ground. They want to include our 45th commander-in-chief in this 45-year-old theme park attraction, while at the same time, not seem to endorse or support some of Trump's more controversial policies."
In their effort to please and appease that means that rather than the traditional short speaking role, President Trump will most likely be shown in a non-speaking capacity.
Disney claims to not participate in partisan politics, yet three months into Barack Obama's administration, Disney was showing pictures of him recording his lines for the exhibit and photos of his robotic look alike.  That hasn't even been mentioned for President Trump.  It's funny how that works isn't it?
Disney CEO Robert Iger announced shortly after the November election that Trump would be added to the hall, sparking a backlash.
There are already multiple anti-Trump petitions circulating (the most prominent one has collected nearly 15,000 signatures), which urged Disney to keep President Trump's robot silent in the exhibit, on the grounds that Trump ran for president on a platform of "hateful speech, misogyny, racism, and xenophobia."
Liberal scumbags.
Facebook Has Banned Us!
The leftists at Facebook decided they didn't like our message, so they removed our page and are censoring us. Help us fight back and subscribe to our newsletter so that you can stay up-to-date with everything Facebook doesn't want you to see!
Disqus Comments