Sassy Liberty AMERICA'S FREEDOM FIGHTERS –
In an utter travesty for women the world over, Saudi Arabia was just elected to the United Nations Commission on the Status of Women.
Yes, you read that correctly – Saudi Arabia – the Kingdom where women do not even enjoy human status but are considered chattel or property. A country where a male guardianship literally governs and dominates every single aspect of life for women and girls.
ADVERTISEMENT - STORY CONTINUES BELOW
According to the U.N. website, the main mission of the Commission on the Status of Women is to assess the challenges to reaching gender inequality. The addition of the Gulf nation was first flagged by UN Watch, a non-governmental body that monitors the United Nations.  I suppose Saudi Arabia knows about this first hand in that they practice it in virtually every aspect of life?
take our poll - story continues below
Whom do you consider to be the most corrupt Democrat Politician?
Completing this poll grants you access to AFF updates free of charge. You may opt out at anytime. You also agree to this site's Privacy Policy and Terms of Use.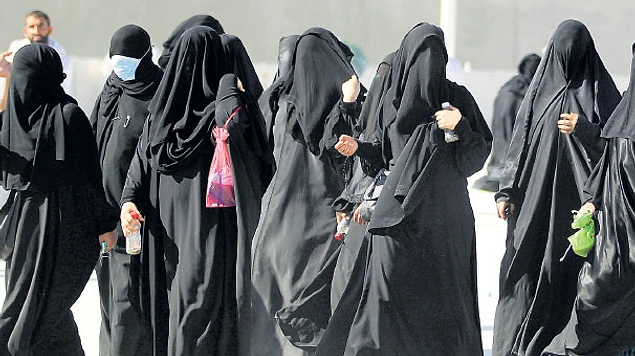 ADVERTISEMENT - STORY CONTINUES BELOW
The organization's director Hillel Neuer was quick to condemn the election, noting it as utterly absurd. The election occurred via a secret vote during the U.N.'s Economic and Social Council, stating – "Electing Saudi Arabia to protect women's rights is like making an arsonist into the town fire chief."
Even the rights of foreign women are restricted in Saudi Arabia – All women, including foreigners, are required to wear black and abaya. They are required to cover themselves from head to toe, to become voiceless, faceless, and invisible. Women make up only the 5% of the workforce in Saudi Arabia, and they are mostly only allowed to work separately from men.
ADVERTISEMENT - STORY CONTINUES BELOW
The Islamic police force put together by the state actually follow women everywhere – just like a shadow – and control if women act in accordance with sharia law or not.  If a woman takes a cab without a supervising male relative, she is seen as immoral. They are not allowed to ride a bike due to the necessity of straddling and it being seen as "sexual." Women are not allowed to sit at a cafe without a "family section." Let alone sitting, they are even not allowed to order takeout from fast food restaurants if the cashier isn't separate. In some parts of the country, female circumcision is considered MANDATORY!
Yet this country is to advocate for equality of treatment amongst the sexes in the UN?
According to UN Watch, there is a small silver lining to the election.
"The only good news: thanks to the U.S. calling a vote — breaking with the Obama Administration policy which in 2014 allowed Iran to be elected by acclamation — Saudi Arabia was not elected by acclamation, but instead received the least votes of any other country: 47 out of 54 votes cast, even though there was no competition given that there was an equal amount of competitors for available seats.China and Uganda were upset, preferring the usual practice of rubber stamping clean slates."
God Bless.
Copyright 2017 Americas Freedom Fighters/ AFF Media. All rights reserved. This material may not be published, broadcast, rewritten, or redistributed.
Here's How To Be Sure To Continue Seeing Our Content On Facebook
TOGETHER WE WILL MAKE AMERICA GREAT AGAIN!
Dean James III% AMERICA'S FREEDOM FIGHTERS
Please like and share on Facebook and Twitter!
Facebook Has Banned Us!
The leftists at Facebook decided they didn't like our message, so they removed our page and are censoring us. Help us fight back and subscribe to our newsletter so that you can stay up-to-date with everything Facebook doesn't want you to see!
Disqus Comments